Salman Rushdie's ex-wife, Padma Lakshmi, has shared a message of support for the author, after he was stabbed during a planned event at the Chautauqua Institution in western New York on Friday.
Rushdie, 75, was attacked on Friday as he took the stage. State police said suspect Hadi Matar, of Fairview, New Jersey, rushed the stage and knifed Rushdie, who suffered stab wounds to his neck and chest.
As of Friday evening, authorities had yet to reveal a potential motive behind the stabbing or announce charges against Matar, 24. Few details about Matar's background have been released.
The audience and the institution's staff helped restrain Matar, who had purchased a ticket for the talk, and was taken into custody by a state trooper assigned to provide security, state police said. Rushdie was transported by helicopter to a nearby hospital.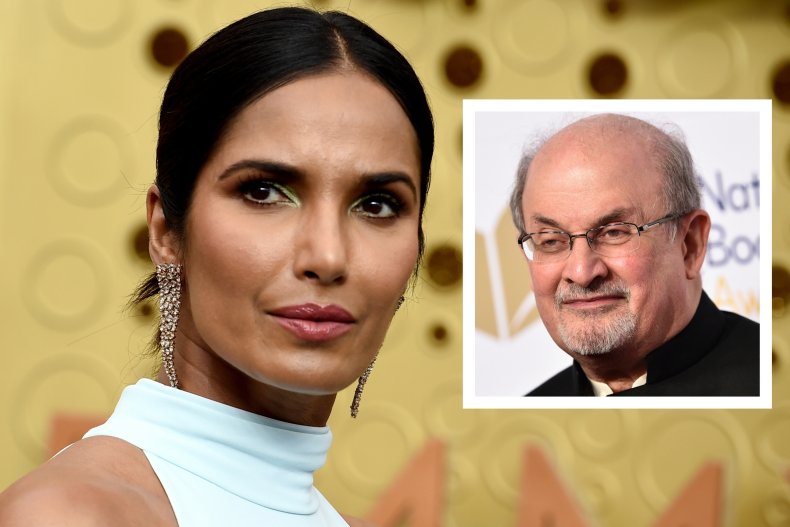 An agent for Indian-born Rushdie, who is a dual citizen of the U.S. and the U.K., has since revealed that the author was severely wounded in the vicious attack.
Saying "the news is not good," Andrew Wylie, Rushdie's agent, told The New York Times in an email on Friday evening that the writer "will likely lose one eye; the nerves in his arm were severed; and his liver was stabbed and damaged."
With Rushdie remaining hospitalized, Lakshmi, who was married to Rushdie between 2004 and 2007, took to Twitter to wish the writer a "swift healing."
"Relieved @SalmanRushdie is pulling through after Friday's nightmare," she wrote on Sunday. "Worried and wordless, can finally exhale. Now hoping for swift healing."
Meanwhile, Rushdie's son, Safar Rushdie, said that his father had suffered "life-changing" injuries from the attack, though he has been "able to say a few words" and continues to display his "usual feisty and defiant sense of humour."
"Following the attack on Friday, my father remains in critical condition in hospital receiving extensive ongoing medical treatment," Safar Rushdie said in a statement shared on Twitter on behalf of the family on Sunday.
"We are extremely relieved that yesterday he was taken off the ventilator and additional oxygen and he was able to say a few words," he went on. "Though his life changing injuries are severe, his usual feisty & defiant sense of humour remains intact.
"We are so grateful to all the audience members who bravely leapt to his defense and administered first aid along with the police and doctors who have cared for him and for the outpouring of love and support from around the world.
"We ask for continued patience and privacy as the family come together at his bedside to support and help him through this time."
Salman Rushdie has long been a target after Iran's Ayatollah Khomeini issued a fatwa, or edict, calling for the death of the author over his 1988 novel The Satanic Verses.
While the novel received critical praise, its depiction of the life of Islamic prophet Muhammad has been a source of ongoing controversy and protests that have involved burning copies of the book.
The threats sent Salman Rushdie into hiding and he was placed under police protection. In 2000, Rushdie re-emerged and moved to the U.S.
Two years earlier, Iranian leader Muhammad Khatami said that the government would "neither support nor hinder assassination operations on Rushdie," although some hardliners have continued to call for the author's death.
Newsweek has reached out to Wylie and the New York State Police for comment.