Salmonella Outbreak Mapped: CDC Charts Hotspots As Potential Source Identified
A salmonella outbreak described by the Centers for Disease Control and Prevention (CDC) as having an "unknown food source", continues to be tracked by the agency.
Public health officials have continued investigating a multi-state outbreak of the mystery Salmonella Oranienburg infections, responsible for 279 illnesses, as of Thursday, September 23.
This means the salmonella outbreak has more than doubled in infections in more than a week.
But despite eight new hospitalizations, leading to 26 in total, no deaths have been attributed to the potentially deadly bacteria.
The CDC, which has been approached by Newsweek for an update, has produced a map detailing the 29 states where people hit by this salmonella outbreak lived.
Texas, with 81 confirmed sick people and Oklahoma (40) are the states worst affected by the outbreak, followed by Illinois and Virginia (23 and 22, respectively).
However, a statement on the CDC site warns this outbreak may not be limited to the states listed, writing in a statement on the site: "this is because many people recover without medical care and are not tested for Salmonella."
The CDC's most recent update states the outbreak strain of Salmonella Oranienburg was discovered in sample from a takeout condiment cup.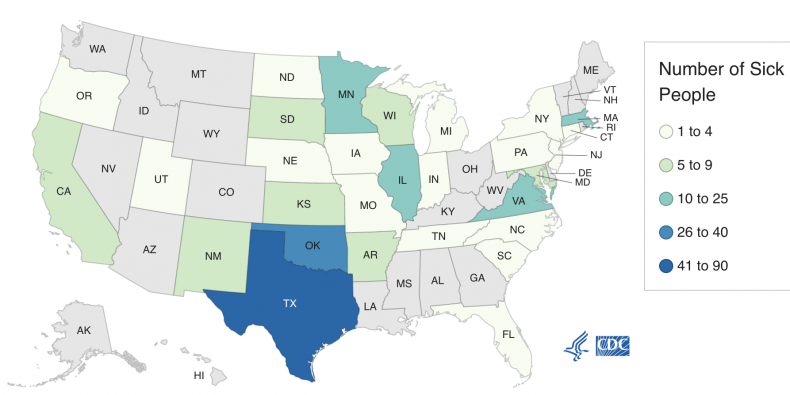 This contained elements of cilantro and limes, while onions were also originally present.
However, officials are yet to confirm which of the cup's ingredients could have been responsible for the outbreak.
The agency stated: "Because multiple food items were present in the container and in the sample that was tested, it is not possible to know which food item was contaminated.
"We are using this information in conjunction with other available information to help narrow the list of possible foods linked to illness."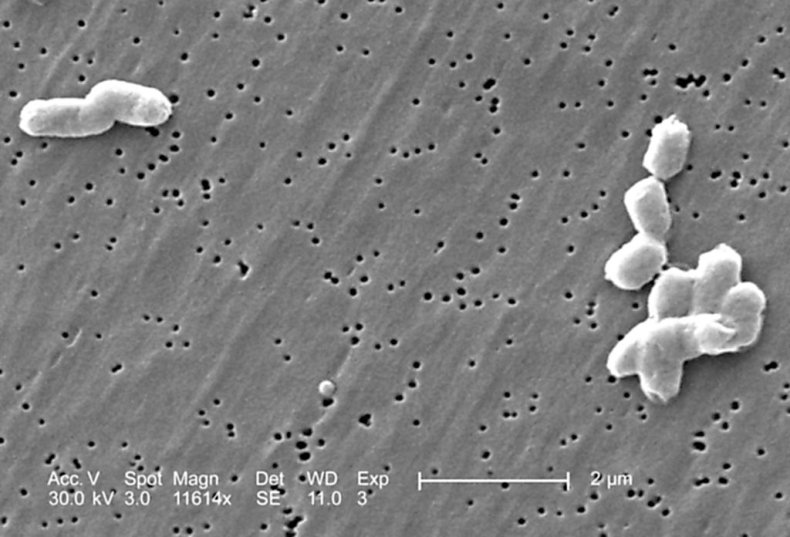 Salmonella bacteria are believed to be responsible for approximately 1.35 million infections, 26,500 hospitalizations, and 420 deaths in the U.S. annually, with toxic food the source for the majority of these illnesses.
A statement on the CDC site states: "Most people who get ill from Salmonella have diarrhea, fever, and stomach cramps. Symptoms usually begin 6 hours to 6 days after infection and last four to seven days.
"Most people recover without specific treatment and should not take antibiotics. Antibiotics are typically used only to treat people who have severe illness or who are at risk for it."
The latest multi-state outbreak of food poisoning arrives roughly one month after another linked to Italian-style meats.
People in that incident reportedly became ill after consuming meats found in antipasto or charcuterie assortments, such as salami and prosciutto.