Salon Flooded With Negative Reviews After Employee Quits in Viral Video
A TikTok user amassed over a million views after filming herself quitting her job at a Dallas tanning salon.
Olivia, @olivetrizzle, uploaded the video on June 25, writing: "Come with me to quit my job cause management sucks and I get taken advantage of too much."
In the video, Olivia documented herself closing up the Palm Beach Tan salon and writing a note, reading: "Closed for maintenance."
"Just walked out of my job lol wbu? No but fr I was miserable and FED UP," she captioned the clip.
Olivia told Newsweek that the reason she quit was her alleged treatment by other staff and managers, and decided to quit after allegedly being left to close the salon by herself again, after doing so the whole week.
"I filmed the process of me quitting on TikTok as a joke for my friends, but I checked back hours later and my video was blowing up. A lot of former Palm Beach Tan employees were showing their support, as well people who had worked for bad companies and management as well," she said.
After gaining mass views on the clip, Olivia shared an update with viewers, showing alleged texts from her manager in which they inform her they will be deducting $300 from her wage since she has the salon key.
Olivia alleged she offered to mail the key back, and messages show the manager rejecting the offer, informing her police will be called if she returns to the premises. "I've offered to send this key back and you're not giving me the option to. You're just telling me you're taking the money I work for. I don't work for free. No one does. That's illegal."
"You can't withhold money from my check, that can only be done by civil means," she added.
Some users alleged in the comments of the video to be former employees of the chain, and claimed that contracts stated they will lose $300 if the key isn't returned within 24 hours of quitting: "Unfortunately the key holder policy in the planner you sign states that if you quit you have 24 hours to return the key or they can take $300 out of your last check," @AmyHoagland3 wrote. "I was a manager at a Houston location and they did in fact take the money out and there was nothing I could do [because] I signed that."
Olivia told Newsweek, "As of now, the only updates I have are ones posted on my TikTok. I still have my store key but my manager told me not to bring it back and that $300 will be taken from my last paycheck in order to replace the key. He also threatened to file a harassment charge against me, which made no sense because he texted ME first. He also threatened to call police if I step anywhere near, or on the premises. I think this is unfair considering I was more than happy to bring the key back, however I was told less than 24 hours after I quit that I won't be able to."
She added that she will consider pressing charges if she doesn't receive the $300 in her paycheck.
Since going viral, the tanning salon has received an influx of negative reviews on Google and Yelp, some citing the former employee's experience, while others took a more imaginative approach. The veracity of these reviews could not be verified.
"Such an awful establishment, they don't value their customers or employees and have shown that with their actions—don't come here!!" reads one review.
"I [was] called a vampire when I first walked in by the girl out front, strike one. Overheard several of the employees talking and had heard them say I looked like a 7/11 hotdog left out on the grill at 11pm, strike two. Strike three was when my skin started to flake and peel literally the next day. At least my quarantine aloe plant has finally become more than just decoration," wrote another reviewer.
"I went into the tanning bed (room 10) and a RAT bit my a**? I had to go to the ER for two weeks!," added another.
Olivia will be attending college in 2021, and said that although users on TikTok have expressed concern about her finding a job in the future she is, "more than happy to explain this situation to any employer in the future. If anything, this shows for what I stand for and what I believe."
Newsweek contacted Palm Beach Tan for comment.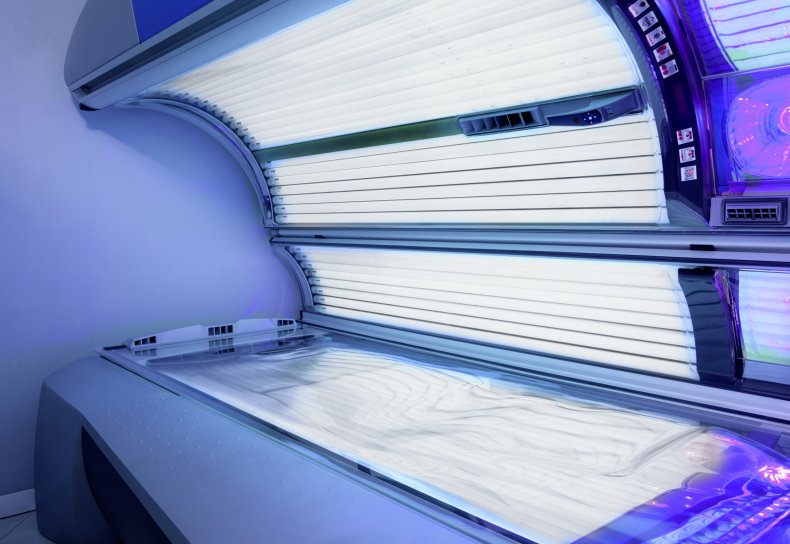 Update 6/29/21, 03:02 a.m. ET: This article was updated with comments from Olivia.