Salon Owner Says Pelosi's Setup Claim is False: 'She's Been Coming In For Quite a While'
The owner of the San Francisco salon visited by House Speaker Nancy Pelosi said it was "absolutely false" for the top Democrat to claim she had been "set up" by the business after footage of her failing to wear a mask leaked to the press.
Erica Kious of eSalon told Fox News on Wednesday night there was "no way" she could have set up Pelosi because it was the speaker's office who had made the Monday appointment with the salon, despite San Francisco coronavirus rules barring indoor hair treatments.
The salon owner also said that she found Pelosi's remarks "hurtful" as she had been visiting eSalon for "quite a while," and later added that the sight of the speaker not wearing a mask had particularly got to her.
Opening the interview, Carlson asked Kious whether she could prove Pelosi's appointment wasn't a "diabolical setup" to bring down the House Speaker.
"She had called the stylist, or her assistant did, and made the appointment," Kious said. "So the appointment was already booked. So there was no way I could have set that up. And I've had a camera system in there for five years, I mean I didn't go in there and turn cameras on as soon as she walked in to set her up. So that's absolutely false."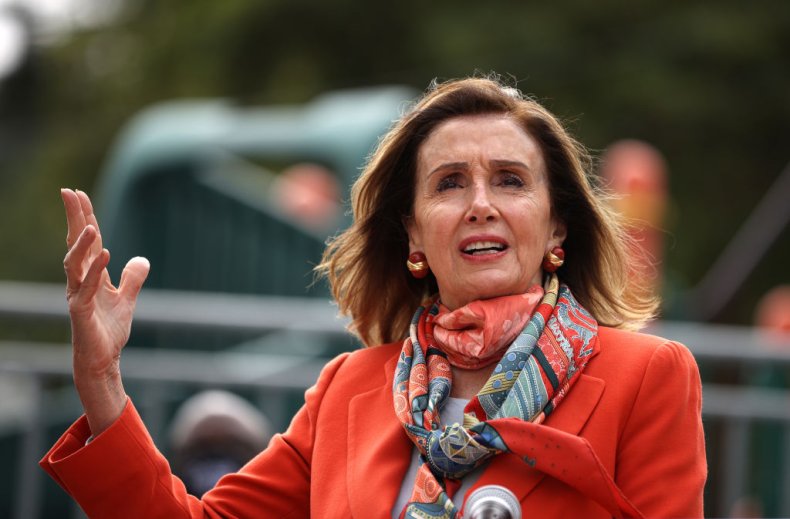 The salon owner went on to claim her business wasn't open, and added that it was "pretty much done" amid ongoing shutdown measures and a fall in demand.
"How do you feel about seeing the most powerful woman in America come into your salon in violation of the rules she supports, get caught, and then blame you for it?" Carlson asked.
"To be honest, it was more hurtful. She's been coming in for quite a while, and just to see her come in, and especially not wearing the mask, that's what really got to me," Kious said.
"This isn't even political... it's the fact that she actually came in and didn't have a mask on. And I just thought about my staff and people not being able to work and make money and provide for their families.
"If she's in there comfortably without a mask and feeling safe, then why are we shutdown? Why am I not able to have clients come in?"
She later said she wasn't sure that she would stay in San Francisco as a result of a backlash from the community over footage of Pelosi's visit appearing in the media.
When approached for comment, Pelosi's Deputy Chief of Staff Drew Hammill pointed Newsweek to a statement from Jonathan DeNardo, the stylist who treated Pelosi's hair.
In the statement released through his lawyer Matthew Soleimanpour, it is claimed that Kious approved Pelosi's appointment when DeNardo allegedly told her he would not give the lawmaker the green light without her permission. According to the statement, the salon owner is also alleged to have made "incendiary" remarks about the House speaker.
Speaking to reporters in San Francisco on Wednesday, Pelosi said she felt the salon owed her an apology and said she did not feel the need to apologize to service industry workers concerned by her actions.
"I just spoke to a San Francisco barber who's a fan of yours, he supports you, but he thinks you owe the service industry an apology," a reporter from ABC7 told the House speaker.
"Well I don't. I think that this salon owes me an apology for setting up," Pelosi replied. "I will say this in fairness to him and sympathetic to him, we have to get our country moving again."
Earlier in the press conference, the California Democrat confirmed that she had been to the salon "many times" over the years and claimed to have been misled and "set up" by the business.
San Francisco did not permit indoor hair appointments as of Monday, and rules clearly state face masks must be worn at all times over the course of appointments. Treatments such as hair washing are also not permitted.
The eSalon run by Kious is not linked to the eSalon hair colorist operating under the same name.
Update 09/03/20 8:36 a.m. ET: This article has been updated with details of a statement from stylist Jonathan DeNardo's lawyer.