Turkish chef and restauranteur Nusret Gökçe, also known as Salt Bae, has been accused of purposely misclassifying some of his employees to avoid paying them overtime at his steakhouse chain and burger shop.
Five grill staffers, who said they were recruited to move from Turkey to work at Nusr-Et's U.S. locations, filed a lawsuit against Gökçe in Manhattan federal court on Tuesday.
The employees allege that Gökçe labeled them as "managers" to avoid paying the five employees overtime when they worked 70-plus hours per week at restaurant locations in New York, Miami and Dallas.
According to the suit, the five men, who are Turkish citizens, worked at Nusr-Et Steakhouse in Istanbul before "Gökçe personally encouraged" them to move to the chain's U.S. locations.
The employees allege that official job descriptions for their visa applications over-exaggerated their work, saying they were "employees with managerial authority" in order to "exempt and avoid paying them overtime wages."
Instead, the men said they were asked to perform other tasks including "take out garbage, wash dishes, clean stove hoods, clean toilets, prepare special meals for the managers and Gökçe when he was present, and run errands and purchase products when there were shortages at the Restaurants."
Regardless of the time worked, each of the five men said they made a weekly salary of $1,125. The men worked there until the last two weeks of July, according to the suit.
Workers in non-managerial positions are entitled to overtime pay equal to 1.5 times their hourly wage after working 40 hours a week. The grillers are suing for unpaid overtime as well as other damages.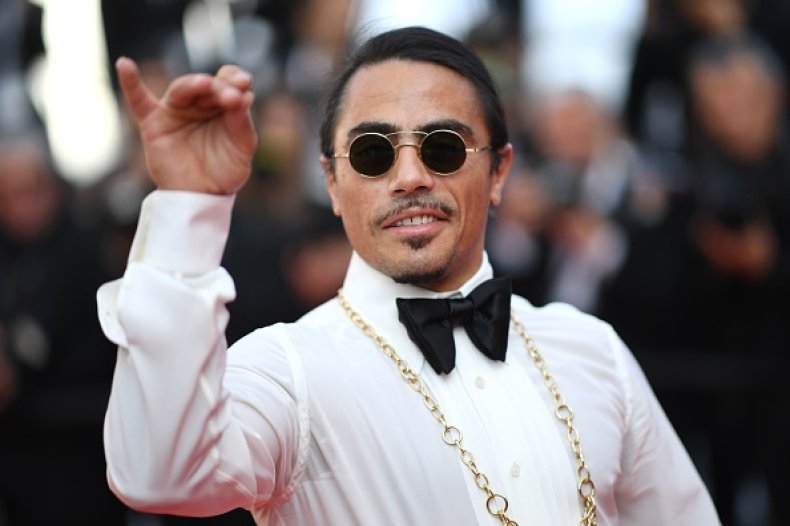 Salt Bae became an internet meme in 2017 after a series of viral videos showed him preparing meat and sprinkling salt at his restaurant in Turkey. He also has restaurants in New York, Miami, Dallas, Boston, Beverley Hills, London, Mykonos, Abu Dhabi and Dubai.
The five plaintiffs in the suit said that "Gökçe had an aggressive managerial style, frequently cursing at Plaintiffs and blaming them for other employees' mistakes."
This is not the first time the restauranteur has been sued over alleged labor violations.
In 2019, servers at his New York steakhouse sued Gökçe for allegedly stealing tips and shorting the staffers on pay.
Tuesday's lawsuit was filed by Louis Pechman, the same labor lawyer who won a $230,000 settlement for the servers in 2019.
The chain was also sued in Texas for allegedly neglecting payments during the construction of its Dallas location and earlier this year, a Brooklyn-based artist sued Gökçe in a $5 million copyright infringement lawsuit, alleging that the chef used his artwork around the world without his permission.