Salt Lake City Mayor Goes Against County Council, Orders Mask Mandate for Schools
The mayor of Salt Lake City issued a mask mandate for students from kindergarten to 12th grade on Friday, saying she believes her order will stand despite the Utah Legislature's restrictions on school districts requiring children to wear face coverings.
Earlier this year, state lawmakers passed several pieces of legislation that restrict the ability of officials to issue mask mandates. One of those laws prohibits individual school districts from requiring students to wear face coverings, although it allows such mandates with the approval of a county commission or council, at the recommendation of a local public health official. Last week, the Salt Lake County Council voted down a masking requirement for students, despite it being recommended by the county health department.
Salt Lake City Mayor Erin Mendenhall announced Friday that she was issuing a school mask mandate via her emergency powers. She has said that she believes her order will stand, despite the county council's decision and the Legislature's actions earlier this year.
"Unfortunately, and despite all the evidence that masks protect children and the adults who care for them, this issue has become politicized to the point that elected bodies across the country, and in the State of Utah, worry about retaliation if they take stand as an organization," Mendenhall, a Democrat, said in a Friday statement.
"I've heard personally from a majority of the Board's members who've privately told me they want to pass this order," the mayor said. "While acting without an official position of the board is not my preferred path, hanging in the balance of this decision is the health of our children, our community, and our healthcare workers."
The Salt Lake Tribune previously reported that the school district did not plan to issue a masking requirement because of the state law. Instead, the school district had been strongly encouraging all parents to mask up their children when sending them to school.
Only one other school district in Utah—Grand County—has managed to pass a mask mandate for students under the process set out in the state's law. That decision was approved Tuesday, but under the state's law it can be imposed for only up to 30 days.
President Joe Biden has ordered the Department of Education to put pressure on states that are blocking mask mandates in schools. The U.S. Centers for Disease Control and Prevention has recommended that all teachers, staff and students wear masks to curb the coronavirus's spread as its Delta variant produces surges across the country. In parts of the country, hospitalizations have broken records in recent weeks, while doctors have warned they are seeing more children and young people with severe infections.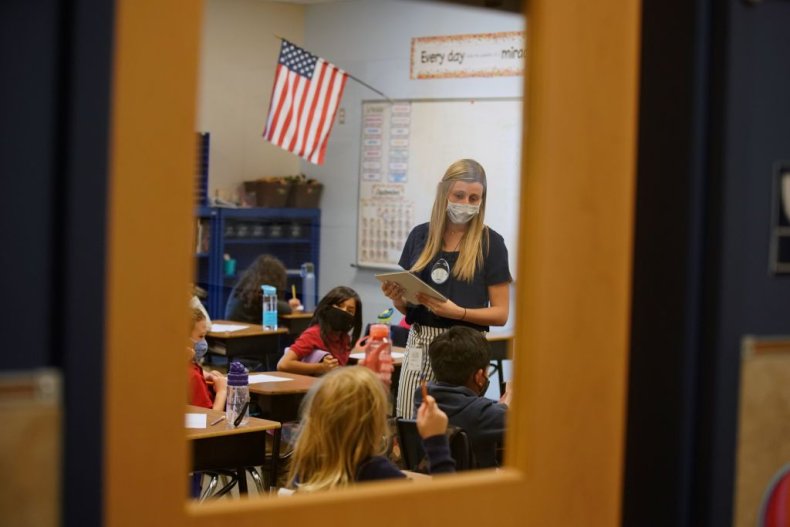 This week, Education Secretary Miguel Cardona wrote a letter to Republican Governor Spencer Cox. Cardona said that "Utah's actions to block school districts from voluntarily adopting science-based strategies for preventing the spread of COVID-19 that are aligned with the guidance from the Centers for Disease Control and Prevention (CDC) puts these goals at risk and may infringe upon a school district's authority to adopt policies to protect students and educators as they develop their safe return to in-person instruction plans required by Federal law," according to KSTU-TV.
Utah has seen its number of new coronavirus infections increase by about 30 percent over the past two weeks. The state is seeing an average of more than 1,100 new cases per day, according to a New York Times tracker. More than 380 people are hospitalized in the state, and about six people are dying daily, on average, from COVID-19.
Newsweek reached out to Mendenhall's office for further comment but did not immediately receive a response.