Largest Newspaper in State Won by Trump Compares Child Separation Policy to War Crimes
The editorial board of The Salt Lake Tribune, the newspaper with the largest weekday circulation in Utah, published a searing editorial Tuesday that called the U.S.'s treatment of refugee children "a national disgrace."
"It can be hard for normal people to grasp that their own government—and it's individual agents, officers and attorneys—is involved in a heartless and brainless effort to visit so much deliberate cruelty upon asylum-seeking families," the editorial said.
"All this at a time when the president of the United States stirs up public mistrust, if not downright hatred, of the news organizations that are struggling daily to find out the truth about these children and what is happening to them," the piece went on. "This is the kind of behavior that, when carried out by non-superpowers, gets people hauled before the International Criminal Court of some special war crimes tribunal."
The Trump administration has faced a turbulent few months that started with the separating of families who crossed the U.S. southern border illegally and ended with the signing of an executive order to end the practice amid overwhelming criticism.
"We're going to have strong—very strong borders, but we're going to keep the families together. I didn't like the sight or the feeling of families being separated," Trump said when he ended the family separation policy.
While Trump carried Utah in the 2016 presidential election with a commanding 45 percent of the vote, The Salt Lake Tribune editorial board endorsed his opponent.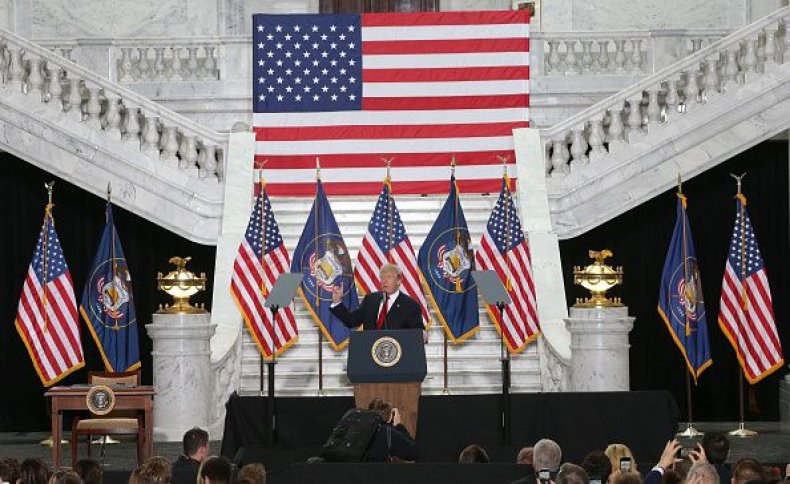 "There is certainly not a perfect choice but, at this point, the only candidate who comes close to being qualified and fit for the post is Hillary Clinton," the Tribune said in its 2016 endorsement. "[Trump] built a campaign on insults and bigoted statements," the endorsement continued, "finally losing any right to be taken seriously with the recent release of a video in which he was heard to brag about his ability to get away with sexually assaulting women."
Despite the editorial board's resistance to the president, Trump continues to hold a majority approval rating in the state—52 percent of registered voters approved of the job Trump was doing as president, while 45 percent disapproved, according to a June Salt Lake Tribune- Hinckley Institute of Politics poll.
"Love Utah," Trump tweeted during his 2016 campaign. "Just leaving Salt Lake City, Utah- fantastic crowd with no interruptions."