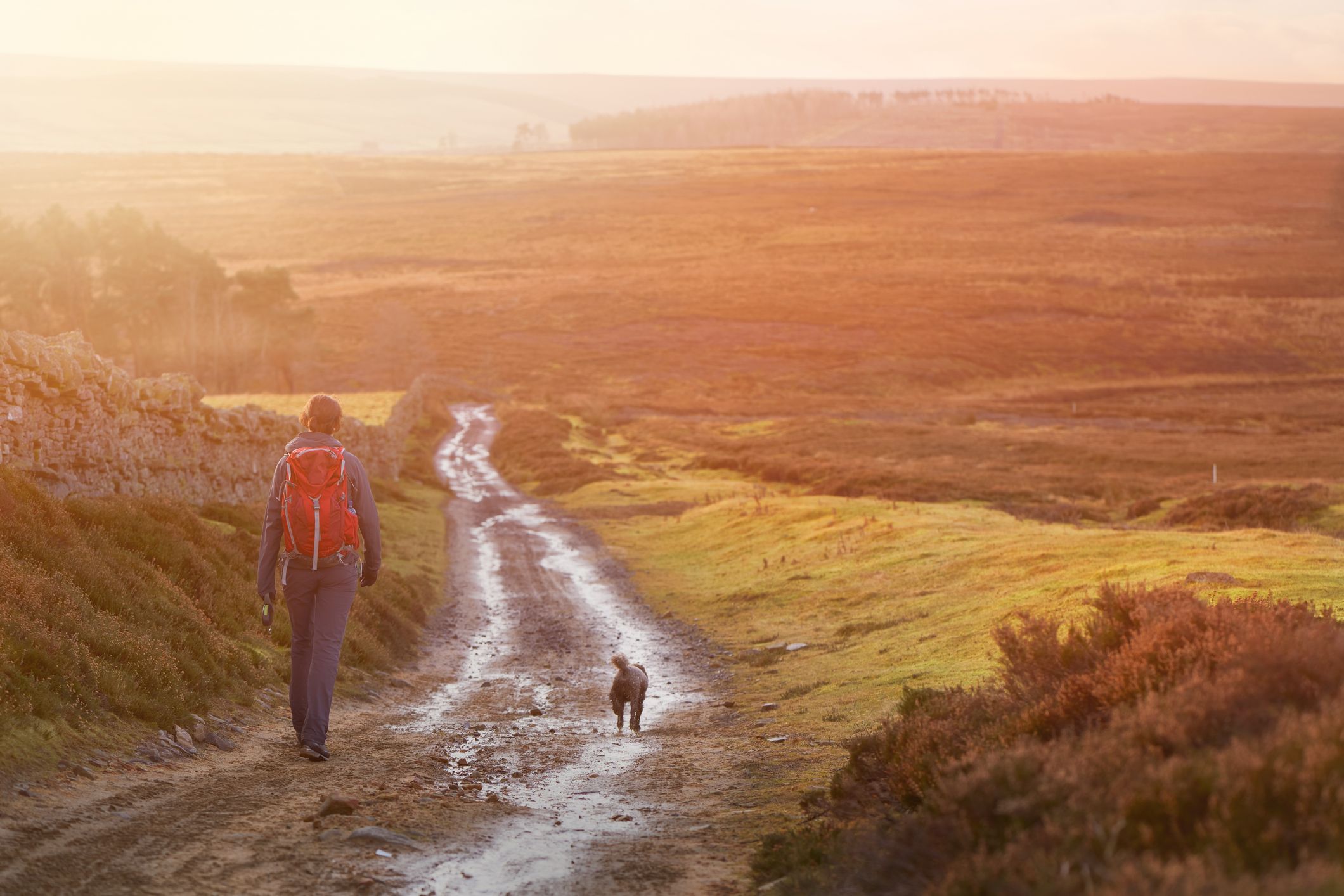 Just days after Raynor Winn learned that Moth, her husband of thirty-two years, was terminally ill, their house and farm are taken away, along with their livelihood. With nothing left and little time, they mad the brave and impulsive decision to walk the 630 miles of the sea-swept South West Coast Path in England, from Somerset to Dorset, through Devon and Cornwall.
Carrying only the essentials for survival on their backs, Winn's new book, "The Salt Path" is ultimately a portrayal of home—how it can be lost, rebuilt, and rediscovered in the most unexpected ways. She writes about her journey for us here.
We were hiding under the stairs when we decided to walk. We didn't carefully consider how we would walk the six hundred and thirty miles of Britain's South West Coast Path, across cliffs and beaches, valleys and moorland, carrying everything we needed to survive on our backs. Or that the path would involve ascent equivalent to climbing Everest nearly four times. But as the bailiffs hammered on the door it seemed like the best response. The path offered the chance to follow a line on a map, and we desperately needed a map, something to show us the way, to shine a light into the void that our future had become.
The bailiffs locked us out of our old life at the end of one of those weeks that feels like it should be happening to someone else. A financial dispute with a friend had led to a long, drawn out court case which culminated in us losing our home and business—and facing eviction within days. During that week, as we frantically packed our life into boxes, Moth, my husband of 32 years, had a doctor's visit. He had been complaining of pain and numbness in his shoulder and arm for some time, and we expected that a series of tests would show ligament damage. But that wasn't the case. The same week that we lost our home, Moth was diagnosed with a terminal condition; a neurodegenerative brain disease for which there is no cure, or treatment. Nothing could be done, other than physiotherapy that might help retain some muscle strength.
With virtually no income and without aid from the local authorities, we quickly became homeless. After a few weeks of couch-surfing, our lives spiralling into chaos, Moth began to grasp the idea of physiotherapy like a lifeline. As he started a punishing exercise regimen to combat his increasing mobility issues, the idea of walking the South West Coast Path grew to the point where we knew we had to do it. We bought a tent in an online auction and two cheap ultra-lightweight sleeping bags from the supermarket and packed our rucksacks with the bare minimum for survival. But it quickly became apparent that carrying a rucksack when you're 50 isn't the same as when you're 20—however light the packs were, they weighed us down. But we headed south all the same, to walk the path as it follows the coastline of the south west of England. From Minehead in Somerset, through north Devon, Cornwall and south Devon, to Poole in Dorset. We didn't realise that our walk would take us through wild terrain and urban holiday makers—testing us in ways we hadn't imagined possible—or that the path would change us and the course of our lives irrevocably.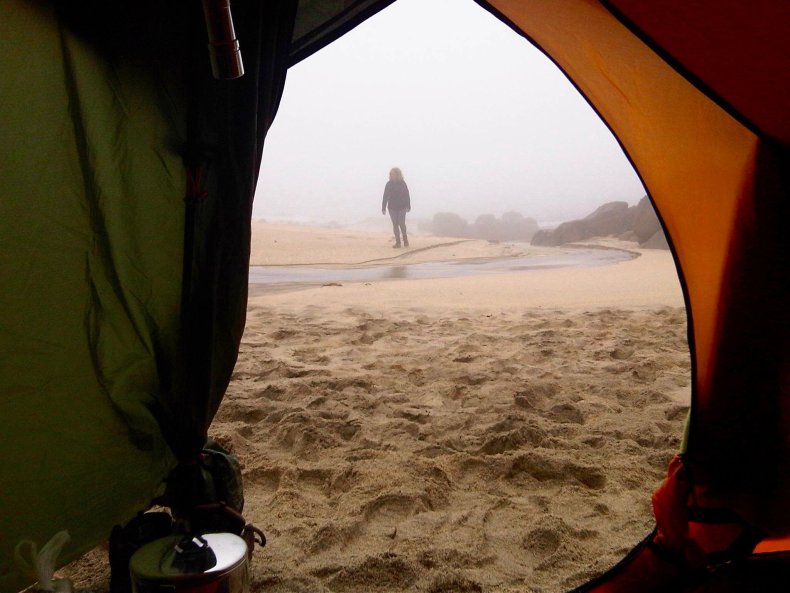 The first days of the walk were incredibly hard for Moth. He struggled to get out of the tent in the morning, and couldn't put his rucksack on without help. Each step on the tough terrain at the start of the trail was made harder by our battle with the despair of losing our home and not knowing with the future would hold. We couldn't afford campsites so we wild-camped, finding a new place to pitch the tent every evening, off the path and hidden from view. The effort involved for Moth was almost unbearable for me to watch—or for him to endure. But we walked on.
The South West Coast Path follows a strip of wild land, caught between the countryside of towns, villages and agriculture to one side and the endless horizon of the sea to the other. It is a world apart. Neither of the land or the sea, but an edgeland inhabited by a concentration of wildlife driven, like us, to find a space where it can safely exist. We camped on exposed wind-battered headlands, in deep wooded valleys, on ice-cold beaches and in sloping fields of thistles. Each morning waking to a different view, a different world. One day in a dew-lit meadow as thousands of ladybugs hatched into their first morning, tiny crimson bodies crawling over everything and lifting into flight. The next, camped on a foggy hillside listening to the calls of seals from the cove below, as the mist lifted and the headlands began to appear one by one, lit by a slither of golden morning light. This ancient coastline is formed and constantly changed by the weather systems that roar in on wild and uncontrollable winds. The vegetation is bent and shaped by its strength, and slowly we were too. As the unpredictability of wild-camping revealed its beauty, we found a unique solace in the ever changing landscape.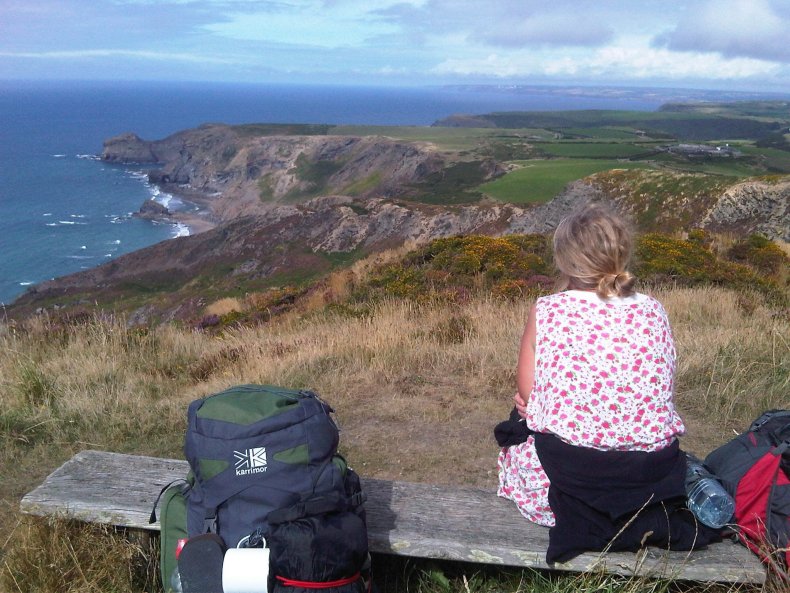 The south west of England is known for its stunning coastline and ancient history, a land of King Arthur, mists and legends that now inevitably thrives on its tourist industry. With that comes exorbitant prices for a house, a bed, a meal—and a desire to protect this beautiful countryside from anything that might be off-putting to those who visit. In our old lives, we would have enjoyed a cosy place to stay with hot water and comfy beds and the endless variety of wonderful food. But we were homeless, with very little money for food, much less shelter. In the early days of the walk, when people we passed repeatedly asked, "How come you have so much time to walk so far?" we answered honestly. "Because we've lost our home and have nothing else to do, so we're walking." This was met each time with the same response. People physically recoiled, drew their dogs in on their retractable leads, and gathered their children. We learnt how to save ourselves, and them, from the awkward situation by changing our answer. "We've sold our house, we're going where the wind blows." And just like that, the responses changed—now, we were inspirational. A simple sidestep to the prejudice and preconceptions that surround homelessness, a much easier outcome for both parties. We walked on, hunger our constant companion as we lived for days on packs of dried noodles and foraged seaweed and limpets. Slowly starving in a land of holidaymakers and plenty.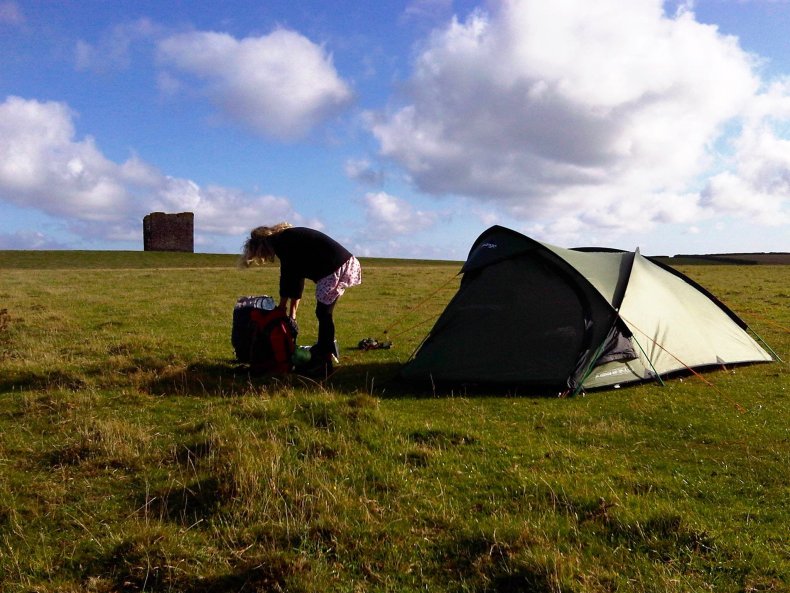 We had walked over two hundred miles when we started to realize that Moth was becoming stronger, his footsteps more sure, his movements just a little easier. At the end of a perfect summer day we camped on a beach, as dolphins swam in the syrup smooth waters of the bay and the sun set behind a lighthouse. At three in the morning, the sea rose much higher than the tideline suggested and we woke to find water lapping just a meter from where we were sleeping. Dashing out of the tent, we grabbed our rucksacks—and lifting the still erected tent full of our possessions above our heads—ran up the sand. As we dropped the tent by the cliffs, we realised what Moth had just done. Before we began the walk he had struggled to put his coat on without help. But with the hard physical effort of the path and months of living as one with the natural world, his health was improving in ways the consultants had said was impossible. It felt like a miracle, an unbelievable glimmer of hope that we didn't dare to acknowledge in fear that it might slip away. So we drank tea, packed our rucksacks, and took the first steps of a new day.
With the complacency of middle-age, it's easy to find that everyday life has become a matter of habit and ritual, centred around the framework of home and work; a secure existence that most of us spend our lives constructing. That life had been snatched from us and we had no idea how to build a new one. But with time the simple act of putting one foot in front of another became a victory, each step the reason to take the next, each valley climbed out of a success, each sunrise a possibility. The strip of wilderness between the land and the sea drew us on, and the ancient weather worn landscape became the reason to exist. Our lives no longer needed a framework, for now we were alive and together and that was enough.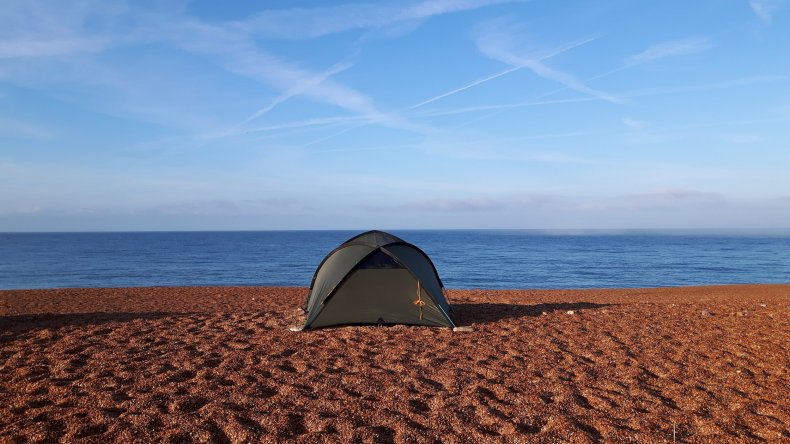 On a damp misty morning on the north coast of Cornwall, we came across two old men walking home from a morning swim. One bundled in a hat and coat, the other in bathers carrying a Tupperware box of blackberries. I thought I didn't like blackberries, the ones we'd eaten on the path had been tart and unpleasant. So when he offered one I took it out of politeness, but as I bit into it there was an explosion of rich, claret autumnal flavour. And faintly, faintly in the background, salt. How could they be so different? The old man put the lid on the box and told us how when the mist comes and lays the salt air on a perfectly ripe blackberry, you find something that you can't create and money can't buy, it's a "gift of time and nature." I'm a farmer's daughter, I've spent my life on the land and nature has always been the place I run to when life gets difficult, it's always been my safe place. But this time it had become far more. I began the walk with the belief that home was the stone walls that surrounded me and I would never have that sense of home again. But as we lived on the coast path, and the wild space began to smooth the pain of the loss, I came to understand that home is just a feeling, it's what makes us feel safe and secure. Home is really just a state of mind. And to come to that feeling after the experiences we'd had, truly was a "gift of time and nature."
Passing Land's End some days later, having spent the day struggling through the horizontal rain of a battering storm, we pitched the tent among the blocky, granite cliffs at the very western tip of England. We were alone at the edge of the Atlantic with only a Mars Bar and £2.50 to sustain us, and just two sheets of wet nylon between us and the sea. But we were free. To walk or not, to give up or not, free to choose as we had never been before. And the path had given us something else, something we thought we would never have again: a life when we thought ours was over, and the chance to look to the open horizon with hope.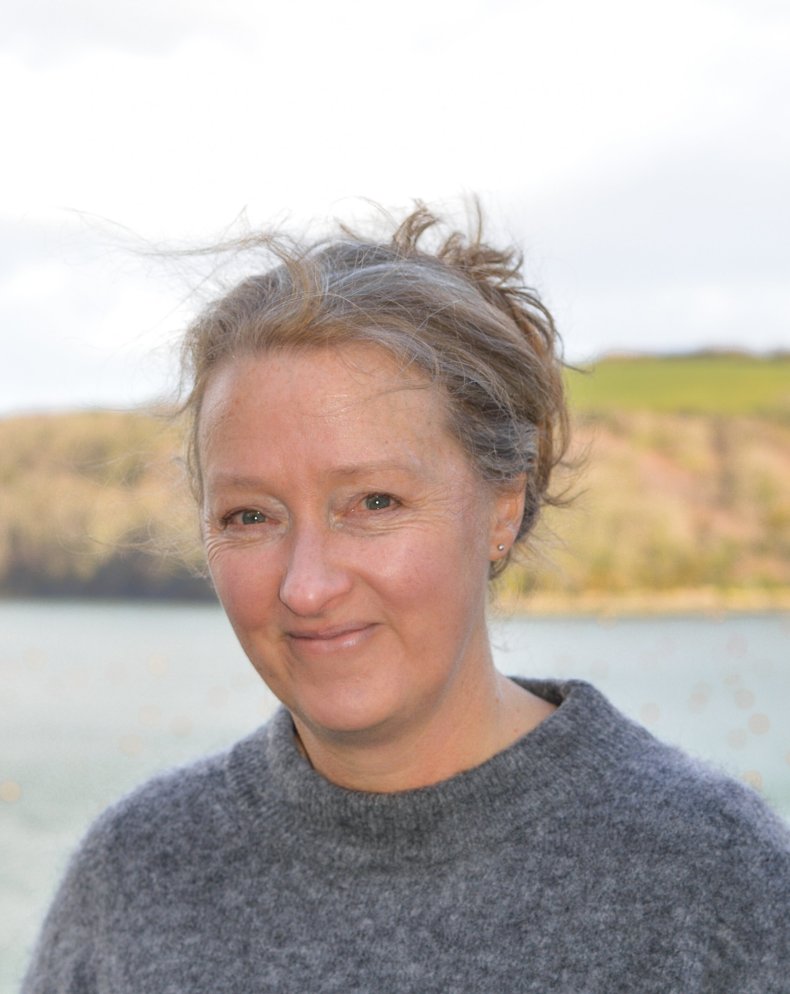 Raynor Winn lives in Cornwall. Since traveling the South West Coastal Path, she has become a regular long-distance walker and writes about nature, homelessness, and camping. An international bestseller, "The Salt Path" is her first book.