Salty 'Game of Thrones' Fans Ready to Take Showrunners to Task at San Diego Comic-Con
Game of Thrones fans are preparing to take on the series' showrunners after a tumultuous, and seemingly disappointing final season for many. D.B. Weiss and David Benioff will appear at San Diego's Comic-Con on July 19, but fans are wary about actually getting to communicate with them.
A Reddit thread, /r/freefolk, which was responsible for some of the more-accurate Season 8 spoilers, is currently hosting a discussion on the showrunners' appearances, and it seems more than a handful of still-angry fans are ready to face them with vengeance. Most, however, seem to think the showrunners won't be ready to communicate honestly with fans and will deflect negative comments on the show's actors.
Neither showrunner has commented on the negative criticism of Season 8, though some actors have expressed both support and disappointment in the final storyline. Much of the criticism stemmed from the plot in general, and the series ending which many found anti-climatic, as well as bad editing mistakes throughout the season, like a water bottle and Starbucks cup spotted on set.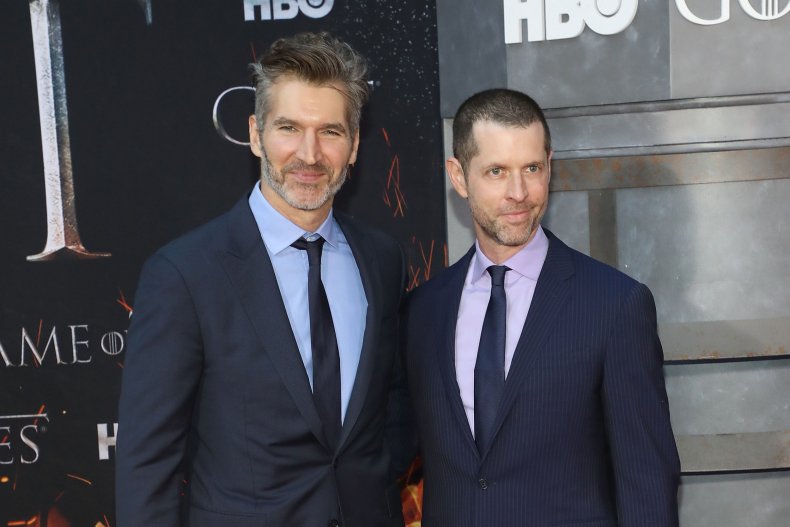 Reddit user NeverEnoughMuppets wrote: "I kinda feel like this is what their response is gonna be: 'Whatever, you can't please everybody, Look at how angry those nerds are, we stand by all our decisions, it's an affront to all the actors and crew." Just bulls*** and bad faith arguments."
The point was echoed by many. SolitareJack responded. "I don't doubt they will try to lump themselves in with the actors so they can try and counter shame people and use them as human shields."
Others thought there may not even be a chance to address the showrunners with hard-hitting questions. "I don't know how this works but the people there will be plants and praising [Weiss and Benioff] for their work," wrote ExciseDuty. "These idiots don't have the balls to take criticism upfront."
Comments on how to best approach the showrunners with questions and disappointments quickly turned salty. Some users made jabs at the show's final season, and others poked at the idea of shaming the showrunners, as they did to Cersei Lannister.
"Someone please dress up like Septa Unella and shame bell those bastards," wrote user shhphoenix. Another user, AWildEnglishman responded with reference to Daenerys Targaryen burning down all of King's Landing in Season 8. "Maybe upon hearing the bells they'll flip out and burn down the convention for no reason. That'd be unexpected."
The showrunners will appear alongside some of the show's actors, including Maisie Williams who played Arya Stark, Isaac Hempstead Wright who played Bran Stark, Jacob Anderson who played Grey Worm, Nikolaj Coster-Waldau who played Jaime Lannister Nathalie Emmanuel who played Missandei of Naath, Iain Glen who played Ser Jorah Mormont, John Bradley who played Samwell Tarly, Liam Cunningham who played Davos Seaworth and Conleth Hill who played Varys.