Will It Rain on Donald Trump's Parade? Salute to America Could Be a Washout As Thunderstorm Looms Over Washington, D.C. On 4th of July
President Donald Trump's hopes for a large crowd to attend his "Salute to America" Fourth of July event may be hampered by the weather.
According to forecasters, there is a strong chance that severe thunderstorms and rain will hit Washington, D.C on the afternoon of July 4, with the president due to make his speech in front of the Lincoln Memorial at 6:30 p.m.
The unsettled weather could arrive around 2 p.m., just after the National Independence Day Parade from Constitution Avenue NW from 7th Street to 17th Street NW finishes.
According to a National Weather Service forecast: "Showers and thunderstorms [are] likely, mainly after 2 p.m. Mostly cloudy, with a high near 91. Light and variable wind becoming southeast 5 to 7 miles per hour in the morning. Chance of precipitation is 60 percent. New rainfall amounts between a tenth and quarter of an inch, except higher amounts possible in thunderstorms."
In its hour by hour forecast, the NWS said it is also likely there will be some rain between 7 p.m. and 10 p.m., which could put a dampener on the fireworks display due to begin at 9:07 p.m. over the National Mall, which Trump has promised will be the "biggest ever."
Later in the evening, the NWS said showers and thunderstorms are again likely, mainly before 11 p.m.
"Patchy fog after 5 a.m. Otherwise, mostly cloudy, with a low around 75," forecasters added. "Southeast wind 3 to 6 miles per hour. Chance of precipitation is 60 percent. New rainfall amounts between a tenth and quarter of an inch, except higher amounts possible in thunderstorms."
Overall, July 4 is expected to hot and humid in the eastern parts the U.S., and cooler and dry in the west. The NWS warned those taking part in Fourth of July celebrations that there is a slight to enhanced risk for severe thunderstorms in parts of the Central Rockies and Plains, with heavy rainfall also likely from the Upper Midwest to the High Plains.
"Temperatures for the 4th of July will be above normal for many east of the Rockies. Daytime highs in the 90s will be common across the Eastern states with high humidity levels making it feel even hotter," the NWS said.
"Temperatures across parts of the Southeast and Mid-Atlantic should moderate slightly by Friday, while across New England and the Great Lakes, near 90 degree temperatures will continue, even as far north as Maine.
"The Western U.S. should stay near or below normal as we end the week, with the greatest departures from normal (10 to 20 degrees below average) likely across the Montana to the Northern Plains as cold air filters in behind the cold front."
The graphic below, provided by Statista, highlights that in a recent poll by Monmouth University, 80 percent of Americans have likely not heard about Donald Trump's plan to give a speech from the Lincoln Memorial on the 4th of July.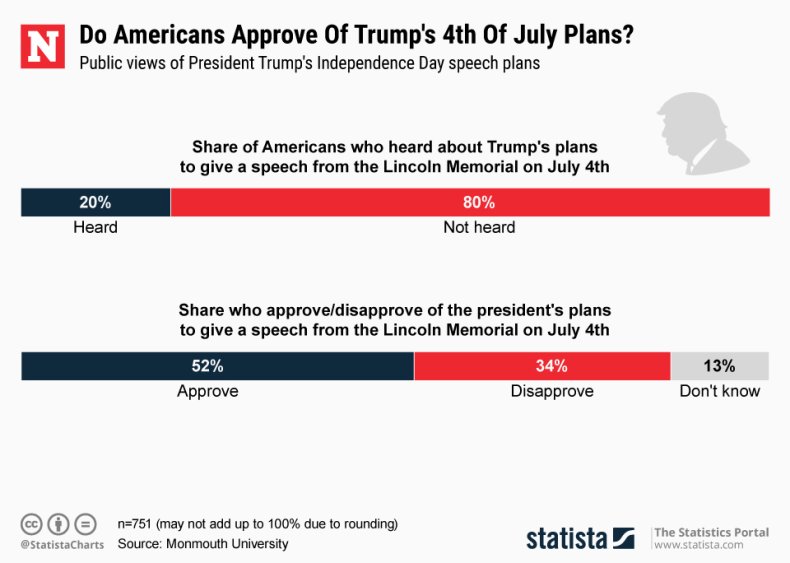 4th of July schedule of events in Washington, D.C.:
National Independence Day Parade
11:45 a.m.—2 p.m.
Salute to America – Lincoln Memorial
6:30 p.m.—7:30 p.m.
A Capitol Fourth Concert—West Lawn the U.S. Capitol
8 p.m.—9:30 p.m.
Fireworks Display
9:07 p.m.—9:42 p.m.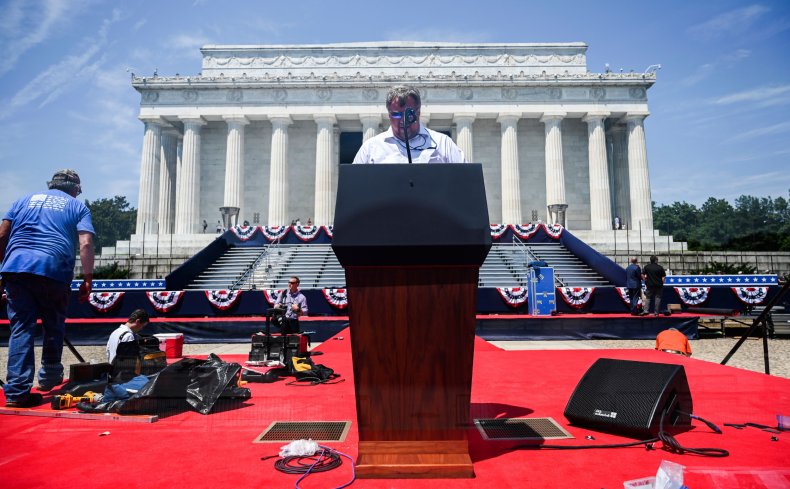 This article was updated to include an infographic.