President Donald Trump has been mocked for saluting the casket of George H.W. Bush.
The president and the first lady, Melania Trump, were among dignitaries to pay their respects at the U.S. Capitol Rotunda to Bush, who died at his Texas home on Friday at age 94.
The former president's body is scheduled to lie in state at the rotunda until Wednesday, when his funeral will take place in Houston.
Footage shows the president and the first lady approaching Bush's flag-draped casket. The Trumps stand solemnly for a moment, before Trump raises his hand to his face in a salute and Melania places her hand on her chest.
However, the president's apparent show of respect was lambasted online as inappropriate and incorrect.
The rules for saluting are complex, but the right to salute is widely considered to be earned by military personnel. As Trump has not served in the military, some saw it as improper for the president to salute Bush, particularly as he served in World War II. Bush was the last U.S. president to serve in active combat.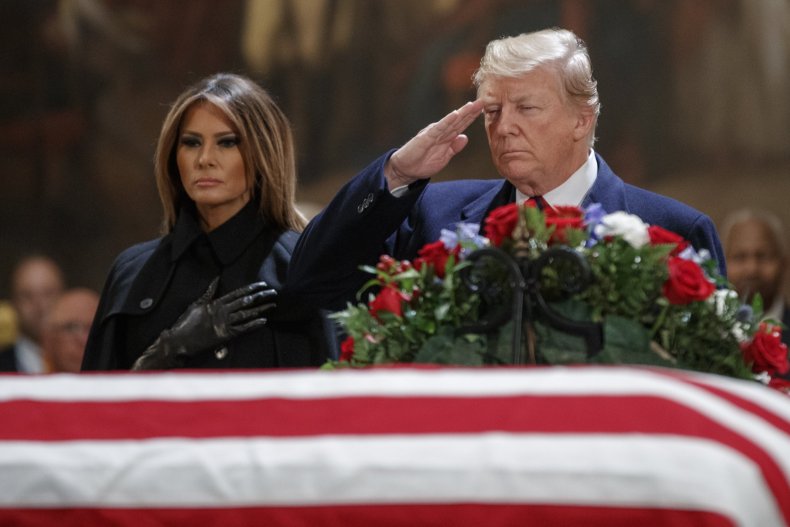 Related: Donald Trump's climate change tweet lambasted by scientists: 'He's a dangerous clown'
Trump's saluting technique itself was also criticized. When a salute is performed, the fingers must be kept straight with the thumb in line. Footage from the memorial shows the president's thumb was slightly bent.
There are exceptions to saluting, however. In 1981, Ronald Reagan is believed to have started the tradition of presidents saluting the military officers flanking his helicopter as he boards it.
This tradition landed President Barack Obama in hot water in 2014, when he saluted a Marine guarding his presidential helicopter while he held a coffee cup in his hand.
Michael Desch, a professor of political science at Notre Dame University and a military expert, told Newsweek: "This whole issue is quite fraught. A generation ago, a president who had not served, or even one who had but was not in uniform, would not have even returned a salute. Since President Reagan, things have changed, and not for the better in my opinion, in terms of civil-military etiquette."
Desch went on: "Certainly, a president ought to acknowledge a military salute rendered. But returning a salute while not in uniform seems vaguely inappropriate, but then so does much of what passes for modern etiquette. Also, the president as commander in chief had wide latitude in these matters."
Desch added, "Still, I noticed that former President George W. Bush, who has served, put his hand over his heart as the flag-draped casket of his father passed. That strikes me as the appropriate show of respect."
The disapproval of Trump's gesture comes after he made the highly unusual decision to return a salute to a member of the North Korean military during his June summit in Singapore with Kim Jong Un.
Footage released by North Korea's state media shows Trump gesturing to a general. Military rules dictate a salute is reserved for personnel of friendly foreign nations, CNN reported at the time. However, a president is not expected to return a salute—particularly to an official from a nation with which the U.S. has had an uneasy relationship.
Following criticism at the time, press secretary Sarah Sanders told a White House press briefing, "It's a common courtesy when a military official from another government salutes that you return that."
This article has been updated with comment from Michael Desch.