The Salvation Army is thanking British singer Ellie Goulding -- who had threatened to not perform at the Dallas Cowboys' Thanksgiving halftime show it organizes -- over its alleged anti-LGBTQ stance, for "shedding light on misconceptions."
The Christian organization on Wednesday evening confirmed that Goulding would perform at the halftime concert kicking off its Red Kettle Campaign fundraising drive. In a statement obtained by The Dallas Morning News, Salvation Army National Commander David Hudson thanked Goulding as well as her fans "for shedding light on misconceptions and encouraging others to learn the truth about The Salvation Army's mission to serve all, without discrimination."
"We applaud her for taking the time to learn about the services we provide to the LGBTQ community," Hudson stated.
Goulding almost pulled out after a fan commented on a photo she shared on Instagram on Tuesday of herself wearing a Salvation Army apron and praising the organization for helping the needy. The fan accused the Salvation Army of being "extremely homo/transphobic" and wished Goulding "had done some research beforehand or something."
The singer thanked her fan for bringing the matter to her attention and replied: "Upon researching this, I have reached out to The Salvation Army and said that I would have no choice but to pull out unless they very quickly make a solid, committed pledge or donation to the LGBTQ community."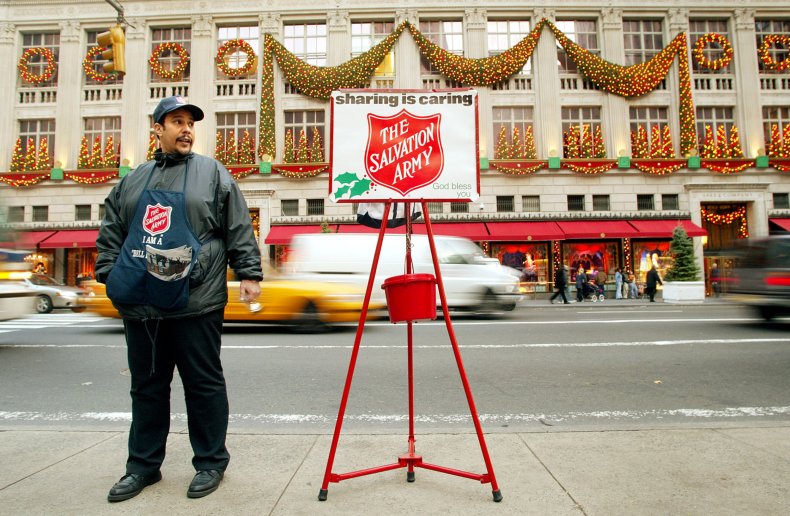 The Salvation Army and Goulding reportedly made amends, with Hudson stating: "Regardless of race, ethnicity, sexual orientation or gender identity, we're committed to serving anyone in need." He added that "every day, we provide services such as shelter for the transgender community and resources for homeless youth," and that 40 percent of them are gay or transgender.
Founded in 1865 in London, and whose "mission is to preach the gospel of Jesus Christ and to meet human needs in his name without discrimination," the Salvation Army has been accused of previous actions perceived as discriminatory against the LGBTQ community, according to HuffPost:
2013: The Salvation Army took out hyperlinks off its website to ministries that offered therapy for "ex-gay" conversion,which had been listed in its resources for people seeking help with "sexual addictions."
2012: The Salvation Army in Burlington, Vermont, allegedly fired a case worker after finding out she was bisexual. The organization's spokesman Major George Hood then stated: "A relationship between same-sex individuals is a personal choice that people have the right to make. But from a church viewpoint, we see that going against the will of God."
2001: Salvation Army spokesman David Fuscus said they did not want employee medical benefits to be extended any workers with same-sex partners.