Hurricane Sam Becomes Major Hurricane, Expected to Strengthen on Path to U.S. Southeast
Sam, the seventh hurricane of the 2021 hurricane season, is increasing in strength as of Saturday, according to the National Hurricane Center (NHC).
Forecasters said that Sam, the 18th named storm of this season, is becoming a major hurricane as it moves through the Atlantic, affecting the U.S. southeast by late next week or the week after.
The agency said that Hurricane Sam is "small but dangerous" as forecasters expect it to intensify this weekend.
The NHC also said that as of 11 a.m. on Saturday, the storm was located around 1,095 miles east-southeast of the Northern Leeward Islands and had maximum sustained winds of 120 mph, moving west-northwest at 10 mph.
According to United Press International, a storm is deemed a major hurricane when it reaches Category 3 with wind speeds of between 111 mph and 129 mph.
Newsweek reached out to the NHC for comments, but didn't hear back by the time of publication.
Some parts of the country are still reeling out from different intense hurricane damages. On September 14, Hurricane Nicholas developed into a Category 1 storm, with winds and waters crashing into the Texas Coastal Ben Area as the hurricane was making its way into Louisiana.
Nicholas also formed a life-threatening storm surge along all the Texas coastline and onto southwest Louisiana.
Within only a matter of hours, Nicholas transformed from a storm with sustained winds of 60 mph to a hurricane-force storm with winds of 75 mph. Nicholas' forecasted rainfall was reported to be dangerous along Texas coastal cities.
Meanwhile, Louisiana is still recovering from Hurricane Ida, which caused widespread flooding and an estimated $95 billion in damages statewide. Over 900,000 people experienced power outages across the state for two weeks, including many residents in New Orleans.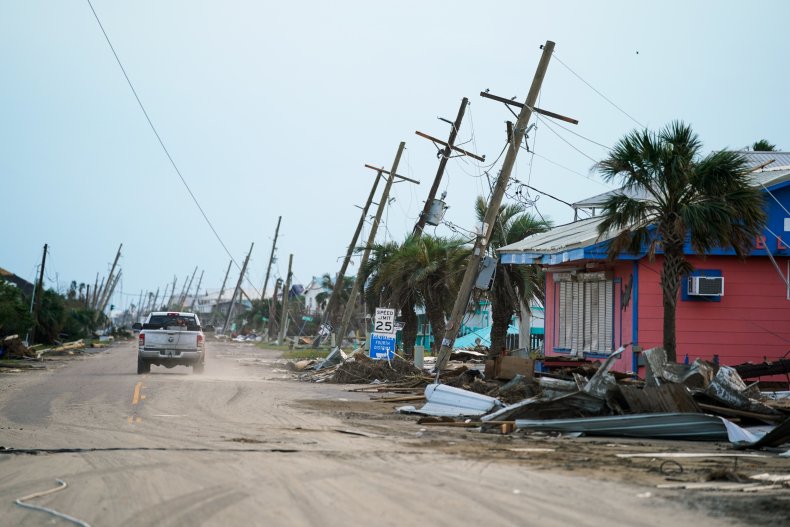 Additionally, New Orleans experienced a weeks-long delay in trash pickup as garbage was piled up outside residents' houses.
One resident, Ricky Johnson, who lives in Gentilly, a New Orleans neighborhood, told local news station WDSU that "[the smell] is getting really aggravating."
"Solid waste collection was a challenge due largely to workforce issues nationwide that are affecting many sectors," said Deputy Chief Administrative Officer for Infrastructure Ramsey Green in a statement on September 17.
"This was an issue before the storm that was exacerbated by the COVID-19 pandemic, and it is an even greater issue now as we continue to move through our recovery with more than two times the amount of normal trash. This small number of responsive bidders underscores the monumental challenge that continues to impact our sanitation operations today," Green added.