Sam Cassidy Identified as San Jose VTA Light Rail Yard Shooter Who Killed 8, Then Himself
57-year-old Sam Cassidy was identified by law enforcement officials as the suspected shooter at a scene in San Jose, California where nine people died.
The Associated Press reported that local officials confirmed Cassidy as the gunman who opened fire shortly after 6:30 a.m. local time at the Valley Transit Authority (VTA) light rail yard. Cassidy, police said, killed eight people at the VTA building before taking his own life.
Law enforcement officials were unable to immediately provide a motive for the shooting, the Associated Press reported.
Prior to the announcement of the suspected shooter's identity, Santa Clara County Sheriff's Office public information officer Russell Davis confirmed that there were nine total fatalities — eight victims and the shooter.
Police have not released any further info on Cassidy other than being a VTA employee. Cassidy did not appear to have a presence on social media apps such as Facebook and Twitter.
Officials have not yet confirmed the identity of any of the deceased nor the number of injured during the shooting. Davis also said that police received information that there were explosive devices at the VTA building where the shooting occurred, prompting the sheriff's office to activate their bomb squad to investigate the scene.
The announcement by the Santa Clara County Sheriff's Office comes hours after they first reported an active shooter investigation at the VTA Light Rail Yard.
"Deputies currently on scene for an active shooter investigation in the area of 100 W. Younger Ave. SJ. Please stay away from the area. More info to follow," the Santa Clara County Sheriff's Office wrote in a tweet at around 7:12 a.m. local time.
During a press conference on Wednesday, Davis said police received multiple 911 calls around 6:34 a.m. local time of "multiple shots fired," in the area near 101 W Younger Ave.
At around 8 a.m. local time, the Santa Clara Sheriff's Office wrote on Twitter that the suspected shooter was down. Davis later confirmed at a press conference that the suspected shooter had died at the scene.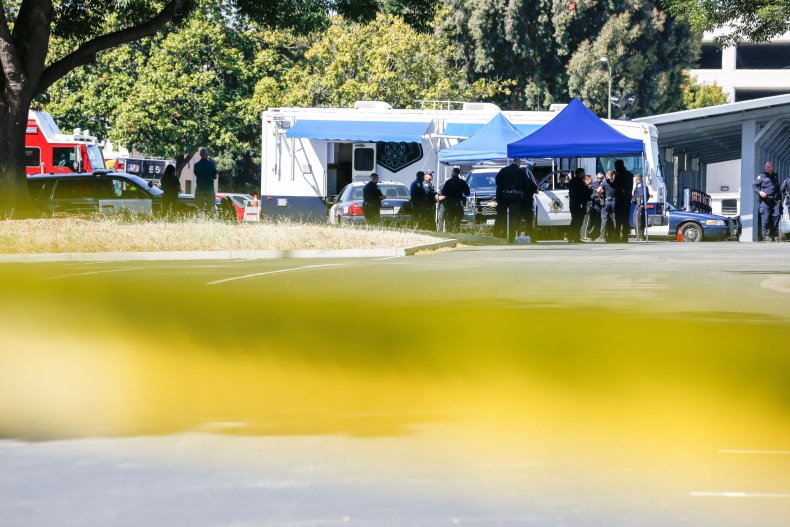 "We're so sorry that this event happened," VTA Chairman Glenn Hendricks said during a press conference.
San Jose Mayor Sam Liccardo said, "Our heart pains for the families and the co-workers...Now is a moment for us to collect ourselves, to understand what happened, to mourn and to help those who have suffered, to heal. That will be my intention today and for the foreseeable future."
During a White House press briefing on Wednesday, Deputy Press Secretary Karine Jean-Pierre told reporters that President Joe Biden has been briefed on the incident.
Several California lawmakers also issued statements following the incident, including Senators Alex Padilla and Dianne Feinstein as well as Reps. Jimmy Panetta and John Garamendi.
For ongoing updates on the San Jose shooting, visit Newsweek's liveblog.