Sam Darnold Actually Wants to Go to Cleveland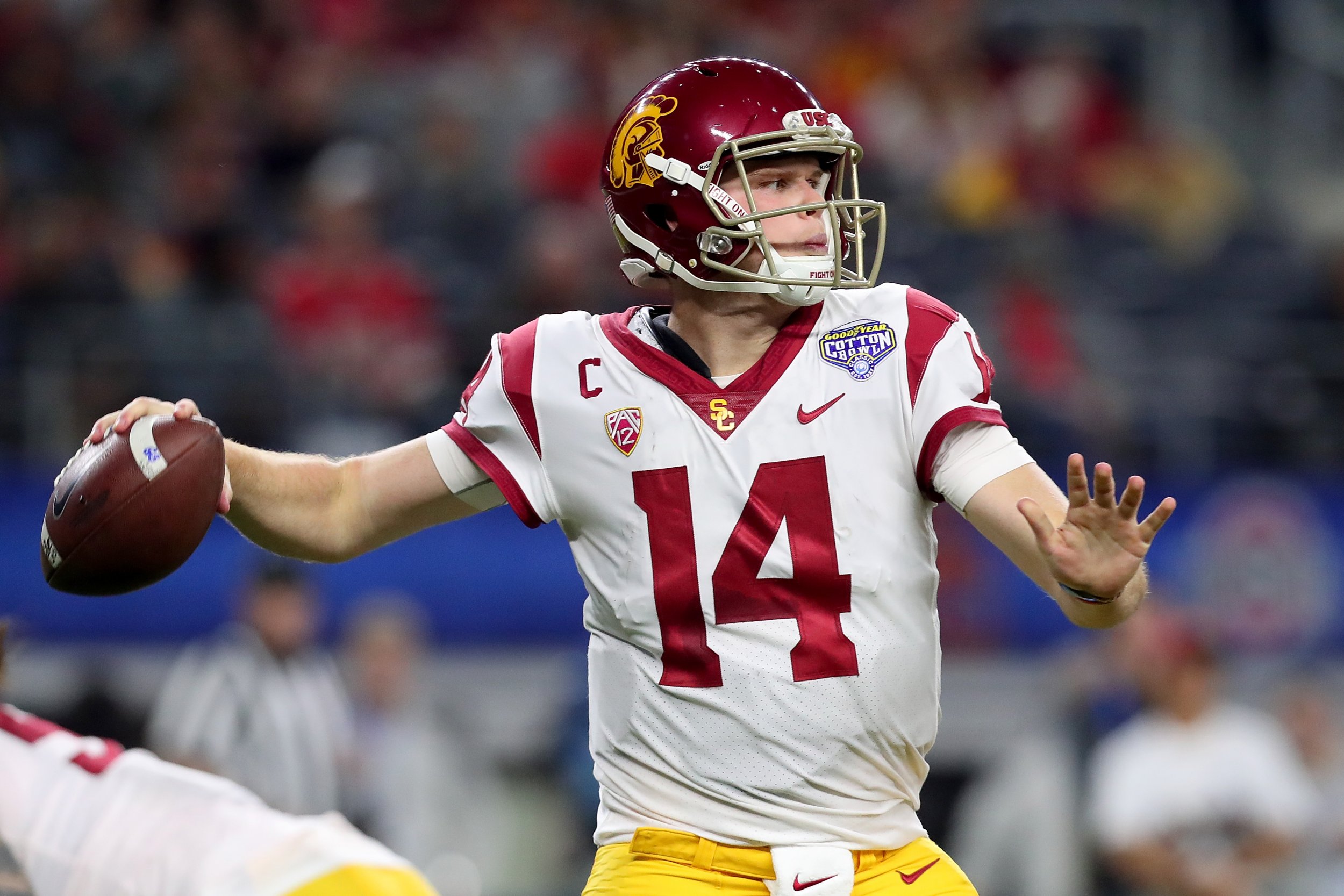 Joining a team that has gone throughout a season without winning a single game might seem folly to most, but for Sam Darnold it represents a great prospect.
The 20-year-old is among the favorites to be the first overall pick at this year NFL's draft and has revealed it would be "awesome" to be selected by Cleveland, despite the fact the Browns endured a dismal 2017.
The quarterback, who delivered 57 passing touchdowns in his two seasons with University of Southern California, met a delegation from the Browns for dinner on Tuesday night and clearly liked what he heard.
"It would be awesome to go to No. 1 [in the draft], just because I think what the Browns are doing is really good right now, and I think they have potential to be a really good team in the future," Darnold told ESPN after his Pro Day on Wednesday, as reported by Cleveland.com.
"But at the same time, if they don't want me and they don't pick me, that's the best situation because I don't want to go to a team that doesn't want me."
Last year, the Browns became only the second team in NFL history to finish a season with a 0–16 record, sharing the unwanted feat with the 2008 Detroit Lions.
However, new general manager John Dorsey has been busy during the off-season, and the Browns have welcomed the arrival of quarterback Tyrod Taylor from the Buffalo Bills in exchange for a third-round draft pick, while safety Damarious Randall and offensive lineman Chris Hubbard arrived from the Green Bay Packers and the Pittsburgh Steelers, respectively.
Meanwhile, wide receiver Jarvis Landry and cornerback T.J. Carrier have joined from the Miami Dolphins and the Oakland Raiders, respectively, and running back Carlos Hyde has left the San Francisco 49ers for the Browns.
Along with Browns' owner Jimmy Haslam, coach Hue Jackson, offensive coordinator Todd Haley and quarterbacks coach Ken Zampese, Dorsey was part of the delegation that met Darnold and then watched him throw during his Pro Day.
The former USC student did not throw at the NFL scouting combine in February and had to throw in the rain on Wednesday, but he believes he has what it takes to become the No. 1 pick.
"I feel like I'm definitely capable of going [to be the] No. 1 [pick]," he was quoted as saying by ESPN. "What the Browns are doing right now is really good. They've got a lot of good pieces right now. I think going there and being able to lead the way I lead and play the way I play, I think it would be a good situation."
While the 20-year-old is in high demand, Jackson last week made clear that neither Darnold, nor the other three top quarterback prospects will be in the starting lineup next year if selected.
The former USC quarterback, however, insisted he would have no problems with playing understudy to Tyrod Taylor.
"There's definitely different ways of doing it," he told ProFootballTalk. "You can go in as a rookie and play really well, and then you can also sit for a couple years, which is what I did here [at USC]."
Cleveland, however, is not the only franchise in the running for the California native. Darnold told reporters he has also met with New York Jets general manager Mike Maccagnan and head coach Todd Bowles, Los Angeles Chargers head coach Anthony Lynn and his Arizona Cardinals counterpart Steve Wilks.