'Dirty Tricks' in a Sleepy Congressional Race?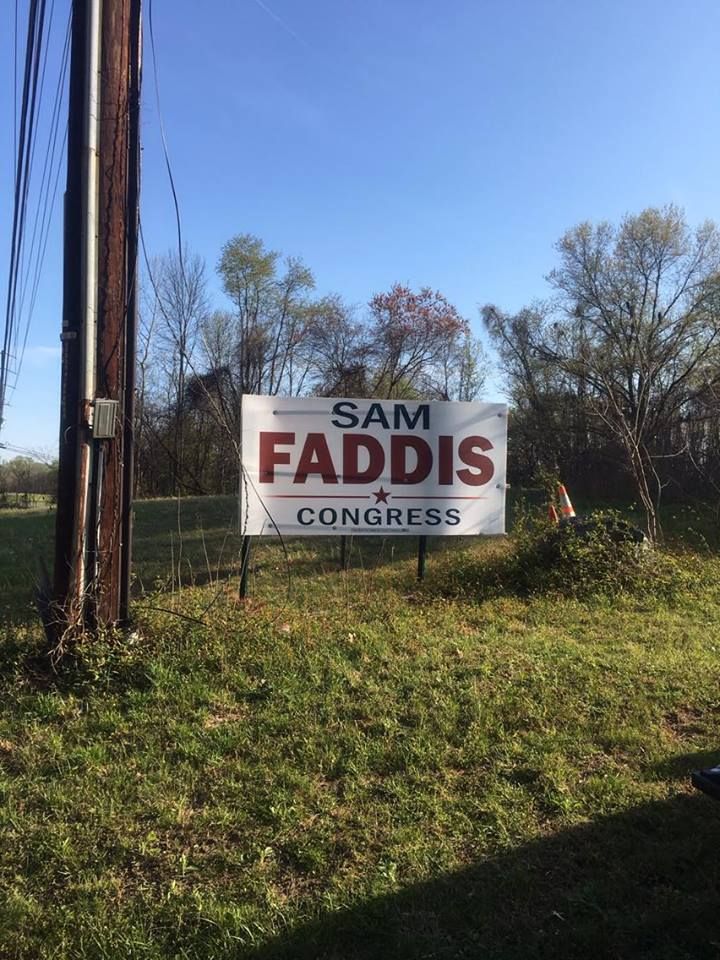 Is the weirdness of the 2016 presidential election contagious?
Looks like it, judging by events in the normally sleepy 5th Congressional District of Maryland, outside of Washington, D.C.
The Republican and Democratic primary ballots there were already a bit, well, distinctive, with a transgender ex-Navy SEAL, a retired CIA officer and a court-martialed former Air Force doctor vying to replace the longtime Democratic incumbent, Steny Hoyer, the favorite to keep the job he's held since 1981.
But things got a little more interesting this week when the former CIA man, Charles "Sam" Faddis, claimed he'd been a victim of a black op more common in a Third World backwater: Over the past two weeks, somebody has been vandalizing and stealing his campaign signs.
"In some cases, signs have been mangled and left on site," Faddis told his followers in an email Wednesday. "In other cases, the signs and the posts supporting them have been taken away entirely."
Faddis and his wife, Gina, also a former CIA officer, sent out several before-and-after pictures in the email. They said so many signs "have been stolen or vandalized…that we cannot keep them replaced at this point."
"Dirty tricks," they call it—without a trace of irony. Both once worked in the CIA's operations directorate, often called–yes, "the department of dirty tricks." Faddis, who wrote a highly regarded memoir about leading the first CIA team into pre-war Iraq and retired in 2008 as a chief of the CIA counterterrorism unit tracking weapons of mass destruction, has campaigned for "a more aggressive, creative approach to operations against rogue states and terrorist groups," according to a press release.
As for his more immediate enemies, he has no suspects. "We don't know who's behind it," Gina Faddis tells Newsweek. "We do know that apparently no other campaign's signs are being targeted." She says campaign signs have disappeared "in four out of five counties" in the district, which flows like spilled paint from northeast of Washington, D.C., down into the Chesapeake Bay peninsula. "In some cases the signs and posts have been taken away," she said. "In other cases the posts have been snapped off and the signs thrown over the hill."
Dirty business, but they don't have time to do much about it, besides asking if anyone saw the vandalism or caught it on a security camera (no one so far, Gina says). With their campaign calendar packed with last-minute events, she adds, they didn't have time to file a police report.
Silly stuff? Having your campaign signs stolen doesn't sound like a big deal in an era of multimillion-dollar congressional TV campaigns, but they've traditionally played an outsize role in the Maryland suburbs as a measure of a candidate's popularity and ability to recruit volunteers.
Faddis's only opponent in the Republican primary is Mark Arness, a former Air Force doctor and aviator who was "awarded the service's Air Medal for gallantry in the war on terror in 2008," according a biography on the Southern Maryland News Net website. Unmentioned in that account: his court-martial conviction on 14 counts of "absenting himself from his of duty," 10 counts of "false official statements" and two counts of "conduct unbecoming an officer by submitting a memorandum he knew to be fabricated," according to a 2015 decision published by the United States Court of Appeals for the Armed Forces. He served 11 months in prison.
Arness "believes this country is on a perilous course towards socialism, and feels a moral calling to serve as your voice on Capitol Hill," according to his campaign website.
It's been that kind of year.
The incumbent Hoyer, who turns 77 in June, is part of the senior Democratic leadership in Congress as minority whip—the party's vote-wrangler. He's predicted to handily win an 18th term.
But nothing's routine on his side of the ballot, either.
Hoyer's main challenger is Kristin Beck, 49, who came out as a transgender woman in 2013 after two decades as a Navy SEAL, including time as a member of the famed SEAL Team Six commando unit. Among other decorations, Beck was awarded the Bronze Star and a Purple Heart. In her highly praised autobiography, Warrior Princess (co-authored with Anne Speckhard, a psychologist at the Georgetown University School of Medicine) Beck wrote, "I hope my journey sheds some light on the human experience and most importantly helps heal the 'socio-religious dogma' of a purely binary gender."
"Let's make this a great nation again," Beck says on her website, echoing you-know-who. But that's about all she and Donald Trump have in common.
"I will not stand by and see our country divided by race, color, gender, wealth, religion or anything else," Beck says. "Our nation was built on individuals and diversity of all kinds. It is time to get back on track and work together."