At 100 years old, a World War II Veteran Reflects on a Life Well Lived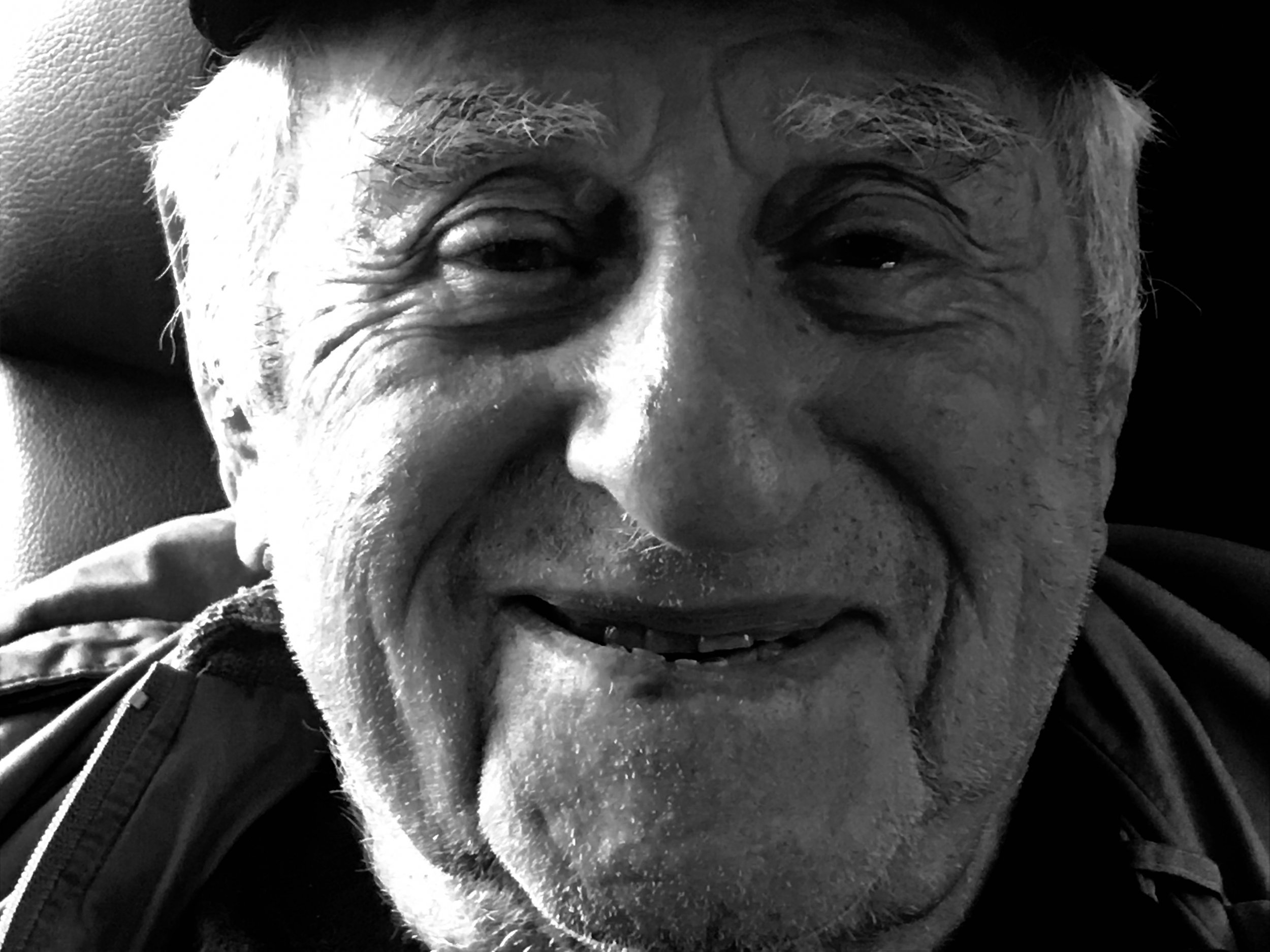 The train carrying Sam Nebesky, 25, had just pulled into Union Station in Washington, D.C., when he sent his girlfriend, Shirley, 21, a Western Union telegram telling her to meet him at Penn Station in New York. They were getting married.
It's July 29, 1943—a Thursday, to be exact—and war covers the newspapers and magazines of the day. The late city edition of the paper of record, The New York Times, cites President Franklin D. Roosevelt revealing that 160,000 Allied troops had invaded Sicily earlier in the month. Newsweek's cover story a week prior read, "Beachhead! Invasion comes to Fortress Europe."
Nebesky, a Jewish kid from the Bronx and newly minted U.S. Marine, didn't know when exactly he would be sent over to the war to embark upon the "Great Crusade," as General Dwight Eisenhower put it. Shirley had fainted two months prior when she received the telegram saying he had joined the Marines.
"When she got up that morning, she didn't know she was going to be a bride that night," Nebesky told Newsweek.
Shirley made a quick call to Nebesky's sister and ran out of Brooklyn Navy Yard, where she worked in the clerical department, and into a problem. She had no money for a taxi.
"She got ahold of a cab driver and says, 'Look, my future husband is coming in from the Marine Corps, and I'm supposed to get married, and I don't have any money to get home!'" Nebesky recalls. "So the cab driver says, 'Don't worry, I'll take you home.'"
Nebesky and Shirley embraced each other at Penn Station and ran to City Hall, rushing into the marriage license bureau just two minutes before closing time.
Nebesky's sister was frantically running around trying to gather friends and family together for a hasty Jewish wedding at his parents' house in the Bronx.
"We got married in my house," Nebesky said. "We had a bootleg rabbi to perform the ceremony, because he wasn't legitimate."
The happy couple headed over to the Hotel Edison, between 46th and 47th streets in Times Square, just west of Broadway, to celebrate their honeymoon, according to a hotel receipt Nebesky has saved for 75 years. The couple stayed for three days, checking out on July 31, 1943. A note written on the receipt reads, "What a day and night." The total amount of the bill: $9.90.
They would remain married for the next 57 years, until Shirley's death in 2000. A single story among a treasure trove of memories Nebesky shared with Newsweek in the run-up to his 100th birthday on Wednesday.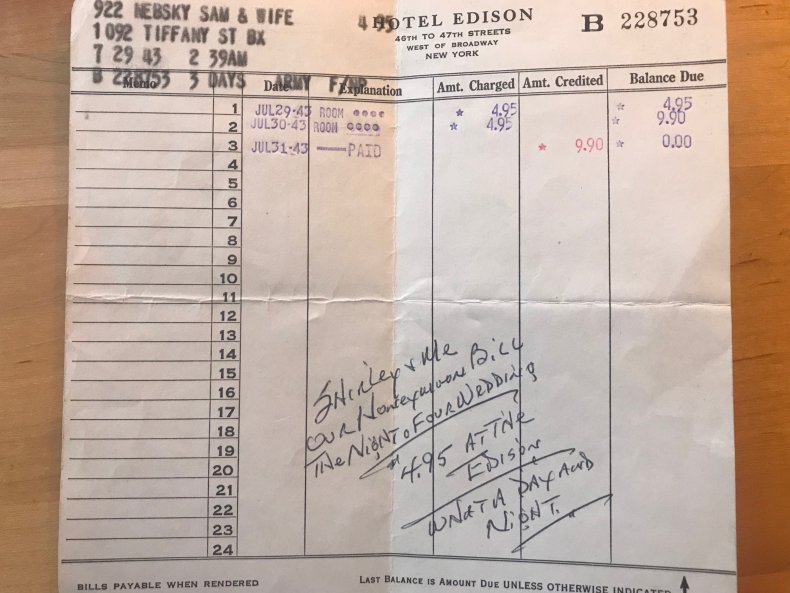 Last weekend, the Miami Dolphins invited Nebesky to their home game against the Oakland Raiders as their honored guest. Video from the game shows a roaring crowd of more than 65,000 fans cheering as Nebesky is introduced at the Hard Rock Stadium.
Marines stationed in South Florida took Nebesky out to lunch at Mission BBQ on Monday, and presented him with a Marine Corps birthday cake and a plaque commemorating his service.
And by Wednesday, Nebesky was an internet sensation as hundreds of strangers across the country wished him a happy birthday.
President Donald J. Trump called the veteran to thank him for his service as commandant of the Marine Corps. General Robert Neller sent a birthday message to the former staff sergeant on Twitter.
"Happy birthday, Marine. I'm very proud of you. Proud of all you have done and for hanging in there and representing for all of us what semper fidelis is all about."
When Nebesky heard the news that he was receiving a letter from Neller to thank him for his service to Corps and country and his contributions to the Marine Corps' legacy, he yelled, "No kidding? Holy mackerel!"
The outpouring of grateful messages is a story within itself, facilitated through a new love affair that has blossomed into a friendship, despite the generational gap.
Nebesky told Newsweek he was profoundly grateful for the attention despite second thoughts about being in the spotlight. The reason: He was never in combat.
"You're making too big of a deal about me," Nebesky said when he opened the door revealing a Newsweek reporter and Kim Coulter, 52. "I feel sorry now—you're promoting me like this, but I was not in combat."
"You're turning 100 and you're a Marine, that's awesome and you're a big deal, Sam," Coulter said.
Coulter met Nebesky two years ago, when he took an Honor Flight to Washington, D.C. to visit the World War II Memorial.
Honor Flight, a nonprofit organization, transports World War II veterans to Washington, D.C. to visit the memorial. According to the Department of Veterans Affairs, roughly 640 World War II veterans die each day.
After the trip, Coulter grew closer to Nebesky. She loved to listen, and learned his life story.
As Nebesky's 100th birthday approached, she became determined to honor the veteran and let the world know of his service. She created a Twitter account two months ago that has gained more than 7,000 followers.
Nebesky's military story started at the Marine Corps Recruit Depot at Parris Island in South Carolina, two years after the naval fleet at Pearl Harbor in Hawaii had been attacked by Japan, pulling the U.S. into World War II.
He had joined the Marines because of the service's famed dress blue uniform: Nebesky said it was the uniform girls liked best. A Navy lieutenant had told Nebesky that he was "out of his mind" for wanting to join the Marines due to the casualty rate of Marines in the Pacific.
"I could've killed a drill instructor," Nebesky said, laughing. "The drill instructor that greeted us, he was a real bastard. Parris Island looked like Alcatraz to me. I couldn't believe it, they built it in the middle of a swamp."
Nebesky wrote on the back of a photograph showing him as a young private at Parris Island: "Boot Camp. Parris Island. The Land That God Forgot. June 1943."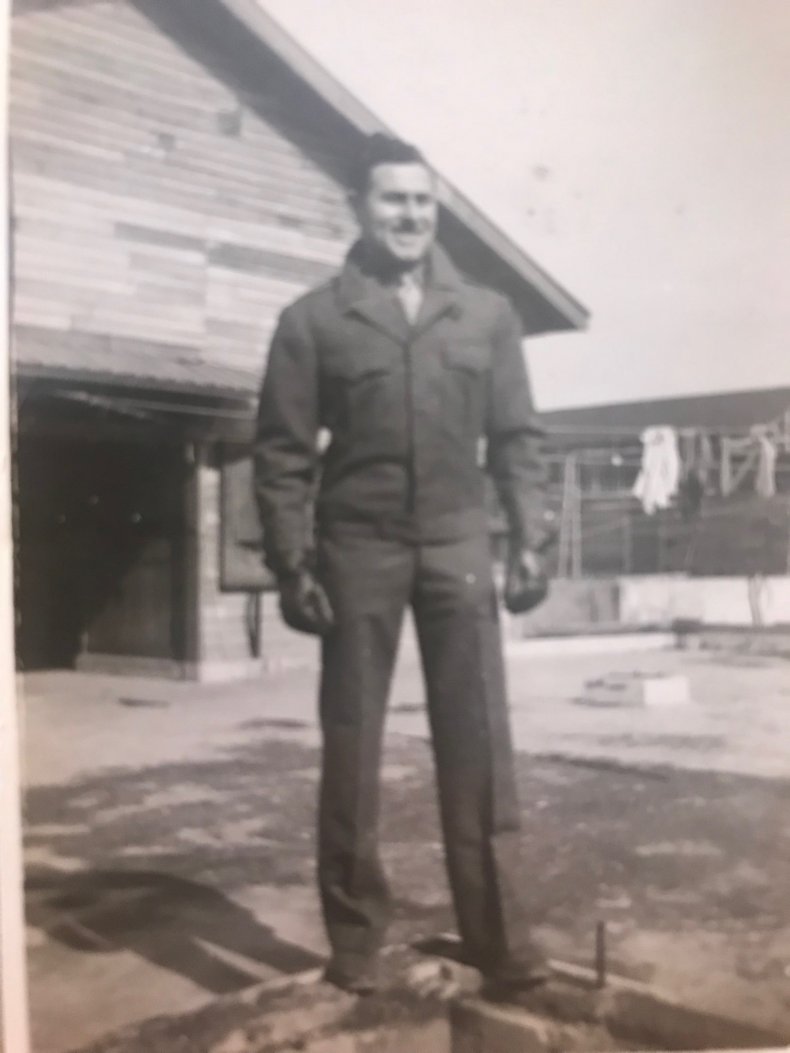 After graduation, Nebesky was stationed at Marine Corps Air Station Cherry Point in North Carolina as a member of Marine Aircraft Group-31, which is now located at the air station in Beaufort, South Carolina.
Nebesky was trained to repair and assemble aircraft instruments and had the responsibility of ensuring that battle-damaged aircraft were brought back into working condition so they could be re-entered into flight service.
The F4U Corsair fighter; the PBJ-1 bomber; the B-25 Mitchell bomber—Nebesky rattles off names of the aircraft he repaired and flew in as if he could go back into the Marine Corps tomorrow and start working.
He would later be shipped off to the Marshall Islands in the Pacific, then onto Okinawa, an island off the Japanese coast, where Marines remain stationed today. His unit flew over Mount Fuji, an active volcano and the highest mountain in Japan, at more than 12,300 feet.
Nebesky's unit was then sent to a Japanese military base in Yokosuka that had been surrendered to the U.S. Navy in 1945. The deployment made Marine Corps history as his unit became the first Marine aircraft group to operate out of the Japanese homeland, according to the Marine Corps Historical Society.
Nebesky remembers seeing the USS Missouri, the Iowa-class battleship where Japan formally surrendered, still in port when he arrived. His job was to take care of the pilots and their ordinance.
After a year and a half, Nebesky returned home and was honorably discharged as a staff sergeant on June 26, 1946. After the war, Nebesky and his wife moved back to New York, where he worked as a salesman at a paper company.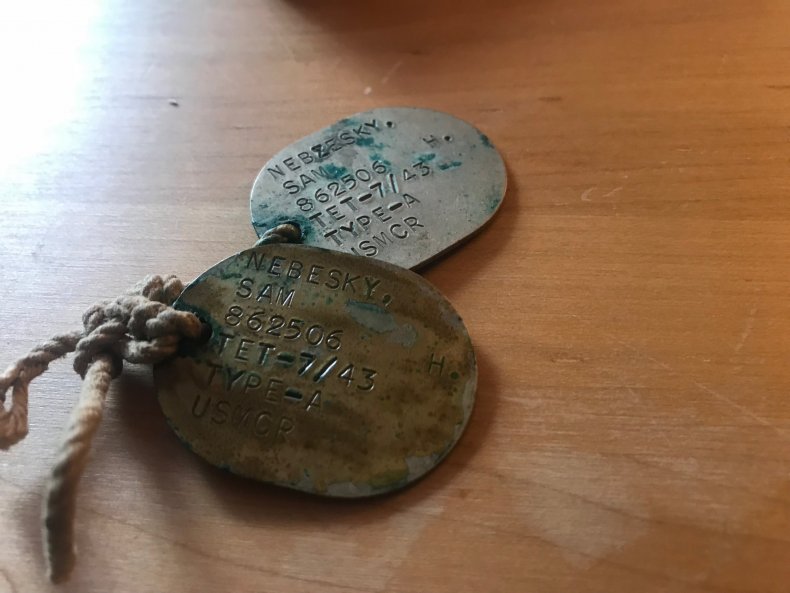 Nebesky still remembers his military serial number: 863506. He still remembers the sights and sounds. He still remembers the Marines.
"I'm very proud to be a Marine," Nebesky said, reciting the Corps's motto, "semper fidelis," which is "always faithful" in Latin. "I'm one of the lucky Marines."
Back in 1943, when he was still at Cherry Point in North Carolina, Nebesky was almost sent to the Solomon Islands, the scene of horrific fighting, and later Tarawa, in the Gilbert Islands. He wanted to go overseas—it wasn't fair that others would be sent and not him—but for some reason, his name wasn't called.
He would later learn that because of his experience as a machinist, his commanders intentionally left him off the roster of Marines deploying to the Pacific. He was too valuable.
"They said goodbye to their loved ones; they never knew if they would see them again," Nebesky said.
But Nebesky was outraged when his name wasn't called, cussing out a Marine lieutenant and giving a Marine major a piece of his mind.
"They put me in the mess hall, washing dishes and serving the food," Nebesky said. "That saved my life. I didn't want to go and get killed, but I was ready to go wherever they sent me."