Sam Pepper Banned from Ice Poseidon's Life, Reddit Rejoices
Sam Pepper has been ousted from Paul "Ice Poseidon" Denino's subreddit and streaming network after a falling out between the two over manipulative text messages and behavior. The pair became close friends shortly after meeting at an influencer beer pong event in May 2018 . Wherever Ice Poseidon went, Pepper was sure to follow, ready to create that sweet streamer drama. Pepper has gotten into altercations with EBZ, Brandon Hampton and others after insulting them and their projects on his own stream. Those outside of this community might not understand why Sam Pepper is even still around.
A former Big Brother contestant, Pepper made a name for himself on YouTube doing prank videos. In 2015, he infamously created a "prank" where he pretended to kidnap, tie up and murder a pair of brothers, shocking and disgusting those who found the video on YouTube. He disappeared for a couple of years, only for Poseidon to convince him to start live streaming. He's managed to build up a following by "trolling" others and antagonizing strangers for "content."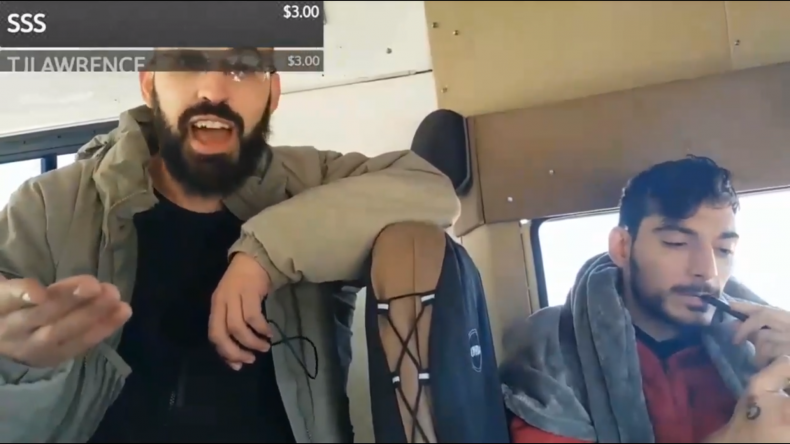 Pepper's falling out with Ice Poseidon began on Monday, when Ice Poseidon and his manager Scuffed Steve Jobs drove to Oklahoma to pick up a military truck. Over the summer, Ice and his crew traveled across the country in an R/V, stopping off at random places and interacting with fans. They were hoping that this bus would be another opportunity. The five-ton vehicle cost the pair $72,000 and they were excited to show off their new toy to the community. Before the reveal, Sam Pepper got on his stream and spoiled the surprise.
"Sam Pepper revealed this truck that we've been planning for three months, that's fucked up," SSJ said on stream while standing on the truck in Oklahoma. On the way to their next location, Denver, the bus broke down. While waiting for a mechanic to come and fix it, Pepper starts spamming the stream with a text-to-speech robot that says "SSJ you're fucking retarded for saying I leak shit, I'm still waiting for my apology."
This angers SSJ, who wonders if he should "go off" on Pepper and share his feelings. Poseidon, sensing juicy drama, encourages SSJ to "just let loose." We then find out that Sam Pepper was the one who crashed the R/V (ending the wildly controversial cross country trip), that he called SSJ "everyday" to try and convince and bully his way into the streamer house and that he "isn't a very good streamer." While SSJ is going off, Pepper keeps calling his cellphone over and is in the chat room spamming that SSJ needs to apologize.
Shortly after, Sam Pepper's name was banned from the Ice Poseidon subreddit and any posts about him were deleted. Then, seemingly out of nowhere, Ice Poseidon tweeted that Pepper is "banned from his reddit and removed from the network." Known drama aficionado Keemstar tweeted about the incident, pushing it's reach even further.
Sam Pepper shared his side of the story on his stream. He claims that he talked to Ice's girlfriend Kimberly, who told him something very personal about Ice. When Ice confronts Kimberly, she asks Sam if he told Ice this info. Sam deflects, saying "if you tell Ice, you guys will get into a big fight over literally nothing." Sam encourages Kimberly to lie to Ice, which angered the streamer even more. Pepper then claims that he has no idea why he was banned and was hurt because he considered Poseidon "a friend."
On Wednesday morning, Ice Poseidon went on his own stream to explain what happened. Pepper's texts asking Kimberly to lie "felt manipulative" according to Poseidon. "In my perspective, I thought he was trying to dictate her emotions to get one over on me."
The Ice Poseidon subreddit is currently overjoyed with Sam Pepper's departure. Posts not mentioning the streamers name have hit the front page with thousands of upvotes. While some view this drama as "scripted" most are happy because they believe Pepper had been causing Ice Poseidon's stream to degrade in quality. "I'm very curious as to what this line he crossed was. It's gotta be pretty hard to cross a line with Paul," wrote one user.