Sam Smith Called 'Pedophile' by Yelling Woman in New York
A video has emerged online showing a woman screaming at Sam Smith in New York, calling them a "pedophile."
The British singer is seen ignoring the shouts and walking away, despite the unidentified woman not letting up, and continuing to shout abuse at them. The video was shared online late on Wednesday by @ViralNewsNYC.
Smith, who uses they/them pronouns, has been criticized in the past few weeks for their "satanic" performance at the 2023 Grammy Awards. The woman shouting at Smith seemed to reference that with her heckling.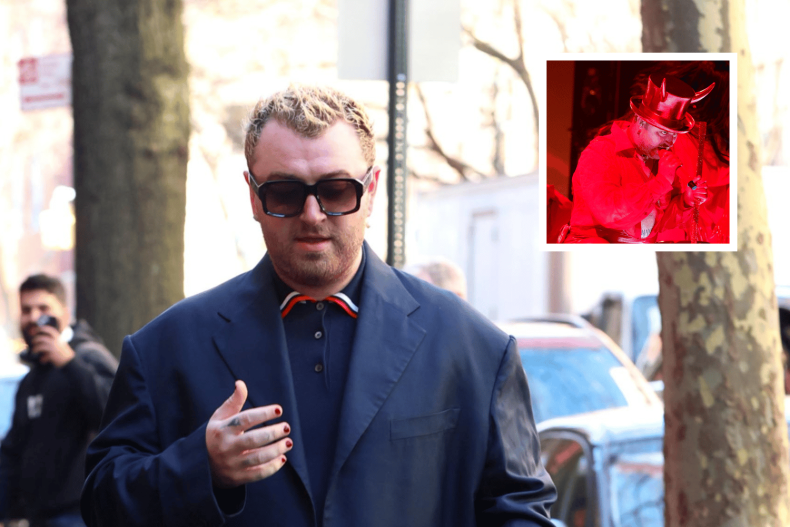 "You belong in hell," she shouts as the 27-second video starts. "Sam Smith belongs in hell. Ya demonic twisted sick b******."
"Leave the kids alone ya sick f*****. Sam Smith is a pedophile.[...] Groomin' the kids. Ya sick mother ******, Sam Smith," the woman shouts in an Irish accent.
Smith eventually walks away during the verbal abuse, and never acknowledges the shouts. Towards the end of the video, the screaming woman's face comes into view.
The clip has been viewed over 962,000 times on Twitter, with thousands weighing in to give their take.
"People are really just too comfortable being hateful," one person commented on the video. Another added, "Let's be real—you might not like someone but this is too far."
Actor Gilluis Pérez was surprised to see that the event occurred in New York. "That's unnecessary and unacceptable. She is definitely in the wrong state," he wrote.
Meanwhile Jay Xavier plainly said, "[I don't care] what anyone says, this is so homophobic."
While many leapt to Smith's defense, others in the comment section praised the woman for speaking out. Some laughed while others said it's why they "love New York."
Smith was photographed in New York City by the paparazzi on Wednesday, February 15 wearing the same clothing, so it's safe to assume the video was shot on the same day. The camera person was sitting on a park bench while the woman yelling at Smith was also sitting on a bench as Smith was texting and then walked away.
Newsweek has reached out to Smith's representatives for further comment on the incident.
Aside from the incident caught on film, Smith is also trending in the United Kingdom for a recent appearance on The One Show on British television. Using their non-binary terms, Smith said they want to be a "fisherthem" rather than a fisherman.
Piers Morgan shared the clip online and slammed the British singer. "Sam Smith needs to shut up," he wrote.