Sam Smith's Controversial New Music Video Sparks Fatphobia Discussion
Sam Smith's new music video has sparked a lot of discussion on topics including body image and fatphobia.
In the video for "I'm Not Here to Make Friends," Smith descends from a helicopter in a fluffy pink outfit before walking along a red carpet into an opulent castle where they proceed to dance in a series of glamorous outfits.
During the video, Smith is surrounded by many gender-diverse performers in historically inspired outfits, including cream-colored corsets with love-heart shapes cut out around the buttocks. However, their modesty is covered with sheer material.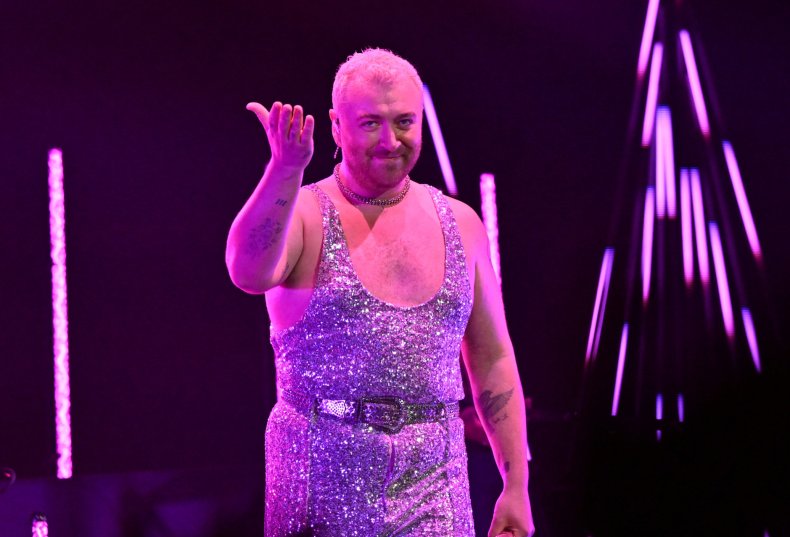 One scene shows dancers writhing in leather shorts on some brass beds in a huge hall, and Smith even rides a giant chandelier while wearing a gold-sequined outfit and black latex platform boots.
While some commentators did not like the sexual nature of the video, others called out those critiquing Smith's body.
"I was going to ask "what has sam smith done to deserve this amount of hate directed at them" but it's quite literally that they're queer and fat isn't it. that's what it comes down to," tweeted one person.
A fan added: "If Sam Smith were thin, cis, and straight, they wouldn't be ridiculed for how they present and dress. If Harry Styles wore the same fits on a magazine cover, y'all would be screaming YAS QUEEN. Anyway, support fat queer people."
And a third wrote: "I saw clips of the new Sam Smith music video that people are p****** themselves over and it's literally just because they're fat. Because if Sam was skinny and did that exact same performance people would be screaming about how much they're slaying or whatever, it's fatphobia."
The "I'm Not Here To Make Friends" video also opened with positive affirmations, including RuPaul's iconic closing line from every episode of his successful reality TV series, RuPaul's Drag Race: "If you can't love yourself, how in the hell you gonna love somebody else?"
Smith has not yet responded to the backlash on their social media, instead filling their Instagram with images from the music video and body-positive messages.
"This video is fabulous, extravagant, queer and everything in between. Creating this with @tanumuino was a dream. I hope it brings you pure joy," they wrote on Instagram.
The music video premiere coincided with the release of Smith's latest album, Gloria, which they hoped would help others face their challenges.
"Dearest Sailors, It feels like I've been working my whole life for this album release, a chance to showcase to you my artistry and all that inspires me to do what I do," Smith wrote on Instagram.
"The force, however that inspires me more than anything in this world, is you. Humans are the greatest source of inspiration for all artists, I believe. I watch you, my friends, my family and myself; I write stories that I hope will help you and be your friend in your loneliest hours but also your happiest hours, too."
Smith added: "Sailors, you have stuck with me through every challenge that comes with growing up, all the life I've lived these past 10 years. I am eternally thankful to you. I work everyday for you, striving to make you proud and move you.
"Gloria is dedicated to you. I love you all. But it's deeper than that."