Samantha Bee to Ivanka Trump: 'Put on Something Tight and Low-cut and Tell Your Father to Stop It'
Full Frontal host Samantha Bee laid into Ivanka Trump in her show on TBS Wednesday night, calling the president's daughter a "feckless c***" during an impassioned tirade against the treatment of immigrants by the U.S. government.
The Primetime Emmy Award winner also played on the lurid joke that President Donald Trump finds his own daughter sexually attractive, following his past comments about her being "voluptuous," that it's OK to call her a "piece of a**," and that if he wasn't related to Ivanka he'd be dating her.
Bee was referring to reports of the separation of illegal immigrant children from their families, including some who ended up being trafficked into slave labor, and who are often held in deplorable conditions. Now under Trump, Bee said, the situation is getting "so much worse."
"After decades of ignoring the issue, Americans are finally paying attention," Bee said. "Well, most of us. Ivanka Trump, who works at the White House, chose to post the second most oblivious tweet we've seen this week."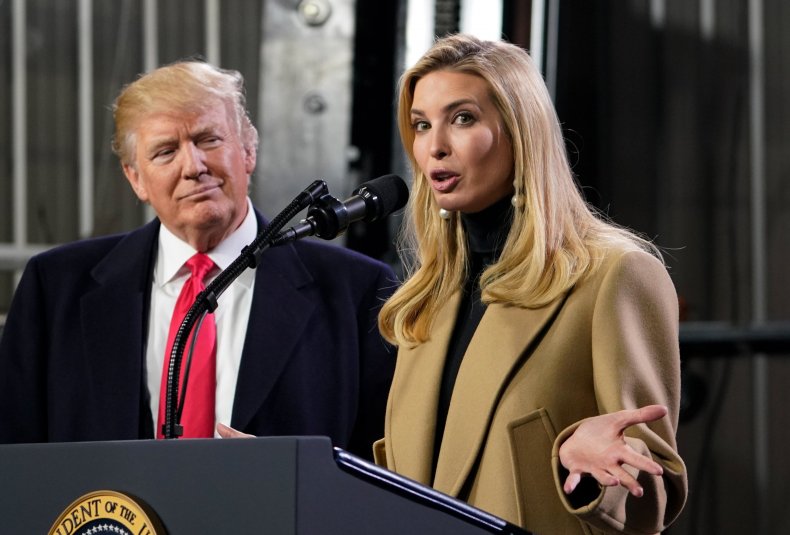 That tweet was a picture posted to Twitter by Ivanka of her and and her 2-year-old son Theodore, sparking a backlash amid the reports of the maltreatment of immigrant children, with critics accusing her of insensitivity.
"You know, Ivanka, that's a beautiful photo of you and your child but let me just say, one mother to another, do something about your dad's immigration practices you feckless c***," Bee said. "He listens to you. Put on something tight and low cut and tell your father to f****** stop it. Tell him it was an Obama thing and see how it goes, OK."
There was a 21 percent increase in the number of undocumented children held without their parents in U.S. government custody in May alone, according to official figures, reaching 10,852.
President Trump has embarked on an illegal immigration crackdown, a flagship policy of his administration. But the issue of immigrant children being held in poor conditions—such as sleeping in cages—and apart from their families predates the Trump era.
Under the Obama administration, over 25,000 undocumented children were held without their parents during 2013— more than double the current figure—when there was a surge in illegal crossings at the Mexico border.