Samantha Bee Thanks Turner Network for Backing Her Over Ivanka Trump 'Feckless' C-word Comment
Samantha Bee thanked her bosses at the Turner network for their continued support after the Full Frontal host was forced to apologize for calling Ivanka Trump a "feckless c***" and suggesting that her father, the president, was sexually attracted to his own daughter.
Bee was picking up a Television Academy Honors award Thursday night, after a day of furor over her Full Frontal tirade against Ivanka, with demands from the White House for TBS, on which the show airs, to cancel it. Others are calling for an advertiser boycott.
"You know, the thing is, our show is steeped in passion," Bee said during her acceptance speech at the event in Hollywood, reported IndieWire.
"Every week I strive to show the world as I see it, unfiltered. Sometimes I should probably have a filter. I accept that. I take it seriously when I get it right, and I do take responsibility when I get it wrong."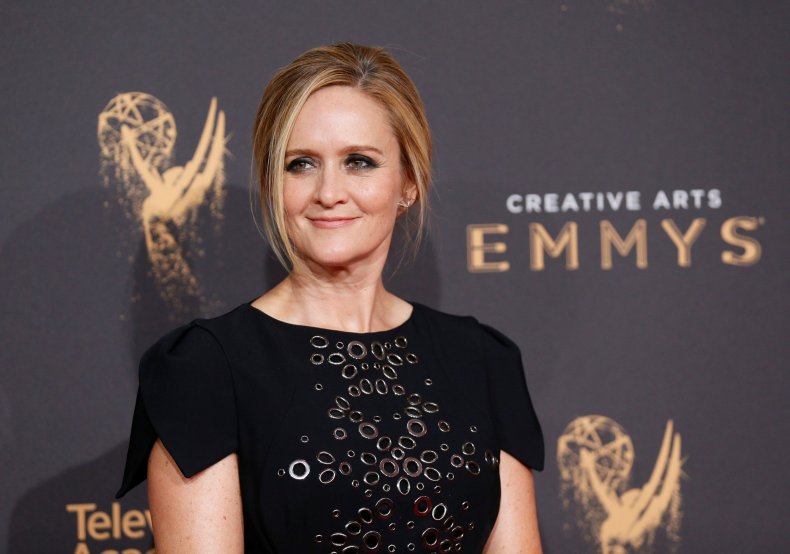 Bee concluded by thanking the executives at Turner, saying "you always have our back, and we appreciate that so deeply."
It was at the end of a Full Frontal segment on the U.S. government separating immigrant children from their parents that Bee made her controversial comments.
Bee was highlighting the plight of illegal immigrant children torn from their families and sometimes held in deplorable conditions, a situation she said was getting "so much worse" under the Trump administration's crackdown, though she noted that it predated him.
She was also responding to recent reports that the federal government had lost 1,500 undocumented children in its care. "After decades of ignoring the issue, Americans are finally paying attention," Bee said. "Well, most of us. Ivanka Trump, who works at the White House, chose to post the second most oblivious tweet we've seen this week."
That tweet was a picture posted to Twitter by Ivanka of her and and her 2-year-old son Theodore. Amid reports of the maltreatment of immigrant children, critics accused her of insensitivity.
"You know, Ivanka, that's a beautiful photo of you and your child, but let me just say, one mother to another, do something about your dad's immigration practices, you feckless c***?" Bee said. "He listens to you. Put on something tight and low-cut and tell your father to f****** stop it. Tell him it was an Obama thing and see how it goes, OK?"
The Primetime Emmy Award winner was playing on the lurid joke that President Trump finds his own daughter sexually attractive, following his past comments about her being "voluptuous," that it was OK to call her a "piece of a**" and that if he wasn't related to Ivanka he'd be dating her.
"I would like to sincerely apologize to Ivanka Trump and to my viewers for using an expletive on my show to describe her last night," Bee said in a statement after the show sparked a backlash. "It was inappropriate and inexcusable. I crossed a line, and I deeply regret it."
TBS also apologized in its own statement and said it was partially responsible.
"Samantha Bee has taken the right action in apologizing for the vile and inappropriate language she used about Ivanka Trump last night," the network said. "Those words should not have been aired. It was our mistake too, and we regret it."