Meghan Markle's Sister Samantha Grant Targets 'Pudgy Airhead' Chrissy Teigen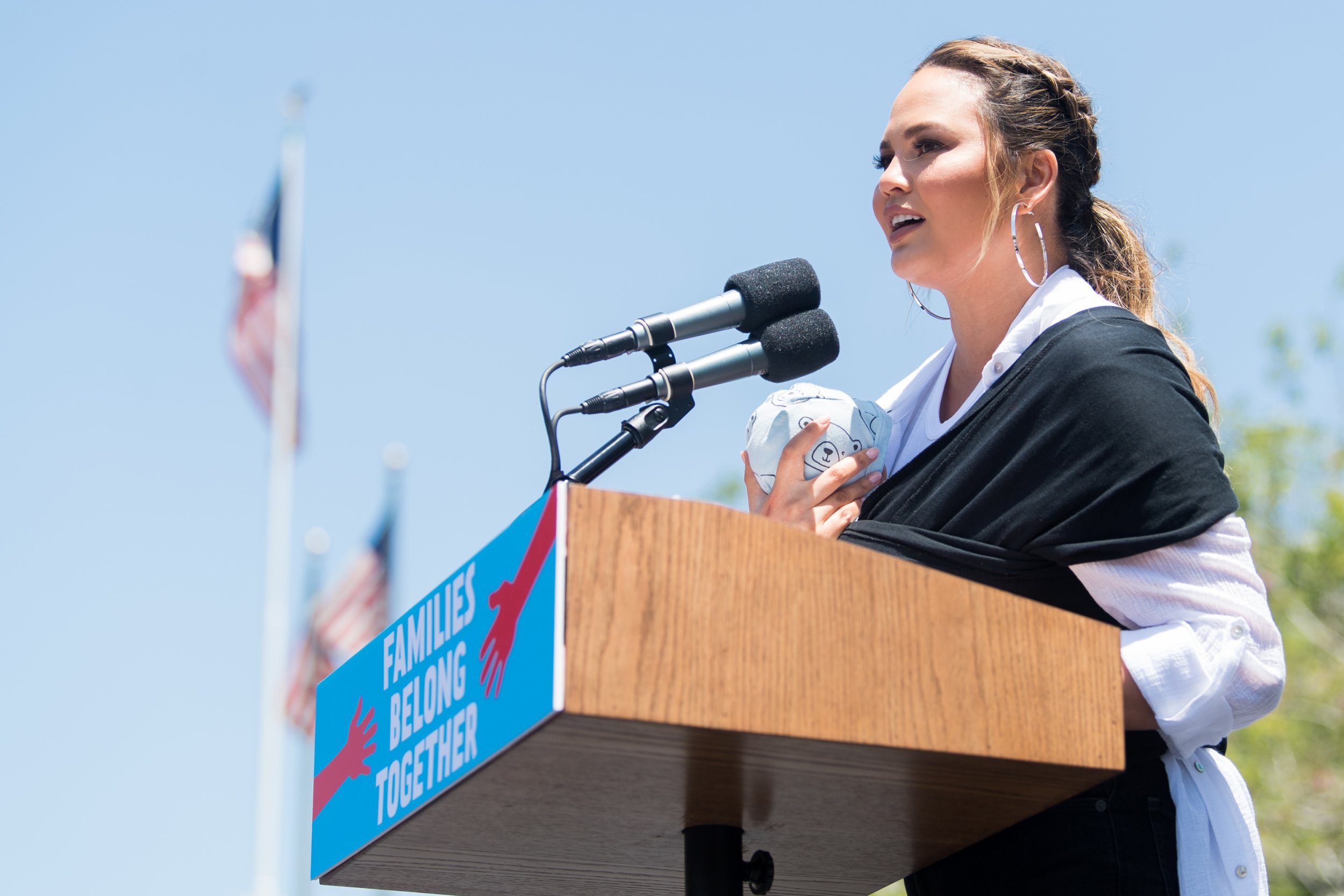 Meghan Markle's sister Samantha Grant called out Chrissy Teigen for slamming their father, Thomas Markle.
Grant posted about Teigen on her private Twitter account, calling the Sports Illustrated model a "pudgy airhead."
"So this pudgy airhead @christineteigen who knows nobody in the family is opening her piehole?" Grant's tweet read. "'This guy' is our father and deserves a lot of respect [sic],..you are the one who sucks."
Teigen did not immediately respond to the tweet.
Previously, Teigen blasted Thomas for his interviews about Meghan's standing with the British royal family. "Let your daughter be happy, please," her Saturday tweet read. "This is embarrassing."
Since marrying Prince Harry, Meghan's father claimed he could not reach her. "I used to have a phone number and text number for her personal aides at the Palace, but after I said a few critical words about the Royal Family changing Meghan, they cut me off," Thomas told The Daily Mail. "Those numbers were disconnected, they no longer work. I have no way of contacting my daughter."
Thomas was bashed on social media for "embarrassing" his daughter. Twitter users accused him of selling his stories to the media for attention.
His backlash began before the royal wedding when he was photographed reading a book on Britain in preparation for the service. It was later revealed the photos were staged.
Grant attacked Meghan, saying if their father dies it would be the Duchess's fault "Act like a humanitarian act like a woman! If our father dies I'm holding you responsible, Meg!" the July 17 tweet read.
Grant is reportedly in the running for a spot on Celebrity Big Brother in the U.K. Filming begins August 17, according to Cosmopolitan.
As for her decision to join the cast, Grant claimed she wasn't going on the show to talk about her sister, but wanted to take the opportunity. "Why not?" she told Inside Edition on July 19. "Life is about cashing in. You take opportunities as they arise and hopefully you enjoy the ride and make it as positive as you can. There's nothing wrong with it."
In his The Daily Mail interview, Thomas claimed Meghan is now a duchess because of his influence. "What riles me is Meghan's sense of superiority. She'd be nothing without me. I made her the Duchess she is today," he said. "Everything that Meghan is, I made her."