Samantha Markle's Meghan 'Lies' Bombshell on Tucker Carlson Fails to Go Off
Meghan Markle's estranged sister, Samantha Markle, has suggested the duchess lied when she said she worked at the U.S. Embassy in Argentina before her marriage to Prince Harry but actually was there on a "study program."
Samantha appeared on Wednesday's episode of Tucker Carlson Today, where she discussed her relationship with her half-sister and the royal's childhood and upbringing. Samantha is suing Meghan for defamation over comments made in her 2021 TV interview with Oprah Winfrey and information supplied to the authors of Finding Freedom, a 2020 Meghan and Harry biography.
Samantha told Carlson she assumed part of the reason why none of the Markle family members were invited to Meghan and Harry's 2018 wedding was that "the stories would come out" after "there were a lot of porky pies [slang for lies], probably told to the royals and even to Harry when they met her."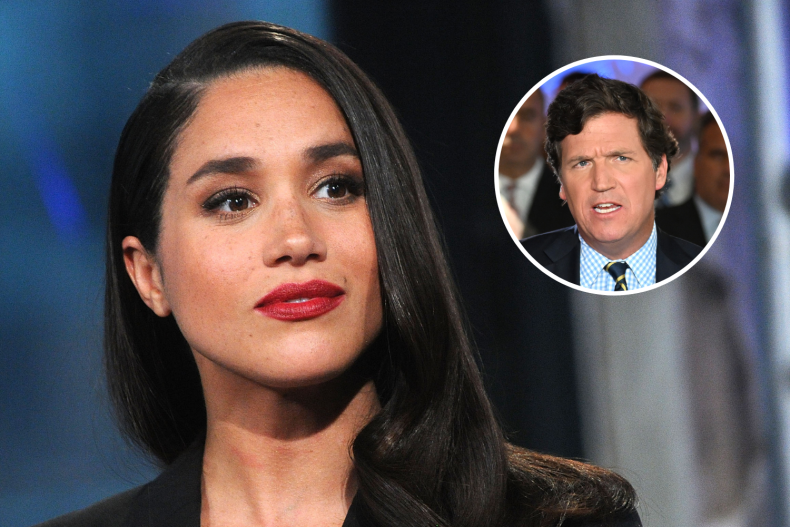 One of the "lies" that Meghan allegedly told the royal family concerned her time at the embassy in Argentina, according to Samantha.
"'Oh my God, you didn't get grants and scholarships?" Samantha suggested the royals would have asked had they been exposed to Meghan's wider family at the wedding. "'You never worked for the embassy? What do you mean you only did a five-week study program?"
While studying at Northwestern University, Meghan reportedly worked for the embassy while deciding to double-major in acting and international relations. But Samantha said this was not work but an internship, paid for by her father, Thomas Markle, with her uncle writing a letter of recommendation.
"Our Uncle Mike who worked for the embassy, as a favor to Dad—Dad paid for a five-week study program—Uncle Mike threw in a letter of recommendation to be kind, even though he'd only met Meghan when she was a baby."
Samantha continued: "A five-week study program doesn't equate with working at the embassy, which she told Rachael Ray and Craig Ferguson on live television. So all of these lies started coming out."
Meghan has spoken about her time at the embassy on multiple occasions in interviews since 2013. In a number of these, has clearly stated that she was there as an intern.
It would also be a fair interpretation that, through an internship, she was working with the embassy in some capacity.
One of the earliest examples of Meghan publicly discussing her time in Argentina was in a June 2013 interview with Marie Claire magazine.
Speaking about her time as a student, Meghan said: "I had always been the theater nerd at Northwestern University. I knew I wanted to do acting, but I hated the idea of being this cliché—a girl from L.A. who decides to be an actress. I wanted more than that, and I had always loved politics, so I ended up changing my major completely and double-majoring in theater and international relations.
"By my junior year, I had finished most of my credits, and I applied for an internship at the U.S. Embassy, so I ended up working in the embassy in Buenos Aires for a few months," Meghan said.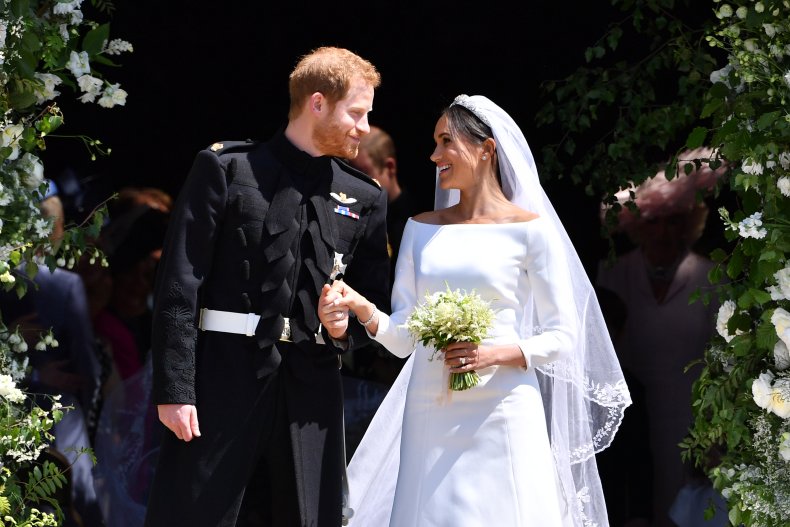 Later that year, Meghan appeared on Ferguson's late-night show, which Samantha referenced, and discussed her educational and professional background. "I double-majored in theater and international relations," she said, "and then I went and worked for the U.S. Embassy for a bit in Argentina, in Buenos Aires."
This was echoed in a Rachael Ray Show appearance in 2015, in which the future duchess again explained: "I studied international relations and theater, and then I just got involved in our version of politics in the entertainment industry."
Asked by Ray if she ever had a job working in politics, Meghan responded: "I used to work at the U.S. Embassy in Buenos Aires, and it was another life. Let's say I've had nine lives."
The duchess' most recent discussion of this period in her life was last year on an episode of her Archetypes podcast.
The episode was dedicated to the exploration of the "bimbo" stereotype. Meghan discussed her conflicted feelings while acting as a briefcase model on the game show Deal or No Deal, a role secured by her looks, after working in politics, where her knowledge was valued over appearance.
"There were times when I was on set at Deal or No Deal and thinking back to my time working as an intern at the U.S. Embassy in Argentina, in Buenos Aires, and being in the motorcade with the secretary of treasury at the time and being valued specifically for my brain," she told listeners.
"Here, I was being valued for something quite the opposite. I mean, you have to
imagine—just to paint the picture for you—that before the tapings of Deal or No Deal, all the girls, we would line up and there were different stations for having your lashes put on or extensions put in, or the padding in your bra. We were even given spray tan vouchers each week because there was a very cookie-cutter idea of precisely what we should look like.
"It was solely about beauty and not necessarily about brains," she said.
After reciting a list of lies Meghan has allegedly told, Samantha told Carlson, "I feel like she missed the boat. Why lie and try to be something you're not when it would have been more impressive, in my opinion, to be strong in who you are."
Newsweek has contacted Meghan's representatives for comment.
James Crawford-Smith is Newsweek's royal reporter based in London. You can find him on Twitter at @jrcrawfordsmith and read his stories on Newsweek's The Royals Facebook page.
Do you have a question about King Charles III, William and Kate, Meghan and Harry, or their family that you would like our experienced royal correspondents to answer? Email royals@newsweek.com. We'd love to hear from you.