Samantha Power Praises Cuba's Ebola Response, Defends U.S. Quarantine Guidelines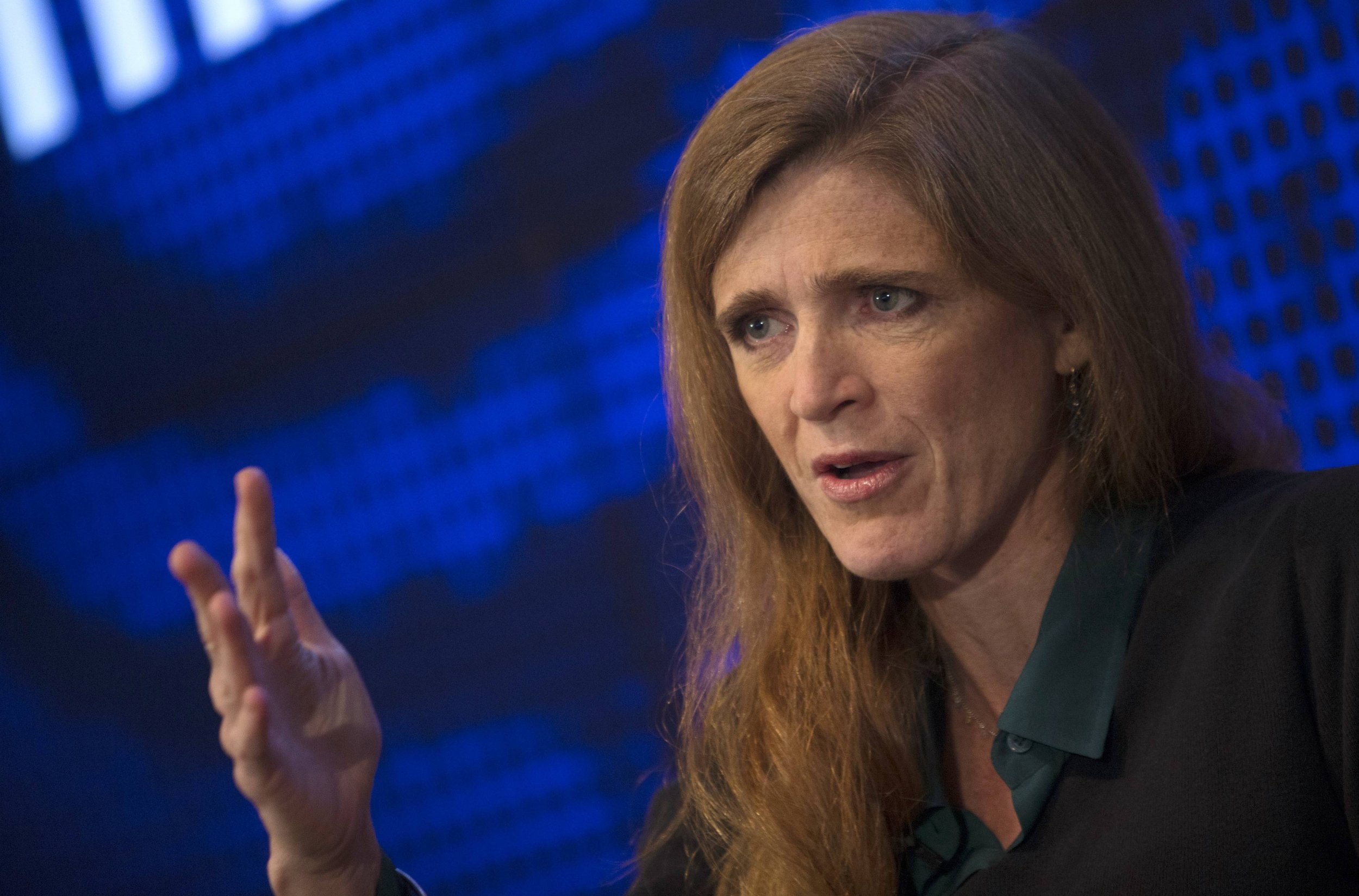 After a four-day trip to West Africa, U.S. ambassador to the United Nations Samantha Power called on the international community to do more to help contain the Ebola outbreak and defended federal guidelines for health care workers on their return to the U.S.
"We believe the federal guidelines put forward for health care workers are sufficient," said Power, speaking at a Reuters Newsmakers event the Ebola crisis in New York on Friday.
Power said that the current guidelines, which include an examination by a medical professional, temperature checks and check-ins over 21 days are "a regimen developed on the basis of the science and on the basis of wanting to be responsive," she said.
Power returned Thursday night from the trip to Liberia, Sierra Leone and Guinea—the three countries bearing the brunt of the outbreak—as well as to Accra, Ghana, where the U.N. Mission for Ebola Emergency Response is based. Nearly 5,000 have died from Ebola in this region since the outbreak started earlier this year and more than 13,500 have been infected, according to the latest figures.
Quarantine protocols for health care workers returning to the U.S. from this region have become a hot-button issue in recent weeks. Kaci Hickox, a nurse forcibly quarantined in New Jersey earlier this week before being allowed to return to her home in Maine, has been outspoken about mandatory quarantine rules imposed by some states, calling them a violation of her human rights.
After Hickox took a bicycle ride Thursday in open defiance of the self-quarantine rules imposed on her by the state of Maine, a court order was obtained ordering her to stay three feet away from people and avoid public places in the town of Fort Kent, Maine. If she plans to travel, she must notify public health authorities first, NBC News reports.
The White House has criticized mandatory quarantine rules and issued federal guidelines that suggest active self-monitoring, including daily reporting of temperature and any symptoms consistent with Ebola, such as fever, vomiting or diarrhea.
On Wednesday, Defense Secretary Chuck Hagel announced troops returning from West Africa will also face a mandatory 21-day quarantine.
Power didn't come into contact with Ebola patients on her trip and said she is considered low-risk for contracting the disease. Still, she calls in her temperature to health authorities twice a day and had her temperature checked three times before boarding a plane in Monrovia, Liberia, and once again when she landed at John F. Kennedy International Airport in New York, Reuters reports.
Vandi Chidi Minah, Sierra Leonean ambassador to the U.N., was also spoke about the quarantining of health care workers.
"We stand with the medical community and [quarantine protocol] should be driven by the facts," said Minah. "Unfortunately, sometimes we tend to be driven by politics and not the facts," he said.
Power praised Cuba for sending the largest medical contingent of any country to West Africa to help with the outbreak; 165 Cuban doctors and nurses went to Sierra Leone at the start of October, and another 40 were due to arrive on Wednesday, according to Reuters.
"That is a big gap and a big need, and it's not because those international health workers are doing all the Ebola treatment; it's that they can offer also training and counsel to the Liberians and Sierra Leoneans and Guineans who are stepping forward in droves and volunteering for what has come to be seen as a patriotic enterprise," Power said.
Power also commended three airlines, Air France, Brussels Air and Royal Air Maroc, for keeping their flights to the region running, calling them a "lifeline" to people residing in and visiting the region.
Power recalls starting to hear about the Ebola outbreak in March or April, shortly after the first cases were confirmed in Guinea. But it was only in the summer that she realized "not only was this a major public health emergency but it was a threat to security," said Power, a point reiterated by President Barack Obama in September.
Power said the international community was too slow to respond to the Ebola outbreak and more still needs to be done to help.
"I went on this trip because I and the president have not had the sense that other countries are stepping up in the way they need to sufficiently," she said.