The Same Day The New Republic Blows Up, Vice Throws Itself a Major Blowout
This year, The New Republic turned 100 and Vice turned 20. On Friday, one imploded and the other threw itself a lavish party.
Following the resignations a day earlier of editor Franklin Foer and literary editor Leon Wieseltier, a dozen staff members and even more veteran contributing editors walked out the door of The New Republic, throwing the future of the venerable liberal politics and arts publication into uncertainty.
The reason for the mass exodus was an apparent inability to reconcile the belief systems of TNR's editorial team and its leadership, owner Chris Hughes and recently-hired chief executive Guy Vidra. Hughes, one of the founders of Facebook, and Vidra, who came from Yahoo, both brought with them a Silicon Valley approach to running the publication that didn't sit well with the editors. According to one staffer, Hughes went as far to suggest the publication be less like The New Yorker and more like Facebook.
The last straw, though, was when Hughes hired a replacement for Foer—former Atlantic Wire and Bloomberg Media editor Gabriel Snyder—behind Foer's back. According to sources who spoke with the Daily Beast, Foer read a Gawker.com post detailing a rumor that Snyder had been signed on to take his own job. He called Hughes, who verified the information.
"It was cowardly, the way Chris and Guy went about this," senior editor Julia Ioffe told the Daily Beast. "Media reporters have been calling for months, asking, 'Is Frank fired?,' and they've been lying to everybody, including Frank." Friday, Ioffe and many others quit, expressing distaste for Hughes' handling of the publication, and distrust in his ability to run it effectively moving forward.
Vidra sent out a memo to the TNR staff explaining the Snyder hire, calling him a reflection of a "straddle generation of journalists and editors who remain deeply rooted in the qualities of traditional journalism...but also understands what it takes to create content that will travel across all platforms."
Later that night, hundreds of young men and women fitting that description packed into a massive warehouse in the Brooklyn Navy Yard for Vice Media's 20th Anniversary party.
It's hard to overstate how finely-tuned the event was to the very demographic for whom Hughes and Vidra seem to yearn. There were the party buses, flooded with blue limo lights and still redolent of new leather, to take guests (the majority of whom were Vice staffers and other members of the media) from the check-in to the venue door, a minute's drive away. There was the free falafel served in trucks parked outside and tented from the rain, and a football field-length open bar. And there was the house band led, by Yeah Yeah Yeahs guitarist Nick Zinner, playing backup to an overwhelmingly zeitgeisty cast of musicians.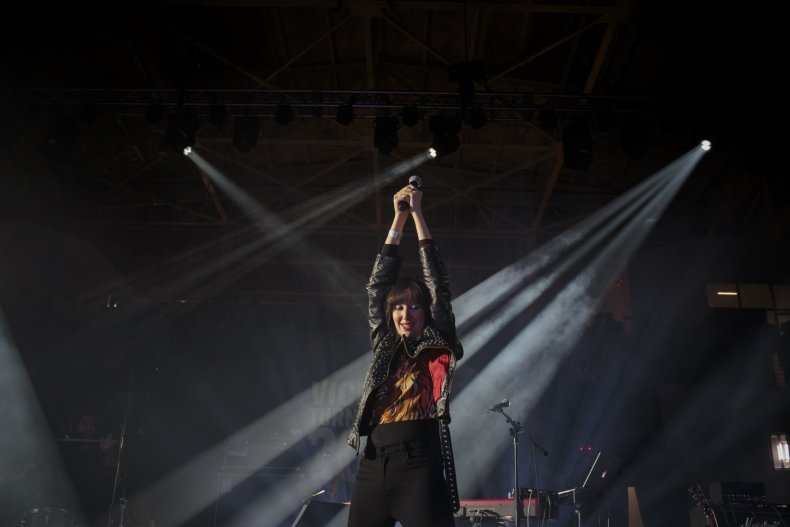 As a 29-year-old member of the media, I can tell you that the set list was designed exactly for me. There was Stephen Malkmus, whose 90s band Pavement basically invented the indie rock movement that carried me through high school and college. There was Russian punk rock/protest group Pussy Riot covering Le Tigre's "Deceptacon," a song I had listened to every Thursday and Friday night in my dorm room, during the first drink of the night. There was in-the-know media darling The-Dream covering M.I.A.'s "Paper Planes," which was the song we'd put on to bring down the house during dance parties junior year of college. And there was Yeah Yeah Yeahs singer Karen O coming out to play "Maps"—if you don't get chills when you hear that song, you're not of my generation, regardless what the demographers tell you.
Oh, and millennial superstars Jonah Hill and Scarlett Johansson showed up to perform Drake's single "Marvin's Room" and New Order's "Bizarre Love Triangle", respectively. Did I mention Lil Wayne, Chromeo, Andrew WK, Jarvis Cocker, Ghostface Killah, Raekwon, Action Bronson, and Nick Thorburn (formerly of The Unicorns and now most commonly heard as the composer of podcast megahit Serial)? Or how about Meredith Graves from the band Perfect Pussy playing The Strokes' "New York City Cops," and urging the crowd to chant the inflammatory chorus ("New York City cops / They ain't too smart") while out in the city thousands protested the recent decision not to indict New York police officer Daniel Pantaleo in Eric Garner's death?
According to Hosi Simon, Vice's global general manager, most of the acts were not paid to perform, though given the venue, facilities and amenities, it's hard to imagine a light bill. In 2009, Vice threw a $250,000 halloween party, and the press release for the party stated that "while the dinosaurs that surround us slowly suffocate in the tar pits of their financial ruin, [Vice] is throwing a massive Halloween birthday party to celebrate our 15th anniversary."
This year, there was no such grandiose boast. In recent years, Vice has become an adult: it has grown into a massive multimedia corporation, complete with their own Emmy-nominated HBO news program and an innovative and lucrative "branded programs" business—staid companies like Intel will pay Vice to create branded content that makes them look hip by proximity. This is a synergy that appears to be paying off well beyond expectations; Vice Media was recently valued at $2.2 billion.
The 20th anniversary party did have, as Simon told The New York Times, a "family vibe." The free food and drink, the looseness of the performers, and the fact that everyone was a non-paying guest made it all feel casual. But it also had a very branded feel to it. Way above the musicians floated a catwalk where VIPs, silhouetted against the stage lights and unidentifiable, roamed. They hugged the banisters and didn't move, watching over the crowd, appearing to stare directly across the way at the giant, glowing Vice logo stamped over the door across the way. In many ways, it felt much more like a Google or Apple company party than media party; it's hard to imagine The New York Times or even HBO throwing themselves a birthday party like this.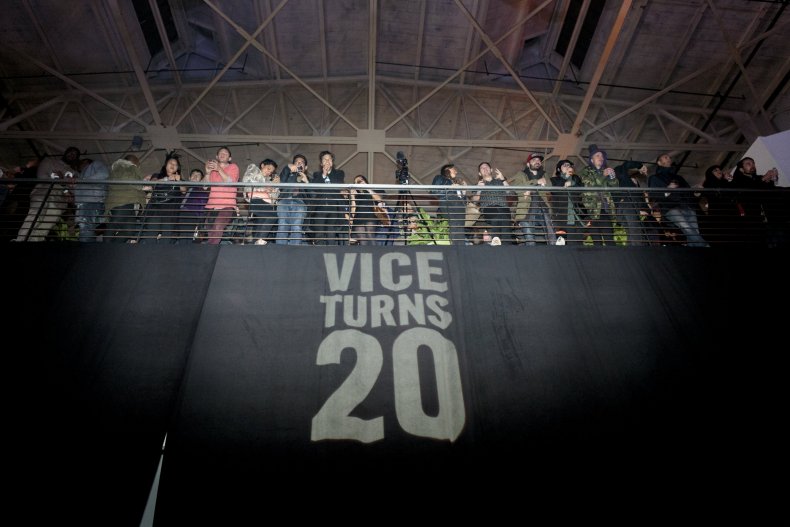 Chris Hughes may or may not have been at the anniversary party, but it's easy to imagine that Vice is the company he wants TNR to be. According to Vidra's memo, their goal is to turn TNR into a "vertically integrated digital media company"—it's not entirely clear what he means by this, but one interpretation is the type of branding strategy that Vice has so successfully developed.
The thing, though, is that Vice grew naturally. It started modestly, as a hipster-punk magazine in Canada named Voice, covering the most provocative stories it could find. By the early 2000s, it had spit and cursed its way into stores like American Apparel, where it was offered for free. In the mid 2000s, they bet early on streaming video, launching VBS.tv alongside Viacom, supervised by Oscar-winning film and music video director Spike Jonze. That set the stage for Vice's current work with advertising partners.
Hughes and Vidra, as has widely been reported, wanted to take TNR and "break shit," an approach many believe is not only culturally detrimental, but doomed to fail.
"The problem here, and it's an act of cultural violence, is in killing The New Republic so that a new, different kind of digital venture can live," wrote David Hajdu, TNR's music critic and professor at the Columbia School of Journalism, in an email to The Huffington Post. "Hughes could have and should have started a new digital company, if that's what he wanted to do, and he could have called it anything — Chrisfeed, whatever. The 'brand' of The New Republic will be no help."