On Same-Sex Marriage, Finding Civility but Not Common Ground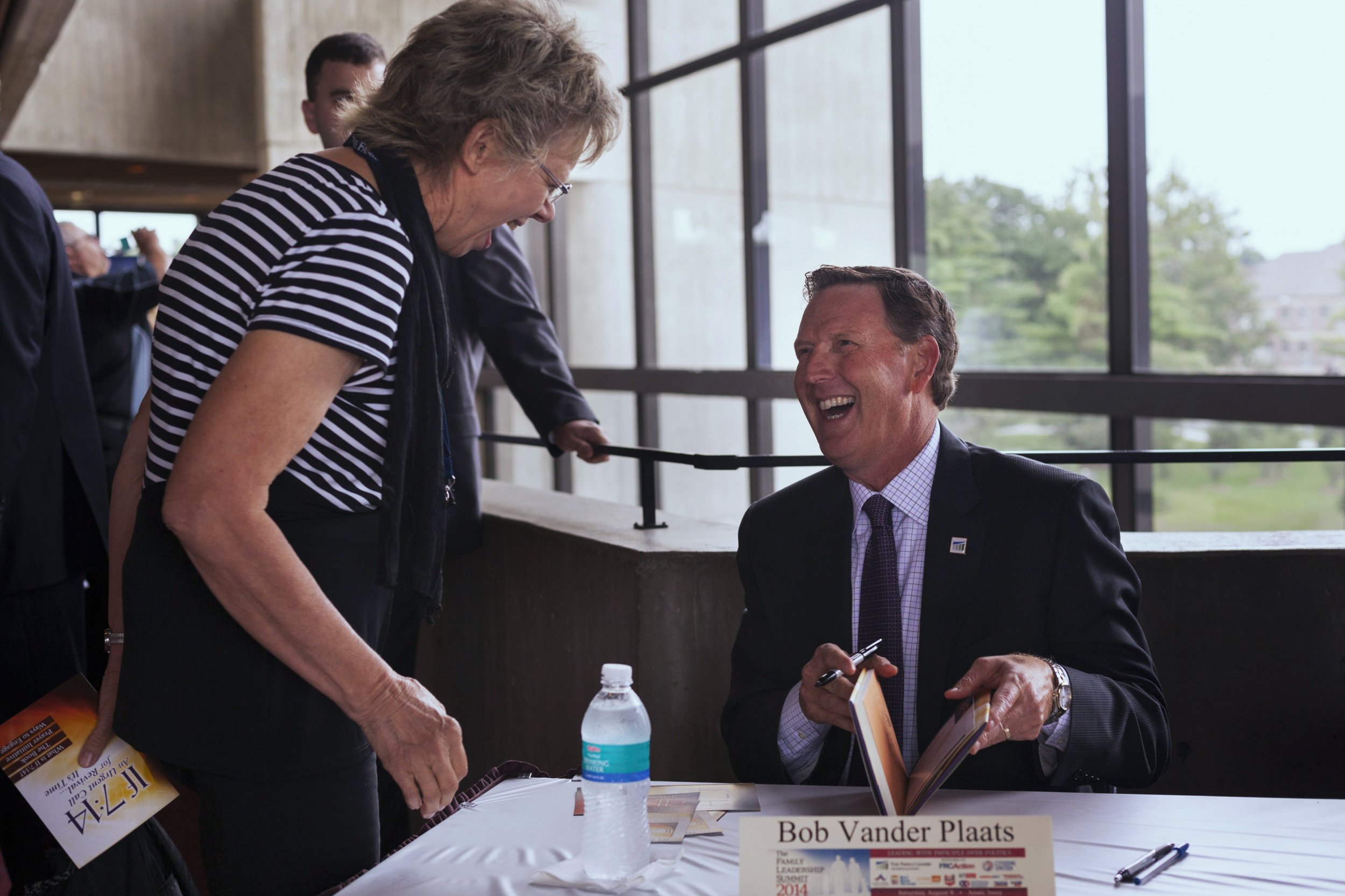 Bob Vander Plaats, a leading conservative voice in Iowa politics, surprised no one recently when he said publicly he would not attend a gay wedding, even if it was that of a friend. He's long been an outspoken advocate for traditional marriage, running for governor three times as a religious conservative and now serving as president of The Family Leader, an Iowa-based nonprofit that promotes traditional family values.
What's a little more surprising is that the question was not a hypothetical.
Vander Plaats was sitting on a stage at a public forum in Des Moines next to said friend, Donna Red Wing, the executive director of the LGBT rights advocacy group One Iowa. Turns out they're very close. "She knows that I love her and she knows I would do just about anything for her," Vander Plaats says of Red Wing. And Red Wing, in a separate interview, affirms their personal affinity, beyond the social issues. "He's funny, he's a great dad."
Even so, Vander Plaats said he would not have gone to Red Wing's wedding, to now-wife Sumitra. "She would know it's disingenuous," he explains. It's the whole model of their interactions, dating back a year and a half to when Red Wing first reached out to Vander Plaats, her "nemesis," as she thought of him then, about having coffee. Regular private discussions led to a front-page article in the Des Moines Register and then several public forums across the state. The interactions have not changed either person's opinions or core values—they still disagree vehemently about gay marriage—but have helped them humanize one another, overcoming the personal demonization that comes standard with American political debates these days. In Iowa, the pair now represent a small oasis of civility in a state neck-deep in 2016 politicking, and sure to be roiled further when the Supreme Court's highly anticipated ruling on gay marriage comes out in a matter of days.
Vander Plaats predicts the Court's ruling will "dominate" the presidential campaign discussion, which he anticipates will open the doors to same-sex marriage throughout the country. But that will just generate a new firestorm against the practice, he predicts. "When the court ruled on [Dred Scott and the legality of slavery], that didn't end that issue, a presidential candidate led the country through the Civil War on that issue." And the Roe v. Wade decision legalizing abortion, "that didn't end the issue, that only blew up the issue."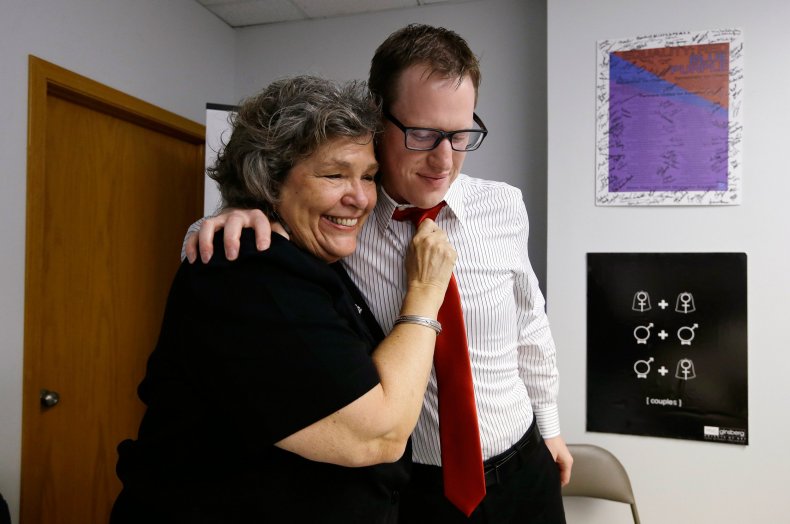 Red Wing, too, anticipates a legal victory for her side. "I think we will after, probably, Monday have marriage equality across the country." But she also recognizes the fight is far from over. The Family Leader, Vander Plaats's organization, has already signalled they're going to push for a religious freedom law, akin to the one that created such a stir in Indiana earlier this year. "If they can get a RFRA passed in Iowa, that will allow discrimination in so many venues and so many ways," Red Wing frets, using the acronym for Religious Freedom Restoration Act, as these laws are known.
The question of religious liberty, both Red Wing and Vander Plaats say, has been the focal point in the public forums they've held, first at Drake University in Des Moines and then at the Wallace House, a philanthropy also in Des Moines. Though both locales have a progressive bent, Vander Plaats says the response was welcoming. "You can see they start thinking," he says of the audiences they spoke with. "It's one thing to say you can't deny the gay couple the right to be married at their private venue. But when you turn the table and talk about the Jewish business with kosher meats, or you talk about the gay printshop—no one should have to print the [anti-gay] Westboro Baptist stuff."
Red Wing, not surprisingly, sees it differently. "Religious liberty says that a church, a house of worship can certainly discriminate ... but a public venue cannot," she says. "I do get that there are people who have very, very strongly held religious beliefs, but what's next, lunch counters? Movie theaters?"
Yet even as they prepare to do battle on the policy front, both Red Wing and Vander Plaats plan to continue their dialogue, both publicly and privately. Several more public events are tentatively slated for this fall. Vander Plaats hopes it can demonstrate, to politicians and the public, alike that civility is not the same thing as conceding to the other side: "What they're going to find is we're not leaving our beliefs." He's also encouraging members of his evangelical community to do similar outreach with those on the other side of a particular issue.
Still, they're just two voices in a cacophony of political campaigns, Super PACs and talking heads that have converged on the state in the advance of Iowa's first-in-the-nation caucuses next February. "As we get more and more into this presidential political caucus time, can Bob and I on some level help de-escalate some of the anger, some of the aggressiveness and animosity" of campaign season? Red Wing wonders. "I don't know."
She does know what she'll do if the Supreme Court legalizes gay marriage next week. "I think what I'll do if that happens is I'll reach out to Bob and see if we can just sit and talk."