Same Sex Marriage: Why Liberal Germany Took So Long To Give Gay Couples Equal Rights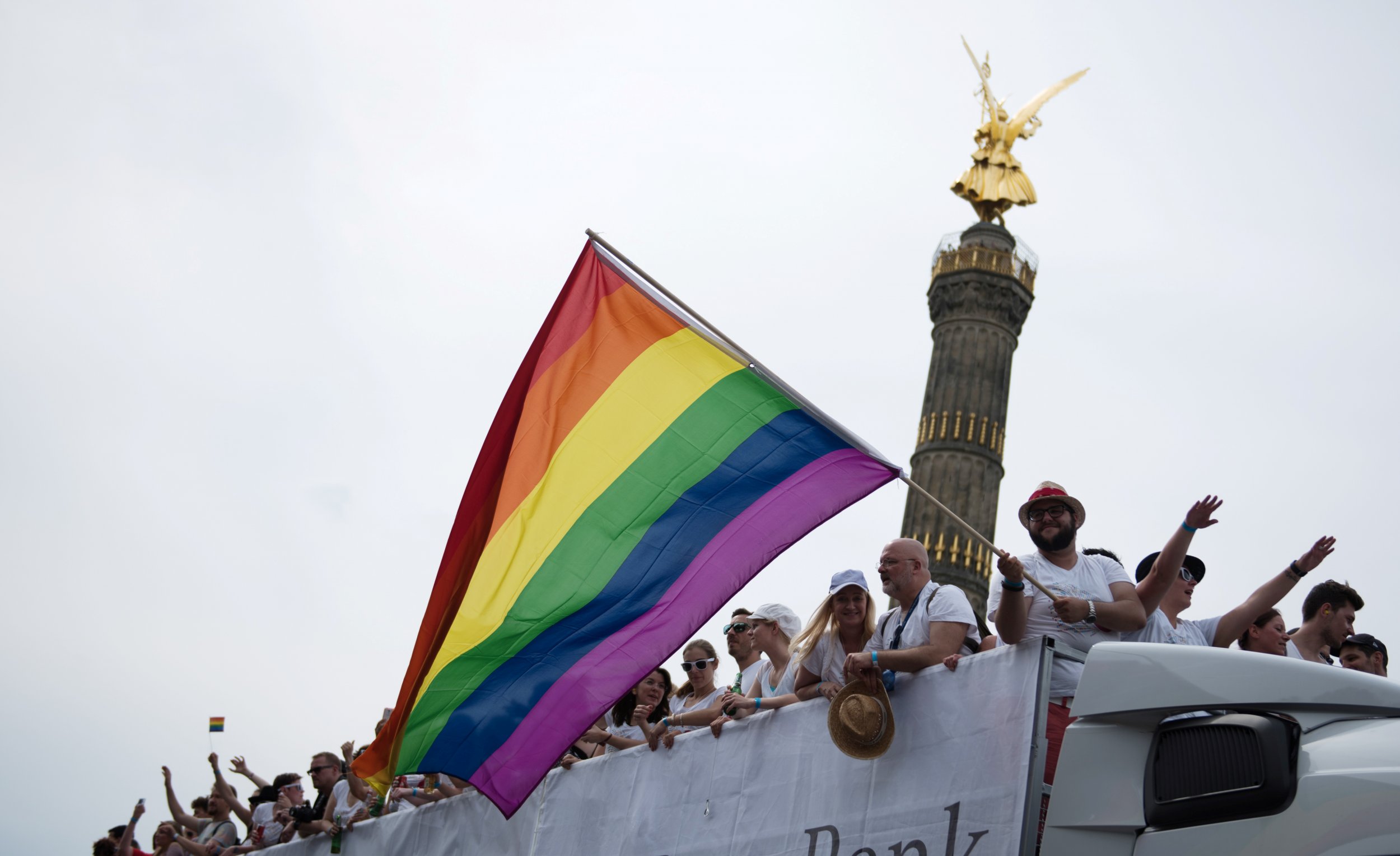 It was in the year 2000 that David Staeglich, one of the organizers behind Berlin Pride and Pride Germany, first got involved in LGBT activism. A year later, the movement won a major victory when the government—then a center left-green coalition—legalized civil unions for same-sex partners.
"At that time I thought, OK, this year we have the civil partnerships, and maybe in three or four more years there will be marriage equality," he tells Newsweek .
But it didn't turn out that way. It was only this Friday morning, over 15 years later, when Germany's parliament finally voted in favor of allowing gay couples to wed by 393 votes to 226.
The intervening years, Staeglich says, were frustrating: "It turned out [that] there are no reasons to be proud about Germany and the German government because all the countries around [us] changed a lot [but] Germany stood on the same place."
Germany follows the United Kingdom (2013), France (2013), the United States (2015), and a host of other nations that have agreed marriage euqality between heterosexual and same-sex partnerships.
Staeglich, who was speaking while meeting other LGBT activists from across the world in Madrid a day before the result, coincidentally on the last day of Pride month, said he'd be celebrating: "I think I will... drink as much champagne as possible. We will have the party of my life here in Madrid."
The fact that it took so long for relatively tolerant Germany—where 83 percent of Germans back gay marriage, according to a recent poll—to equalize its marriage laws is in a large part down to politics. In 2001, the country was run by the center-left Social Democrats (SPD) and the environmentalist Greens.
But since 2005, Germany has been led by Chancellor Angela Merkel and her center-right Christian Democratic Union (CDU) party, at the head of a series of coalitions.
Merkel may now have a reputation is a liberal on the world stage, thanks largely to her 2015 speech welcoming refugees and her regular rhetorical sparring sessions with U.S. President Donald Trump, but her political grounding is firmly conservative.
The chancellor, like many in her party, is a committed Christian and an often cautious politician. In 2005 she said in an interview: "man and wife, marriage and family, stand at the centre of our social model, so other lifestyles should not receive comparable constitutional protections," according to The Economist.
In Friday's vote, where lawmakers were allowed to vote with their conscience rather than along party lines, the Chancellor herself opposed the move.
Jens Spahn, Germany's Deputy Finance Minister, himself a gay man and a proponent of gay marriage within the CDU, admits in an interview before the vote that his party is still coming to terms with the issue, and that many within it still oppose it.
Die Welt reported that at least 70 of the lawmakers representing the CDU and its smaller sister party the CSU, roughly a quarter of the total, backed the change. "I just realize that there is an ongoing process right now," Spahn says.
But should Merkel have spotted the public mood and moved earlier? "Well actually I didn't expect it to happen this week, not before the election," Spahn says. (Germans will vote in September.) "We can argue now if it should have been done earlier, if it should have been done after the election, whenever, there's never the right time."
Merkel said on Monday that she had begun to change her mind on the issue of gay marriage after an invitation to dinner in her constituency at the home of two gay women who were caring for eight foster children. But the move was read in Germany as pre-election positioning.
Two rival parties and potential coalition partners, the SPD and the centrist Free Democrats (FDP), both back the change, and by allowing a vote without a party whip Merkel could neutralize the policy as an issue for the general election without having to fight her party's more hardline conservative members.
Spahn, though, quotes British Conservative ex-Prime Minister David Cameron, who once said: "I don't support gay marriage despite being a Conservative. I support gay marriage because I'm a Conservative."
Backing the change is logical for right-wingers, says Spahn: "It's because of values. When two people…want to stay to each other, they want to actually care for each other, before asking society to help them they will help each other first, then that is a value that we as Christian Democrats should cherish."
It isn't just the ruling party that has opposed the shift. However tolerant the majority of Germans, divisions remain.
"If you go into the countryside being a lesbian girl or a gay boy in a small village," says Staeglich, "it is still not that easy to call themselves a gay person, or a queer person."
In the Catholic state of Bavaria, the largely Protestant CDU is represented by its sister party the CSU, which remains staunchly opposed. And there are differences in the perception of homosexuality between men, which was decriminalized in East Germany in 1968 and in the West in 1969, but still partly criminalized until 1994 (when the age of consent was equalized), and between women, which was never technically illegal.
Staeglich hopes that gay people being able to marry like anyone else will change the minds of some traditionalists: "From that point on you can just argue and say: 'Well, hello? I have the same life, so why are you discriminating [against] me? Because now, our parliament took the decision that we are the same,'" he says. And to give further cause for hope, even the hard-right populist Alternative for Germany party, which opposes gay marriage, elected a gay woman as its leader in May.
As elsewhere, there are many battles still to fight for Germany's LGBT community, but the shifts are palpable and dramatic.
But aside from all of that, one choice remains for gay people in Germany: Now they have the right, will they take the plunge and pop the question? "Until now I always told my partner, as long as it is not officially allowed why should we marry," jokes Spahn, "now I have to think about a better phrase. We will see." He laughs: "I would never say never."