Same-Sex Taiwan Soldiers to Wed Partners in Group Ceremony for Armed Forces
Two sex-same couples will become the first to take part in a group wedding hosted by Taiwan's military in another landmark moment for gay rights in Asia.
The Armed Forces wedding ceremony on Friday will witness the participation of same-sex couples for the first time since the island's parliament voted to legalize same-sex marriage in May last year.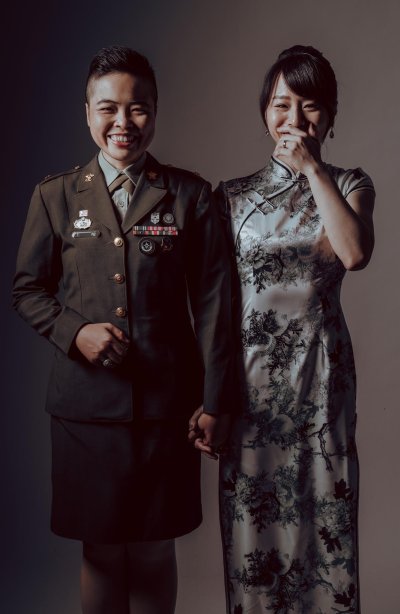 In a Facebook post, Taiwan's Army Command Headquarters shared wedding photos of those set to take part in the event. They included the two uniformed servicewomen and their same-sex partners, who had their pictures taken in traditional dresses called qipao—also known as the cheongsam.
The three branches of the Taiwanese Armed Forces have hosted annual weddings since 2014 as part of the government's initiative to boost fertility in the country. Couples can register as long as one partner is in active service.
Three same-sex couples—two in the Navy and one in the Air Force—were scheduled to take part in last year's group military wedding, but they pulled out in the weeks before the event due to "public pressure," reports said at the time.
Friday's ceremony, which will be held at the Army Command Headquarters in Taiwan's northeastern city of Taoyuan, will begin at 8:30 a.m. local time. It will mirror similar ceremonies hosted by Taiwan's Navy and Air Force later the same day.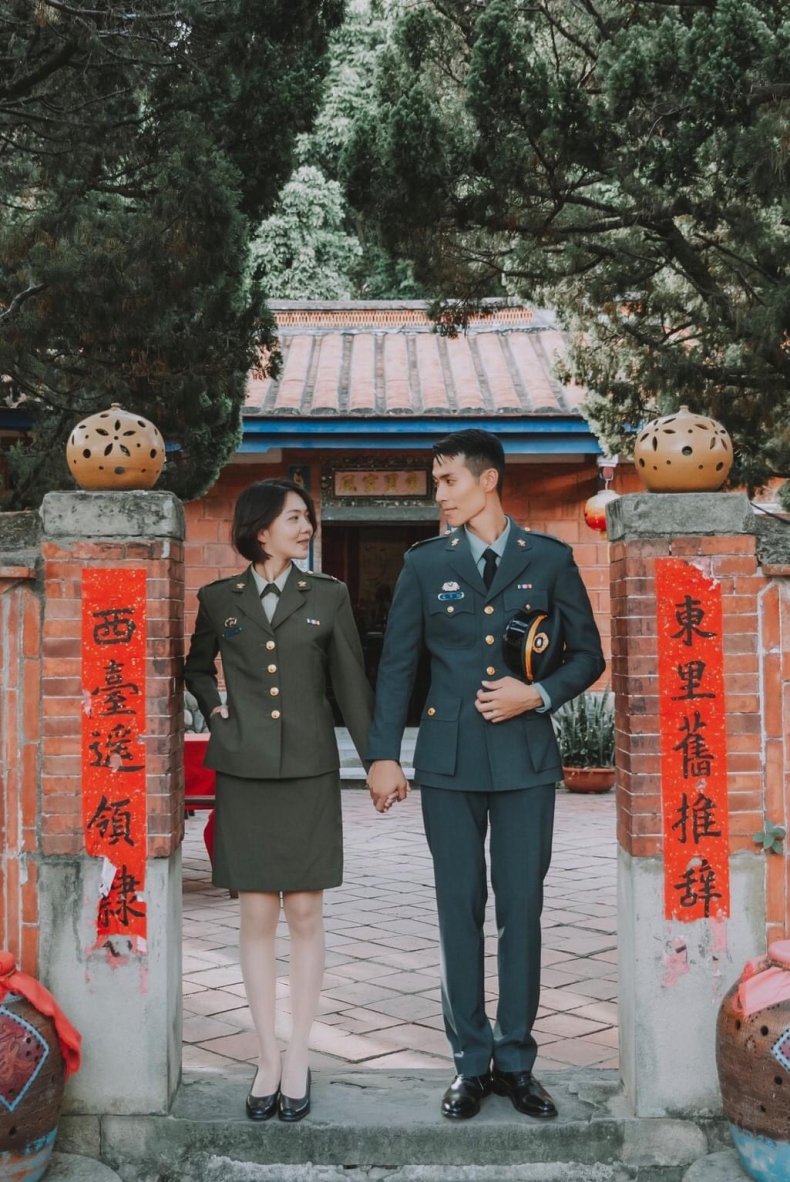 Progress
Taiwan became the first country in Asia to legalize same-sex marriage following a vote in the country's legislature in May 2019.
Taipei, capital city of the island nation, now regularly hosts Asia's largest Gay Pride parade, with last year's event attracting more than 200,000 participants.
President Tsai Ing-wen signed the bill into effect with Constitutional Court support, despite referendums in November 2018 showing public opposition to same-sex marriages in Taiwan's Civil Code as well as LGBT topics in sex education material.
Remaining hurdles
However, obstacles still remain for same-sex couples in the country. Taiwanese citizens are only allowed to marry same-sex foreign nationals from countries where same-sex marriage is legal.
The government continues to recognize civil unions for those who fail to meet the criteria, including two foreign citizens who wish to register their relationship in Taiwan.
Other restrictions for married same-sex couples include the adoption policy, which in its current form only allows married partners to adopt a biological child of one of the spouses.