Sami Zayn Returned to WWE 'SmackDown' and Attacked Jeff Hardy
Former Intercontinental Champion Sami Zayn returned to the WWE Friday to reclaim the title he was stripped of back in May.
Zayn appeared after current title holder Jeff Hardy defeated Shinsuke Nakamura in an open challenge on the August 28 episode of Friday Night SmackDown. Holding his own Intercontinental Championship, Zayn tells Hardy that he's the real champion and calls Jeff a "fraud" before hitting him with a boot.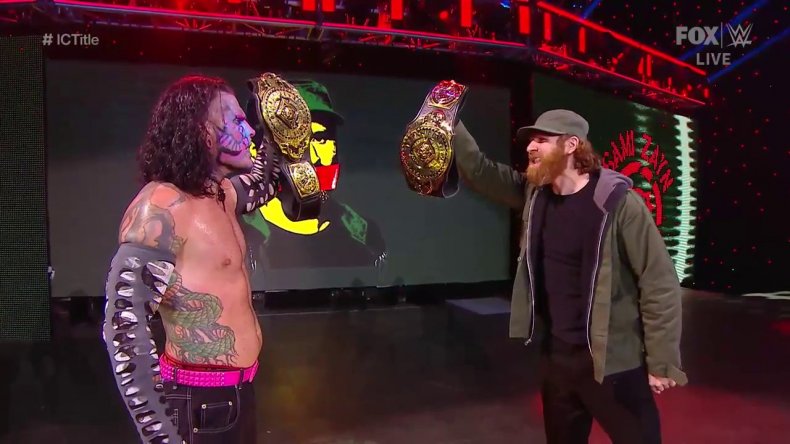 Sami Zayn, who won the Intercontinental Championship against Braun Strowman at the Elimination Chamber pay-per-view in March, and then retained it against Daniel Bryan at WrestleMania 36 in April haven't been seen in WWE for four months.
At the time, Zayn's absence was a point of curiosity between fans who wondered if the COVID-19 pandemic was the reason that he wasn't appearing on television. WWE gave wrestlers the option to not work its weekly tapings during the COVID-19 pandemic.
Dave Meltzer of the Wrestling Observer reported at the time, "The reason Zayn wasn't on SmackDown this past week with Nakamura and Cesaro is that he made the choice not to come, which everyone was told they had that option to do. He was originally part of the show."
On May 12, WWE put out a tweet stating that since he is unable to defend the title, the promotion declared the Intercontinental Championship vacant.
Following the decision and announcement that a new champion will be crowned, Zayn took to Twitter saying "I disagree with this decision and no matter what anyone says, I am still undefeated and therefore still the Intercontinental Champion."
In the months he was gone, Zayn would continue to remind the WWE Universe that he's the "real" Intercontinental Champion on his Twitter account.
Zayn was one of two high-profile WWE superstars who chose not to work RAW and SmackDown tapings. Roman Reigns pulled himself out of competition days before his WrestleMania 36 clash with Universal Champion, Goldberg.
In his first night back, Zayn made sure to call AJ Styles, who won the Intercontinental Championship in a tournament after the vacancy, and current title holder Jeff Hardy "fraudulent champions" and—sort of—reunited with former stablemates Cesaro and Shinsuke Nakamura who weren't too pleased with him leaving them.
What's next for Zayn now that he's returned? A likely program with Jeff Hardy to determine the "real" Intercontinental Champion is likely and with Payback this Sunday we may see it sooner rather than later.
Are you excited for Sami Zayn's return? Let us know your thoughts in the comments section.