WWE's Sami Zayn Confronts Fan Who Allegedly Shouted Homophobic Slurs at Him
WWE wrestler Sami Zayn confronted a fan who allegedly shouted homophobic slurs at him Sunday night during a live show.
The 35-year-old star—real name Rami Sebei—can be heard in a video shared on Twitter calling the fan a "homophobic moron" during a heated ringside exchange during WWE's live event at the Ocean Center in Daytona Beach, Florida.
Wrestling fan John Betz, who attended the show, shared footage of the altercation on Twitter. Betz said the drama started when the fan allegedly shouted "Canadian f****t" at Zayn, who is from Laval, Quebec, Canada.
In the clip, Zayn can be heard telling a WWE referee to "get him out of my f***ing face." The man can also be heard telling Zayn to "go back to Canadia" as venue security intervene.
Betz tweeted that the man in the front row was eventually ejected from the arena. WWE and the Ocean Center confirmed to Newsweek that the man was ejected.
In a series of tweets, Betz described the belligerent fan shouting "Canadian f****t" as Zayn's entrance music played.
"As Sami walks by he yells it again and Sami gives him a 'really?', kinda like not cool and cut the s**t. But he kept saying homophobe stuff," Betz said.
"The guy then started getting in Sami's face knowing Sami wouldn't hit him so he asked for security to handle it. It took a bunch of back and forth but finally the guy was removed.
"There were kids sitting all around and to be acting like a full blown a***hole was not cool, Sami did the right thing by giving the guy 1 quick moment to shut up, he chose not to. It's not hard to not be racist, sexist or homophobic at a wrestling show."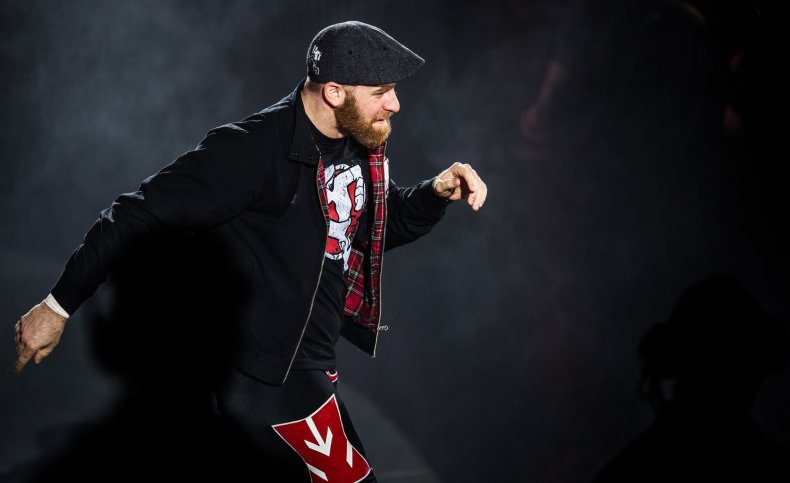 After the man was removed by security, Zayn returned to where he had been sitting "and said 'Hey this seat is empty now, what happened?' and laughed," said Betz.
Zayn was ringside managing Intercontinental champion Shinsuke Nakamura, who wrestled a steel cage match against Universal Champion Bray Wyatt.
Zayn, Nakamura and Wyatt are all part of WWE's Friday Night SmackDown show on Fox.
Zayn, who is Syrian by heritage, recently spoke out about professional wrestling moving beyond cartoonish stereotypes that typified the genre in the 1980s. "Like me, being Arab, I'm not coming out with a turban or acting the way the Iron Sheik acted. I'm a performer who happens to be Arabian," he told radio station DC101.
This article has been updated with additional details from WWE and the Ocean Center.