Samoyed Dog Stars in Real-Life Version of 'This Is Fine' Meme for Halloween
A dog may have just got his paws on the prize for best pet Halloween costume, thanks to an effort that has delighted more than 1.5 million TikTokers.
Biff the Samoyed's owner created his pet's impressive outfit as essentially a real-life version of the "This Is Fine" meme that has featured in many social-media posts.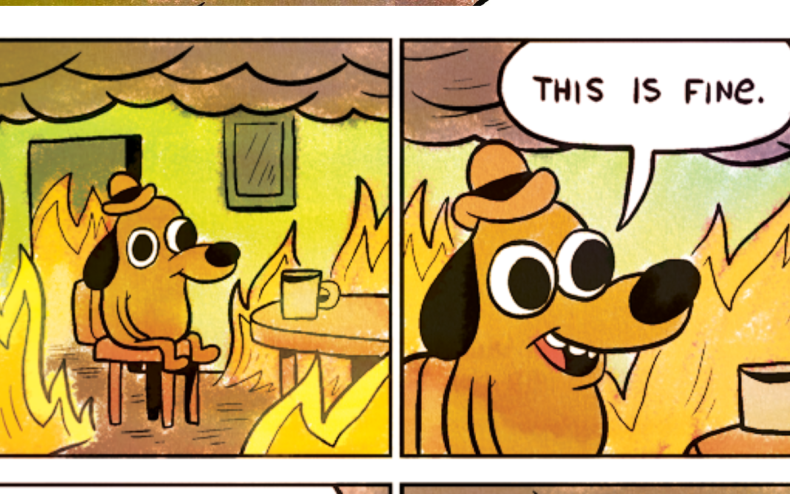 First published in January 2013, as part of the webcomic series Gunshow illustrated by K.C. Green, the panels present the image of an anthropomorphic dog sat in a room telling himself everything is fine, while fire engulfs everything around him.
Primarily used as a reaction image to highlight a pervading sense of self-denial or acceptance in the face of hopeless circumstances, the "This Is Fine" meme started out on 4chan before moving over to Reddit and Twitter. Nearly a decade on from publication, it continues to gain traction online.
A recent iteration of the meme made a U.K. newspaper's front page, with former Prime Minister Liz Truss in the role of the dog, watching as all around her burns, in what was intended as a comment on the difficulties she faced during her short time in office.
Biff and his owner's riff on the classic meme is a little different, though. The video prefers to lean into the cuteness of it all rather than make any pointed comments on anything in particular.
The clip nevertheless highlights the pervading nature of internet memes, which appear to have touched upon the realms of Halloween and pet culture.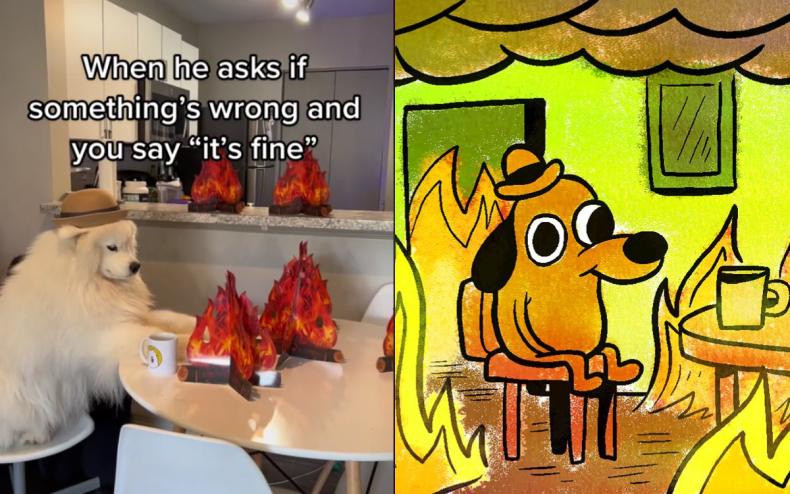 Biff plays the role to aplomb in a clip that has earned plaudits for its creativity. In the video, our canine star can be seen sitting at a chair around a table, wearing a hat not dissimilar to the one sported by the cartoon dog in the original meme.
As with the meme, a coffee cup is visible on the table in front of Biff while his owner has gone to the trouble of mocking up several cardboard stands designed to look like flames.
These have been placed strategically around Biff to recreate something approaching the fire effect in the original cartoon.
The effort put in to making the clip did not go unnoticed, with the video racking up more than 1.5 million views on TikTok.
Littlepoetat commented: "Literally the most perfect meme to be created," with Hannah Taylor writing: "Biff this is amazing."
Duke Campbell branded it "perfection," while taylor ma wrote: "best costume contest winner over hereeeee."
ZenWTR wrote that it was "The most perfect meme re-creation," with blah blah commenting: "this is really DANGEROUSly cute."
Arguably the biggest compliment came elsewhere, however, with fans quick to note the image was liked by pop singer Taylor Swift on her official TikTok account.
"TAYLOR LIKED OMG," mikayla wrote, with Biff's owner replying: "brb crying."
Newsweek has contacted Biffthesamoyed for comment.
Do you have funny and adorable videos or pictures of your pet you want to share? Send them to life@newsweek.com with some details about your best friend and they could appear in our Pet of the Week lineup.