Samsung Banned From Selling Older Smartphones in Court Ruling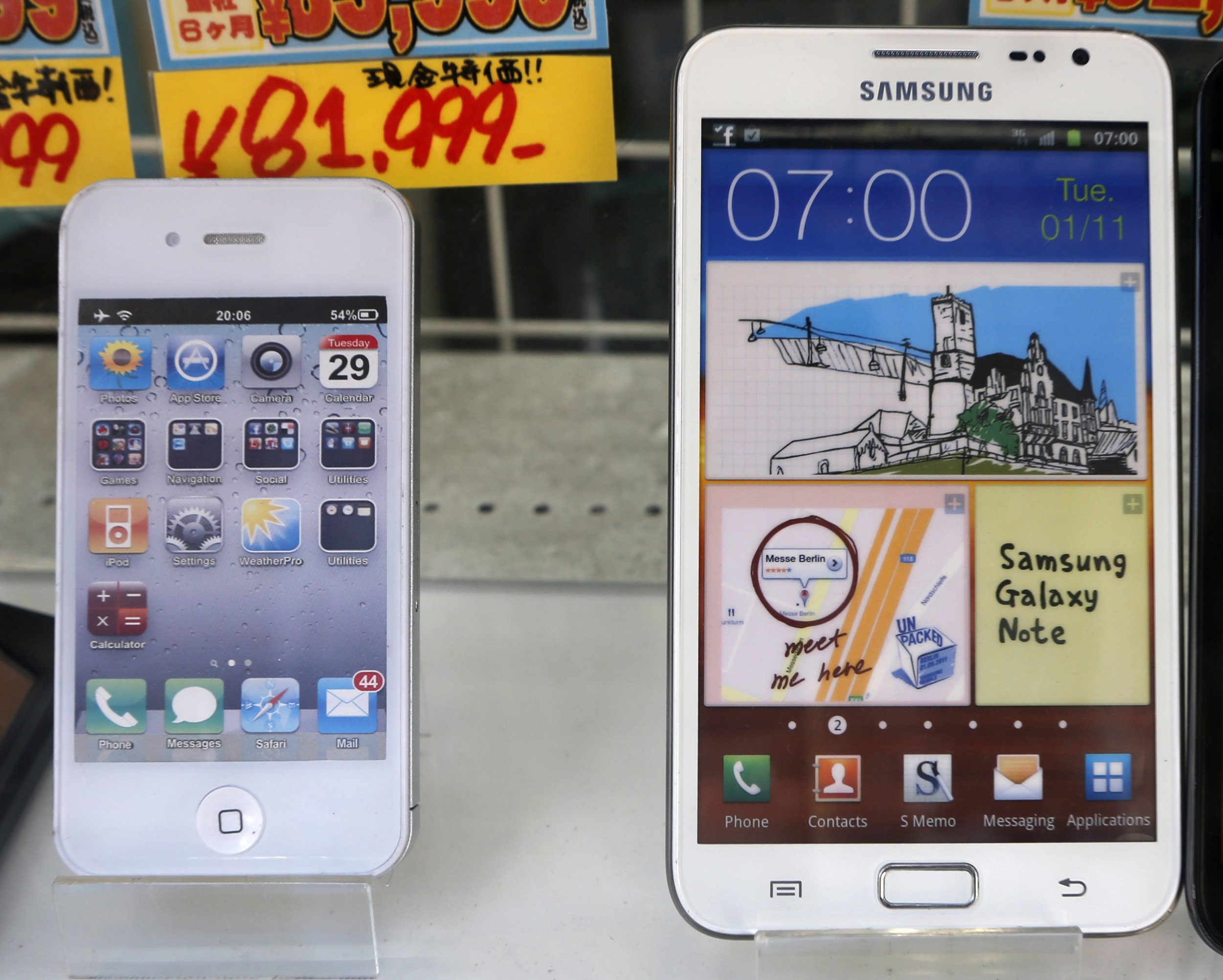 In the latest chapter of the Samsung-Apple patent war, a five-year ordeal which feels more like the Thirty Years' War, a U.S. judge ordered Samsung cannot sell some smartphone models for infringing on Apple's patented technology. The catch is they're not the models Samsung is pushing now.
San Jose, California–based U.S. District Judge Lucy Koh granted an Apple motion for permanent injunction against devices that used technology it patented. The injunction bans sale of Samsung phones like Galaxy Note, Galaxy Note 2, Galaxy S2 and Galaxy S3—all of which are at least three years old.
Some of the patents Apple says Samsung violated involve autocorrect, slide-to-unlock and data detection features found in both Apple and Samsung smartphones.
"The court finds that Apple will suffer irreparable harm if Samsung continues its use of the Infringing Features, that monetary damages cannot adequately compensate Apple for this resulting irreparable harm," the court ruling says.
As Joe Mullins at Ars Technica writes, the phones are so old that "the legal order will not affect the marketplace in a meaningful way." But within the scale of the Samsung-Apple feud, the injunction was another blow to the South Korean conglomerate seeking to rival Apple in the American smartphone market.
This is not the first time since Apple brought forth its first lawsuit against Samsung in April 2011 that the courts have ruled against the South Korea-based company. Apple accused Samsung of copying the design of its iPhone and iPad designs in the original lawsuit. In the first verdict in 2012, a jury ruled Samsung had to pay Apple over $1 billion in damages—a figure which has been whittled down to $548 million after multiple appeals from Samsung.
In a separate case which Apple filed suit in 2012, Apple again accused Samsung of violating patents. That time a jury awarded Apple $120 million. The injunction to ban sale of old Samsung smartphones comes from this lawsuit.
Koh initially ruled at the time that the monetary award was enough for Apple and an injunction was unnecessary. But her decision was rebuked by the U.S. Court of Appeals for the Federal Circuit last September, pressuring Koh to grant the injunction.
"While this will not impact American consumers, it is another example of Apple abusing the judicial system to create bad legal precedent which can harm consumer choice for generations to come," Samsung says in a statement.
This war is far from finished. Both tech titans are heading to court for a fourth jury case this spring to help decide the damages Samsung caused by infringing Apple patents in its more recent smartphone models, like the Galaxy S4 and Vibrant.
The acrimony has divided Silicon Valley. Google, Facebook, Hewlett-Packard, Dell and eBay have sided with Samsung in pleading the Supreme Court to get involved and end this feud once and for all.