Samsung Bespoke Jet Cordless Stick Vacuum Has Style and Substance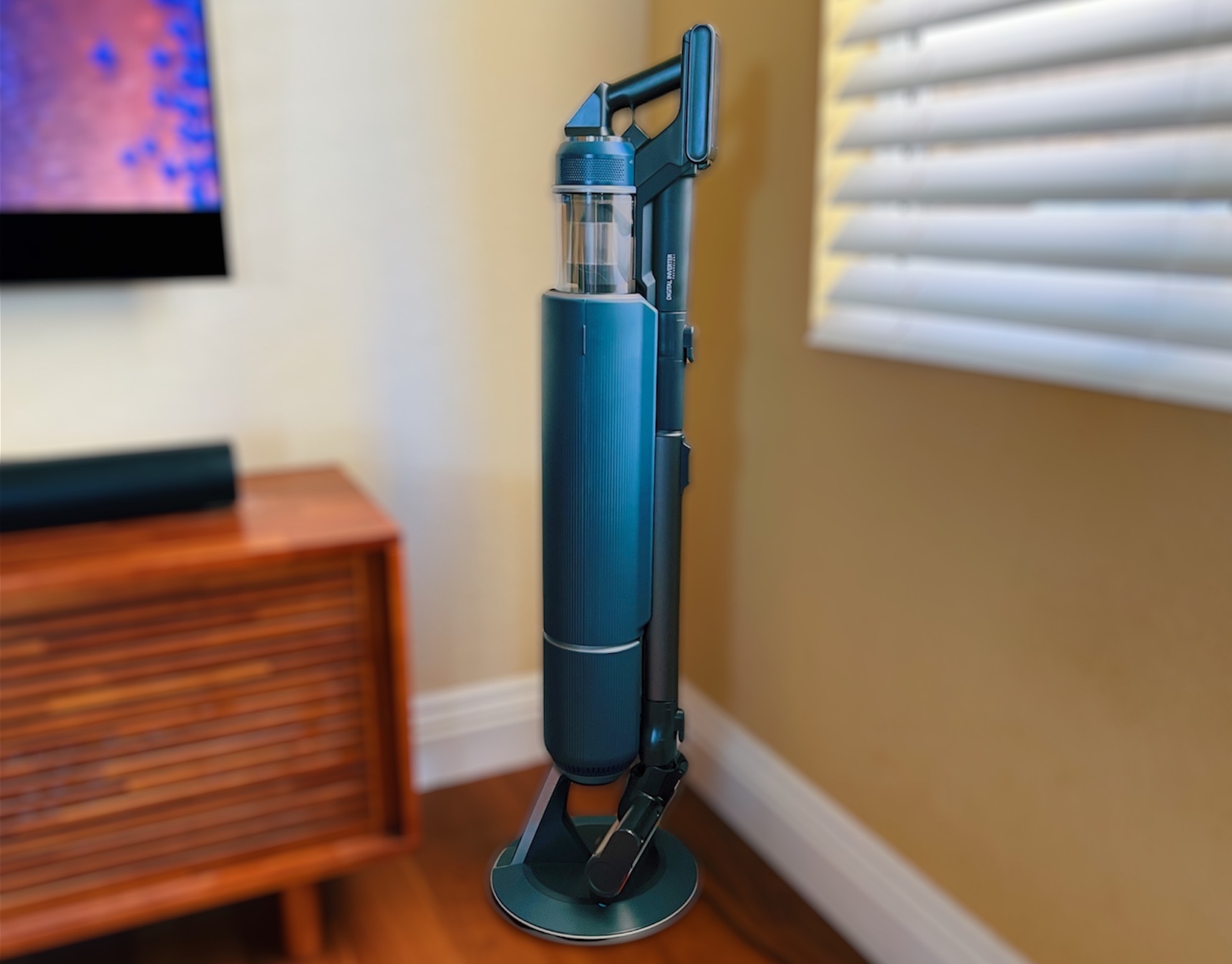 Samsung's Bespoke line of products, one that focuses on premium finishes, now extends to the company's VacJet stick vacuums. Bespoke is the moniker given to several different kinds of appliances, connoting both style and substance.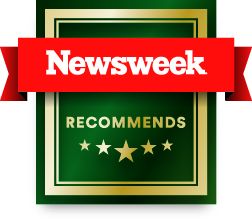 The Bespoke Jet Cordless Stick Vacuum With All in One Clean Station has a self-emptying dust compartment and comes in a modern style. The idea here is that instead of needing to hide your vacuum in a closet or garage, the soft hues of blue, green and white are made to blend into your decor so you can place the cleaning appliance wherever you need it.
The Bespoke Jet Cordless Stick Vaccum is a scaled-up variant of the company's VacJet vacuum. It has some new features, but the core of the product is very similar to the company's other stick vacuum products.
The fresh design of the Bespoke Jet Cordless Stick Vacuum was enough to sway me right away. When I showed my wife, however, her response was more tepid: "It will take a lot to convince me that Samsung vacuum is better than my Dyson." Fair enough.
After a few weeks, it turns out that some of the small details, such as a brush head that fits under cabinets, an automatic dust emptying system and a more versatile array of suction levels, have been able to sway her into becoming a fan.
TL;DR
Pros:
Matte finish and blue color make for an attractive vacuum system
The self-emptying Clean Station also charges the vacuum
Cons:
The dust bin stays open after the vacuum empties itself
Clean Station requires buying bags
Buy at Samsung.
Bespoke Features and Performance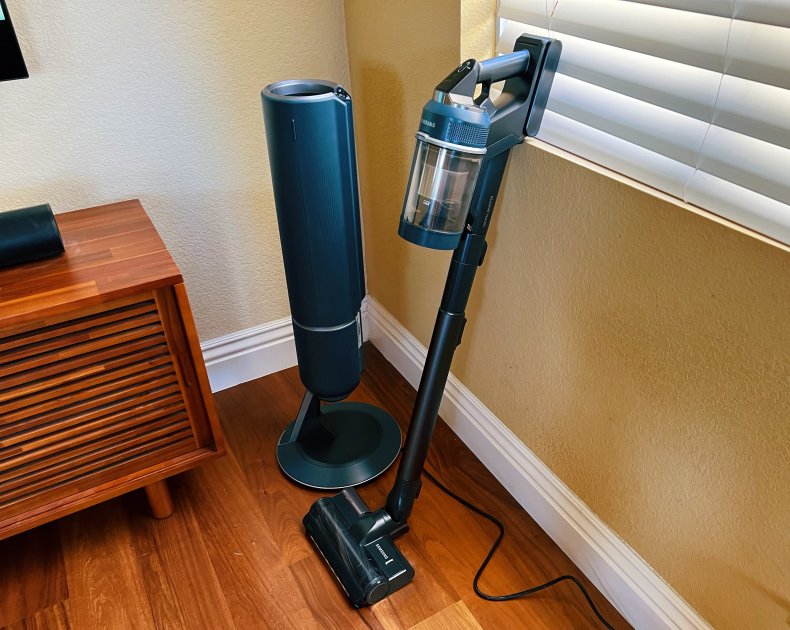 What makes the Bespoke Jet Cordless Stick Vacuum With All in One Clean Station different? For one, its Clean Station is unique to this product. It allows you to empty its dust bin with a single button, instead of banging the bin against the trash can, with the goal of keeping dust from re-entering the air.
The Clean Station is the feature that stands out to me the most. It's the colorful centerpiece of the product. As easy as it was to empty the bagless dust bin on the vacuum itself, having the Clean Station do that task automatically was a big help. The downside is that it does require replacing bags inside the Clean Station on a regular basis at about $5 a pop. The frequency of replacing the bags will vary greatly for different homes, but I found it to be about four to six weeks before we needed to replace a dirty bag.
While this feature is a highlight, it does have a downside, too. The Clean Station pops open the dust bin automatically to empty the dirt, but it doesn't close it. The first time I took the bin out of the Clean Station to use it, I didn't realize the bin was open and allowing the dust to fall out. My wife had the same experience, on another occasion. Even if the unit can't close the dust bin by itself, I wish the LCD screen would show an alert or that the vacuum wouldn't start unless the bin door was closed.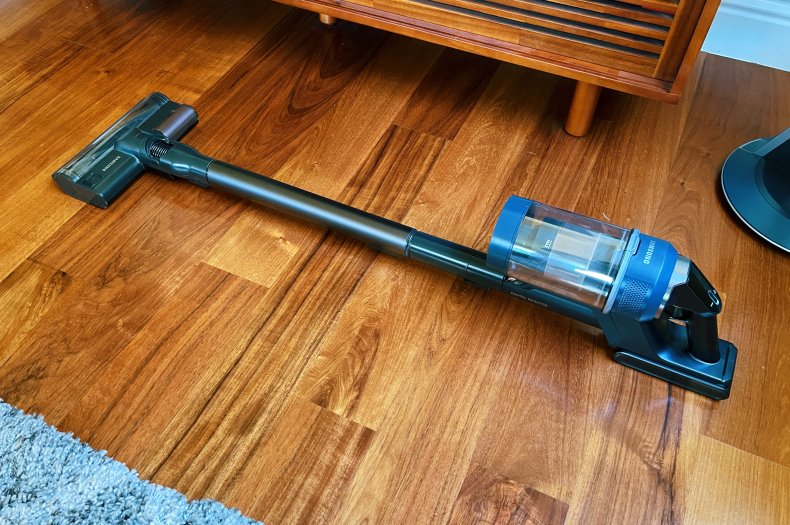 This vacuum offers 210 air watts of suction power, weighs less than previous Samsung stick vacuum models and comes with two batteries able to clean for 2 hours total, or for 60 minutes each. The Bespoke Jet Cordless Stick Vacuum also comes with a host of interchangeable attachments for various cleaning tasks.
The attachment pieces themselves are mostly unremarkable. The caddy that holds them is neat because it includes the second battery and comes with a power adapter to be able to charge that battery in a clutter-free way.
In terms of performance, the vacuum did a great job of picking up dog hair from a rug. It has several different levels of suction, too, beyond only a high and low setting. A middle suction level allowed the rug to be vacuumed without lifting it off the ground—something that is common with our Dyson stick vacuum.
Our Dyson stick vacuum came with one roller attachment for hardwood floors and one for carpet. The Bespoke Jet Cordless Stick Vacuum comes with a hybrid roller that's supposed to be able to handle both. While my wife and I were skeptical, it performed well enough that we didn't miss needing to switch back and forth between two different main attachments. The roller was smooth enough on our hardwood floor, and it didn't seem abrasive.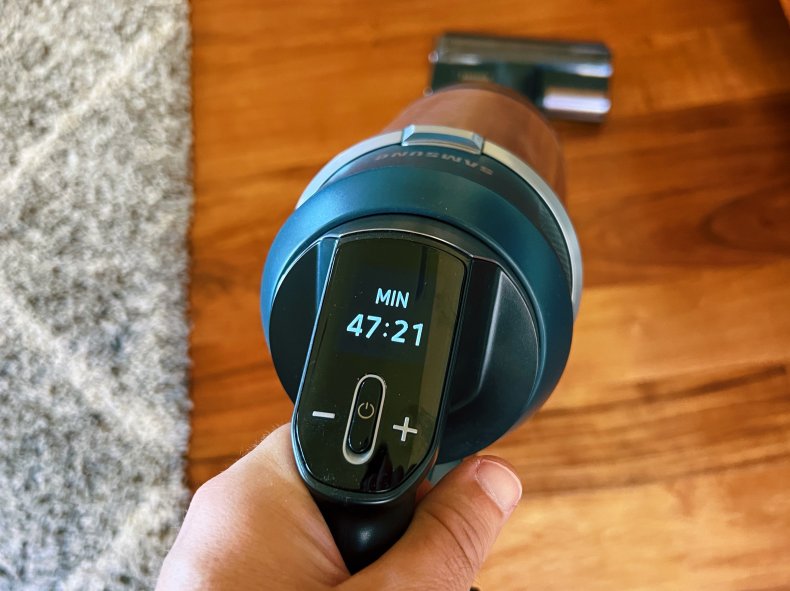 On the vacuum handle is an LCD screen that shows the remaining battery while it's in use or the charging time when it's powering up. The screen can also provide alerts for errors or missing parts. I've never had an LCD screen on a vacuum before, and based on my time with it, it's not completely necessary—but it has been extremely nice when checking the current state of the device.
Should You Buy the Samsung Bespoke Jet Cordless Stick Vacuum With All in One Clean Station?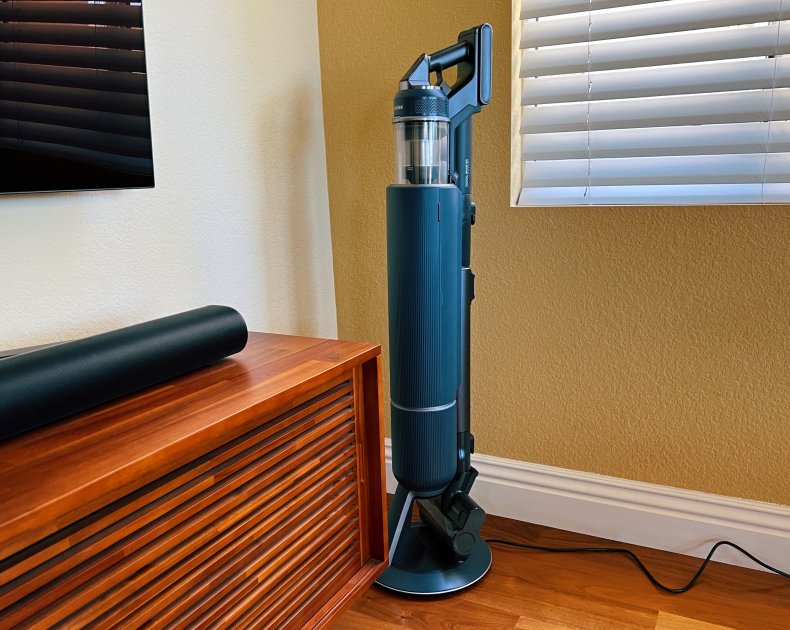 I wouldn't call it a problem, but my household has always had the conundrum of where to place a vacuum. Ideally, it would go in a hall closet, but as we've moved over the years, we've never had a space like that with an electrical outlet. Usually, the vacuum ends up in the garage or somewhere inconvenient so it can be plugged into power. It's typically been a pain to get to in those places. This Bespoke Jet Cordless Stick Vacuum With All in One Clean Station opens up a lot more possibilities for placement because it's not a tacky-looking vacuum. At best, it blends in so well it disappears, but at worst it's easy on the eyes.
The performance of this cleaning device is wonderful, but it still requires you to do the work—it's not an automated robot vacuum. Its retail price, at nearly $1,000, is tough to justify. But this product at least makes a compelling effort with its features and design.
I love the functionality the self-emptying Clean Station adds to a stick vacuum. Keeping the dirt and dust contained after cleaning feels essential to me. The total package of features and style is a splurge, but it's at least one worth making if what it offers is important to you.
Buy at Samsung for $949.99.
Newsweek may earn a commission from links on this page, but we only recommend products we back. We participate in various affiliate marketing programs, which means we may get paid commissions on editorially chosen products purchased through our links to retailer sites.