Samsung Galaxy Note 10 Plus Specs: Waterproof, SD Card, Colors, Camera & More
After unveiling the latest in its flagship phone line on August 7 in New York, Samsung's Galaxy Note 10, Note 10 Plus and Note 10 Plus 5G are now available. Early reviews for the Note 10 Plus praise its screen, all-day battery life and camera, but the device's high price and lack of a headphone jack might discourage some buyers. The complete specs reveal an Android phone competitive with the iPhone XR, with numerous powerful features.
Samsung Galaxy Note 10 Plus Specs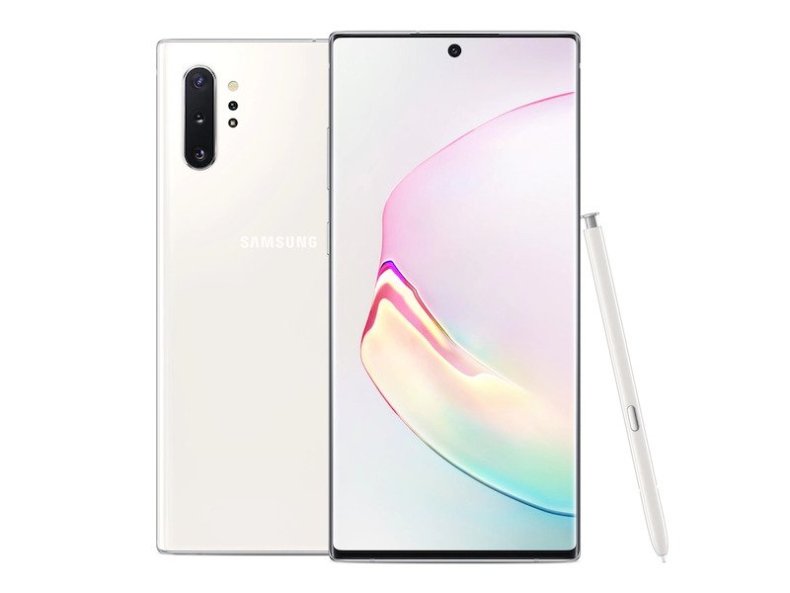 The Samsung Galaxy Note 10 Plus is 162.3 millimeters high and 77.2 millimeters wide, which is a centimeter taller than the iPhone XR and slightly wider. At only 7.9 mm thick, the Galaxy Note 10 Plus is also nearly half a millimeter thinner than the iPhone XR. The phone weighs 196 grams, just two grams heavier than the latest iPhone.
Both sides of the Galaxy Note 10 Plus are made of Gorilla Glass 6, which Corning describes as up to twice as good as previous Gorilla Glass versions at surviving falls. In testing, Gorilla Glass 6 survived, on average, 15 consecutive drops from a height of one meter onto rough surfaces.
The Samsung Galaxy Note 10 Plus is also water resistant, with an IP68 rating, which allows for submersion in 1.5 meters of freshwater for up to 30 minutes (though Samsung advises against beach or pool use and water damage isn't covered under warranty).
Internals
The Samsung Galaxy Note 10 Plus comes packed with a Snapdragon 855 8-core processor with a maximum clock speed of 2.8 GHz, plus 12 GB RAM. 256 GB or 512 GB of internal storage is available in the Galaxy Note 10 Plus, with a microSD card slot that allows for memory expansion up to 1TB.
Colors
Colors available for the Galaxy Note 10 Plus include Aura Glow, Aura Black, Aura White and Aura Blue.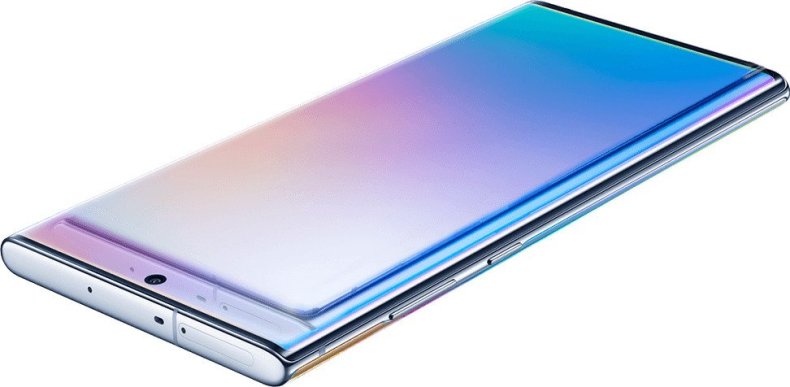 Display
The Galaxy Note 10 Plus has an AMOLED display with a 2040 x 1440 resolution at 498 ppi, with a 6.8" screen. The screen has high dynamic range and is HDR10+ certified. The display includes an in-screen fingerprint reader, which reviews have described as significantly more accurate than in previous models.
Camera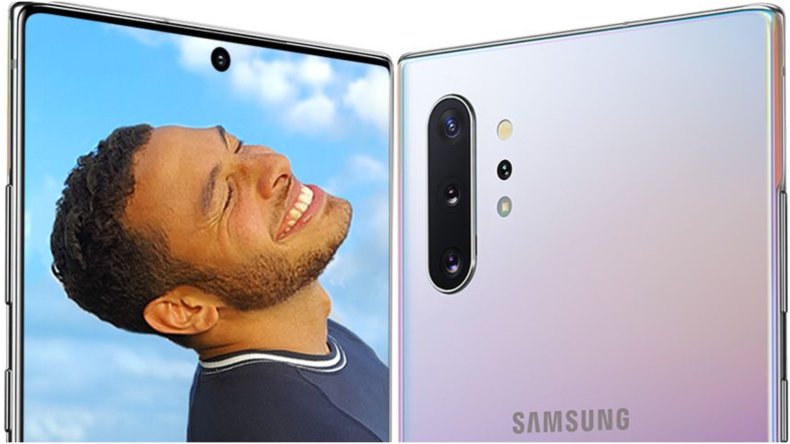 The Galaxy Note 10 Plus includes both a front-facing, 10 megapixel selfie-cam and a quad camera system on the back of the phone, consisting of four different lenses.
The four cameras on the back of the Galaxy Note 10 Plus include a 16 megapixel "ultra wide" camera, a 12 megapixel wide-angle camera, a 12 megapixel telephoto camera and a "DepthVision" camera. The quad camera system features include "shot suggestions," "flaw detection" and a Scene Optimizer with 30 modes for specific subjects, like faces, pets, and food, which is in addition to the k11 camera modes: Food, Night, Panorama, Pro, Live Focus, Photo, Video, Live Focus Video, Super Slow-mo, Slow Motion and Hyperlapse.
The cameras on the Galaxy Note 10 Plus also shoots 4K UHD video (3840 x 2160) at 60 frames per second. It can also record 1080p and 720p video. Slow-motion video can be captured at 960 fps at 720p resolution, or 240 fps at 1080p resolution. You can even take 9.1 MP still photos while recording 4K footage.
Battery Capacity
The battery capacity on the Galaxy Note 10 Plus is 4300mAh, as compared to the Galaxy Note 10's 3500mAh. All versions of the Galaxy Note 10 support both wired and wireless charging.
Bluetooth S Pen
At just over 4 inches long, the S Pen included with the Galaxy Note 10 Plus has more stylus features than ever. The S Pen supports air actions, live messages, memos when the screen's off, translation, magnification and AR (Augmented Reality) "doodles." It can function 10 meters from the phone. The S Pen's lithium titanate battery allows for 10 hours of standby time.
For complete specs, check out Samsung's Specifications page.
Samsung also released a smaller version of the Note 10 Plus, called simply the Note 10. It includes a 6.3" screens, reduced RAM and no microSD card, but costs less than the 10 Plus or 10 Plus 5G, at a price of $949.99.
The Samsung Galaxy Note 10 Plus retails for $1,099.99, or $1,299.99 for the 5G version.