The Samsung Galaxy Note 9 Might Make a Mobile Gamer Out of You
If you're a gamer crossing your fingers for a new mobile phone this holiday season, or someone who loves to play on the go looking to treat yourself, look no further than Samsung's latest flagship model, the Galaxy Note 9. Robust processing power, a dazzling screen and a beefy battery will keep even the most demanding titles chugging along at a brisk pace until well past your bedtime. But be warned: those top-tier specs come at a top-tier price.
The Note 9 comes in two configurations: the base model with 128 GB of built-in storage and 6 GB of RAM, and another with 512 MB of storage and 8 GB RAM. Both offer expandable storage, up to an additional 512 GB, via MicroSD cards. Color availability varies between carriers and for unlocked handsets, but there are four available: Midnight Black, Ocean Blue, Cloud Silver and Lavender Purple.
The first thing you'll notice about the Note 9 is the vibrant 6.4-inch AMOLED screen. You don't need to be a specs obsessive to understand the envious sighs you'll elicit every time you take it out. (Seriously, this phone will draw more covetous glances than a fuzzy Labradoodle puppy.) Pretty much anything looks fantastic on the Note 9, though content with bright, saturated color—think anime-inspired games like Dragalia Lost—looks especially sumptuous.
The Note 9 brings stereo sound to the line for the first time, with dual speakers tuned by AKG. "AKG's got a long history in the professional audio world, studio-quality sound. When we did the Harman [Kardon] acquisition, about a year ago, that was part of their brand and we brought it in," a Samsung spokesperson told Newsweek.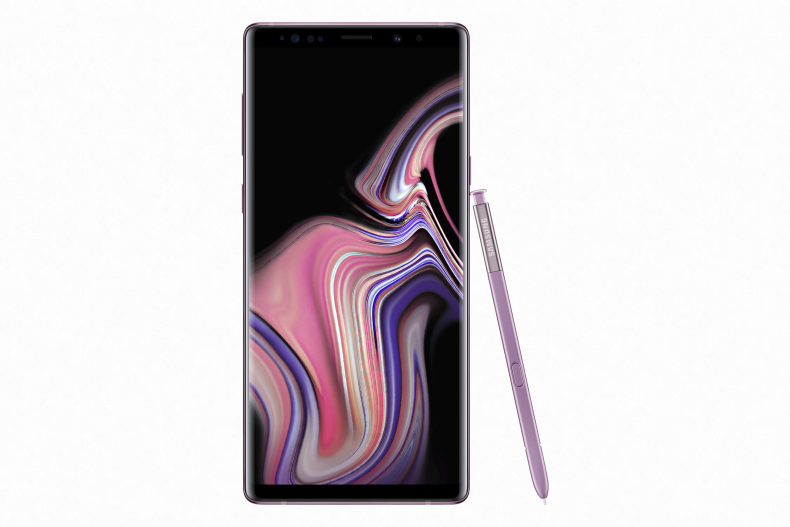 The Note 9 has an edge-to-edge Infinity Display; there's no physical buttons or bezels, and the screen rolls slightly over the left and right sides. This makes its already large screen look even more expansive—a definite plus for watching Netflix or playing games. Well, most of the time. Occasionally, I found the rolled edge a bit fiddly and imprecise when playing games in landscape orientation, particularly if the buttons were situated in the lowest margins of the screen. It wasn't a dealbreaker, but it was definitely something I noticed more than once, particularly in rhythm-based games like Bang Dream! Girls Band Party or occasionally in Fortnite's build mode.
Fortnite and the Note 9 have been hand in glove ever since the phone's August launch, which coincided with the release of the phenomenally popular game's Samsung-exclusive Android beta. With 100 players facing off against one another in real time, playing on mobile won't work with a laggy server connection or sluggish processor. Thankfully, the Note 9 more than rises to the challenge posed by Epic Games' smash hit. Matchmaking takes mere seconds, and both gunplay and building are nimble and snappy, without any noticeable slowdown or dropped frames. Sure, moving your character and tweaking the camera by dragging your fingers can feel a bit imprecise compared to a control pad or keyboard and mouse, but Fortnite runs remarkably smoothly on the Note 9.
Also, did we mention the Note 9 is waterproof? The Note9's IP68 water resistance allows it to be submerged in fresh water up to 1.5 metres (just shy of five feet) for up to 30 minutes. We're not suggesting you should play Candy Crush in the tub, just pointing out that you could. If you wanted to.
The Note 9's hefty 4000 mAh battery aims to keep players in the game longer, but running games that demand a lot of processing power will leech the life out of that bad boy at a pretty rapid clip, even if they're just running in the background. Thankfully, the handset recharges very quickly. A wireless charging pad, sold separately for $59.99, lets you do so without having to wrangle any cables.
Running games that demand a lot of processing power made the Note 9 noticeably warm to the touch, though never worryingly hot. A built-in water carbon cooling system aims to keep processor temperatures down, even as the phone itself builds up a bit of heat. "If you're taxing that processor, and you keep it nice and cool, you're not going to see a drag down in overall performance and framerate," the spokesperson explained.
The benefits of the Note 9's premium specs extend beyond gaming. Samsung promotional materials boast that the Note 9's top-spec tech will allow it to make the most of your carrier's network speeds. I was rather skeptical of these claims, until I tried browsing some websites while stuck in the subway. I was able to get much more reliable reception, with image-heavy websites loading fully in a flash. Adding bleeding-edge components to make the most of carrier network speeds is part of Samsung's attempt to "future-proof" the phones. Those little quality-of-life enhancements might not be as flashy as the screen or the speakers, but they make the Note 9's premium price a bit easier to justify.
Samsung is currently offering Black Friday discounts on the Note 9 through its official site. The 128 GB model currently costs $799.99, while the 512 GB model will set you back $1049.99.