Samsung Galaxy S21 Unpacked: Start Time and How to Watch Online
In the middle of this year's CES conference, Samsung is ready to unveil its newest mobile devices at the 2021 Galaxy Unpacked event.
The annual Samsung Galaxy Unpacked event is a must-see for those who are diehard Galaxy owners and those looking for a possible replacement for their Android devices. This year, Samsung is leaning into the importance of smartphones during the pandemic writing on its official site, "Mobile technology has kept us all connected. Now more than ever, we need smartphones that can help us express ourselves with stunning photos, deliver immersive viewing experiences, and simply make everything we do epic."
If you're looking to watch this year's Samsung Galaxy Unpacked event online, here's everything you need to know.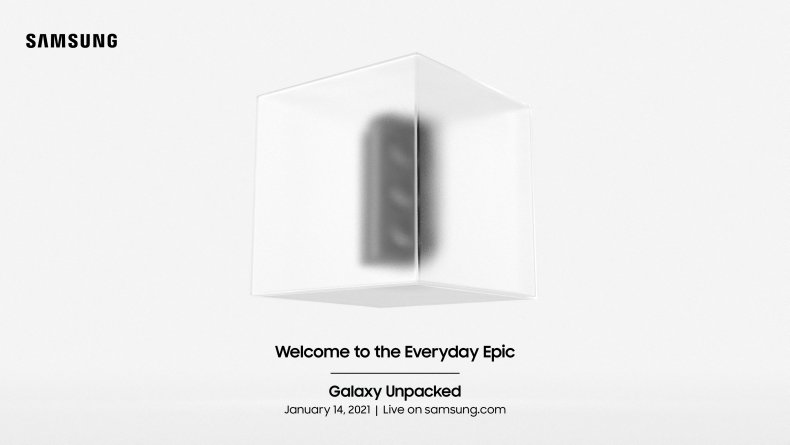 SAMSUNG GALAXY UNPACKED 2021 START TIME
This year's Samsung Galaxy Unpacked event will begin Thursday, January 14, at 10 a.m. ET.
HOW TO WATCH SAMSUNG GALAXY UNPACKED 2021 ONLINE
Fans can watch the Galaxy Unpacked event live stream in a variety of ways. The first is on the official Samsung site.
New for this year's event, Samsung will host the live stream on its official Twitch, TikTok, and Reddit on Thursday. All three live streams can be found on your desktop or by downloading the corresponding apps on your smartphones.
In the case of Twitch, the streaming app can be downloaded not just on mobile devices but on Sony and Microsoft gaming consoles as well as Roku devices.
You can also watch the stream from YouTube below.
WHAT TO EXPECT
So what can fans expect from this year's Samsung Galaxy Unpacked event?
We know that the next smartphone in the Galaxy line, the S21, will be the highlight of the live stream. Samsung will likely unveil three different models of its flagship phone: the 6.2-inch S21, the 6.7-inch S21 Plus and the 6.8-inch S21 Ultra.
These devices are expected to look the same as the S20 line, but will likely have a bigger and better camera to boost its photo and video capabilities.
Specs and the phone's capabilities will be on full display on Thursday, but many of the details have already leaked online courtesy of known mobile aficionado Evan Blass. What looks to be marketing materials for the new Galaxy line were shared including what the phone's 5G capabilities are, its processing power and more.
Are you excited for the upcoming Samsung Galaxy Unpacked event? What do you hope to see during the live stream? Let us know in the comments section.