Samsung Galaxy Z Flip4 Review: Still Searching For Reasons to Fold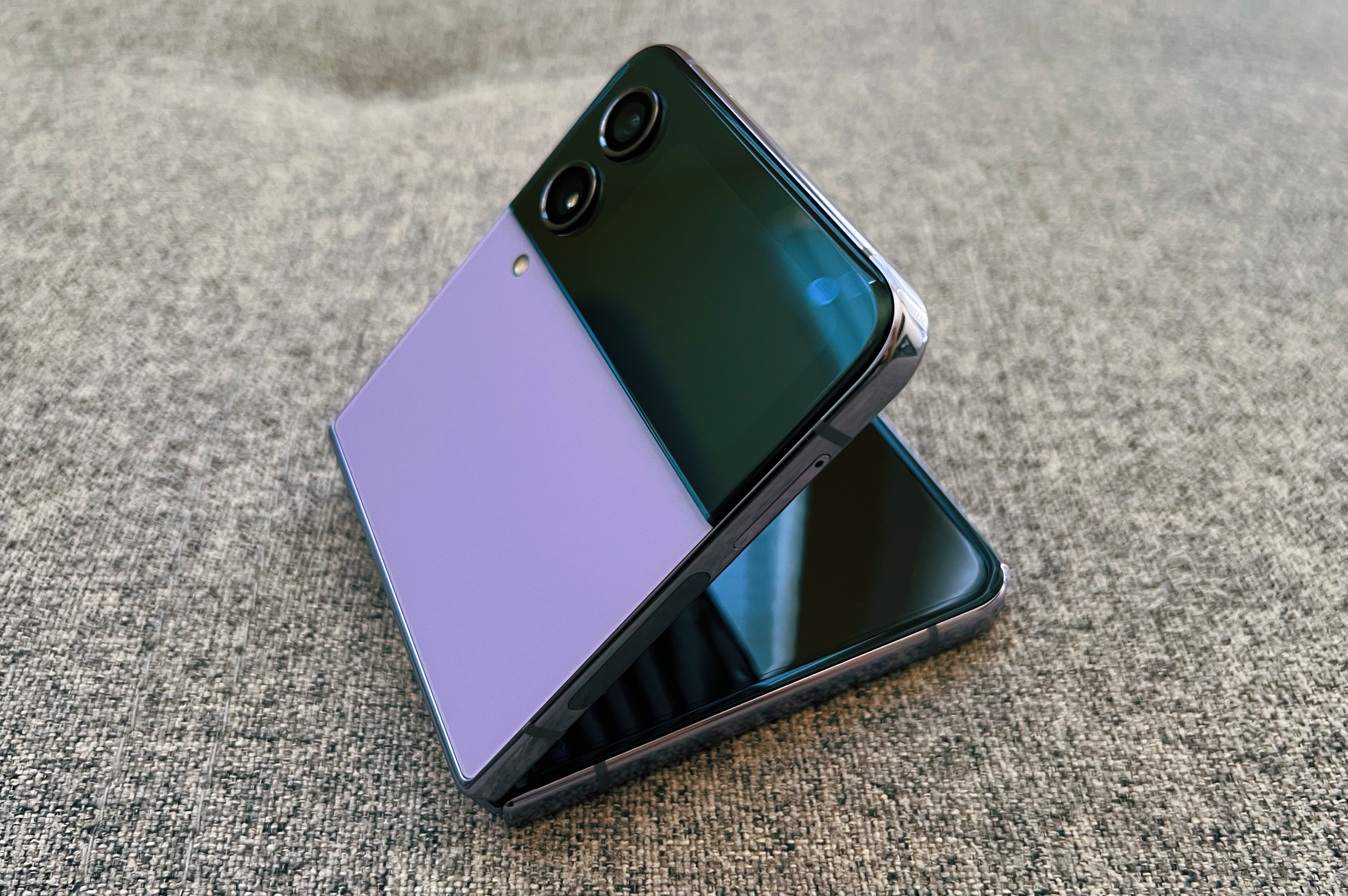 At first, Samsung's effort to make a modern smartphone with a foldable display was gimmicky. There were far too many compromises for the average person to put up with. This new Galaxy Z Flip4, however, is laudable instead of laughable. There are a few nitpicky details that can be criticized if you look close enough, but in general, the Z Flip4 is a really nice phone, whether it's open or closed. The problem with this phone is figuring out how it actually makes your life better than, say, a Galaxy S22 or iPhone.
The Z Flip4 starts at $999.99 so it's a premium phone, even without the top-of-the-line specs across the board. A screen that bends still comes with its added cost. You'll need to decide if the novelty of it all is worth the price. Mostly that means figuring out whether the flexible phone is making your life easier throughout the day.
After about a week with the phone, I had a hard time coming up with instances where the shorter height, but thicker body, was a huge benefit. The Flip4 is cool. I loved popping it open. I'm just not sure it's better than the thin and advanced phones already in most people's pockets.
TL;DR
Pros:
Customizable Cover Screen with widgets
May fit in pants pockets more easily
Solid hinge and durable feel
Cons:
Few software uses that really take advantage of the folding
Wireless charging may have trouble based on coil placement
Buy at Samsung.
What's It Like to Use a Foldable Phone?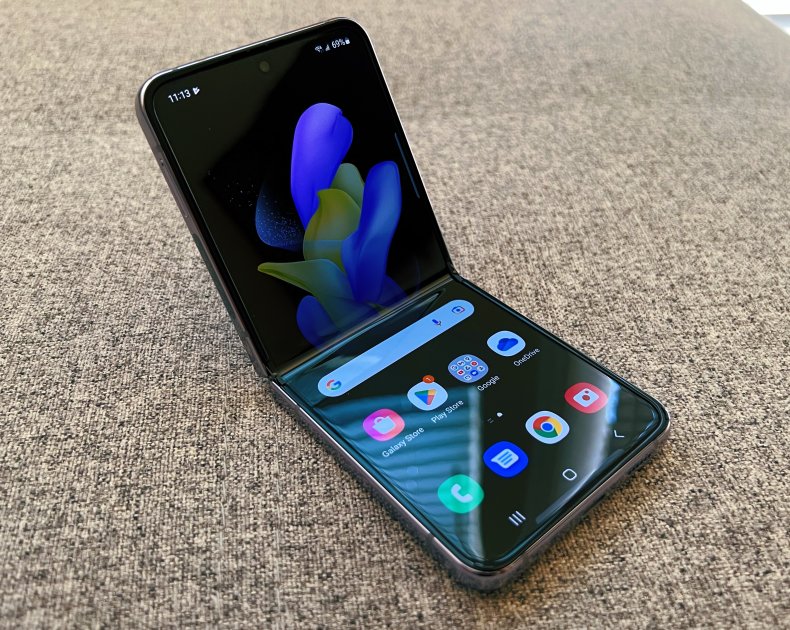 The Galaxy Z Flip3 was probably the first reasonable folding phone for consumers to buy. It crossed the threshold of being good enough. This new Z Flip4 provides some nips and tucks to refine it a bit more, but Samsung is not reinventing anything here. In fact, at a glance, it's hard to tell this year's model apart from last year's.
When the Z Flip4 is open, it feels familiar to the phone that's in your pocket now. This new model has a family resemblance to the Galaxy S22 with its metal frame around the edge. The screen is smooth under your fingers until you get to the middle of it where the hinge is. You can feel a bit of divot underneath. I didn't think it was distracting, but my sixth-grade son pointed it out several times, unprompted, saying he could "feel a bump under the screen."
You can see a bit of a crease in the middle of the display along the middle hinge. It looked more obvious all the times I was simply staring at it, rather than using it to read emails or browse the web. I think most people won't have a problem with it after a few days.
The Z Flip4 has a 6.7-inch display when it's open. That's the same size as the iPhone 13 Pro Max, yet it's only the same width as the smaller iPhone 13 Pro. The phone felt tall in my hand, but it wasn't too large and wasn't noticeable most of the time.
Closed, the phone is 3.34 inches tall which is about half of its height when opened. For comparison, the iPhone 13 Pro is 5.78 inches tall. The small phone was nice to pocket, but it still had some bulk being twice as thick as an iPhone.
On the back of the Z Flip4 are two 12 MP cameras, one ultra-wide angle and one main wide-angle. In short, the cameras should be more than acceptable for people casually snapping photos of friends, family and pets. You don't buy this phone for its cameras, but you shouldn't be let down by it either.
The Perks of a Folding Phone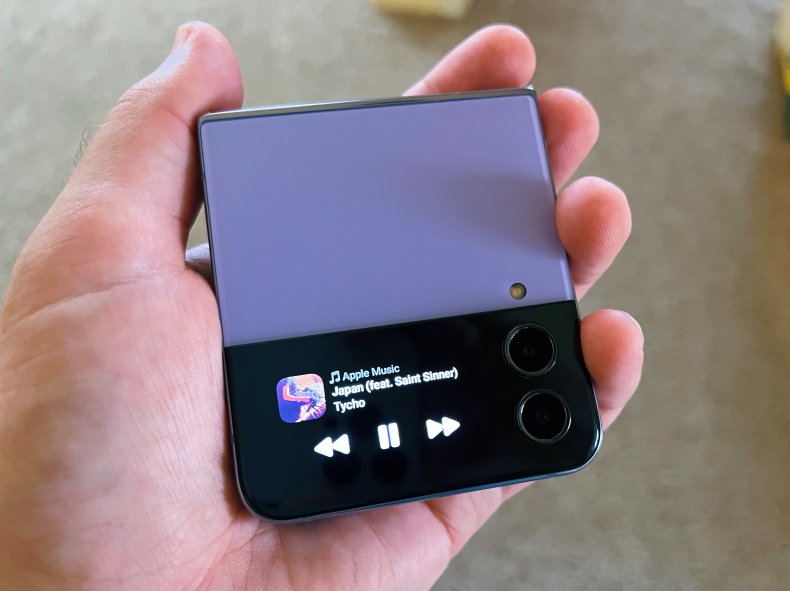 There are some perks this phone offers, but maybe not as many as you may expect. For example, when the main screen is closed the small Cover Screen can display the time, widgets or basic settings. That was pretty neat when I was listening to music and getting media controls on it. But it's also not very different from media controls on a traditional lock screen.
The size of the phone when folded is probably the thing people will gravitate toward the most. I found it did feel more compact in my front pants pocket. It wasn't spectacularly different, but a slight nicety. I will say, this size could be a game-changer for women's clothing which have smaller back pockets.
After using the phone for some time, the feature that felt the most compelling to me was the ability to display the camera view on the front Cover Screen. This allows people in front of the camera to see how they look. It's neat for being able to use the better back camera and still see how you'll look. I wish there were more of these types of whimsical and clever features.
Quirks of the Z Flip4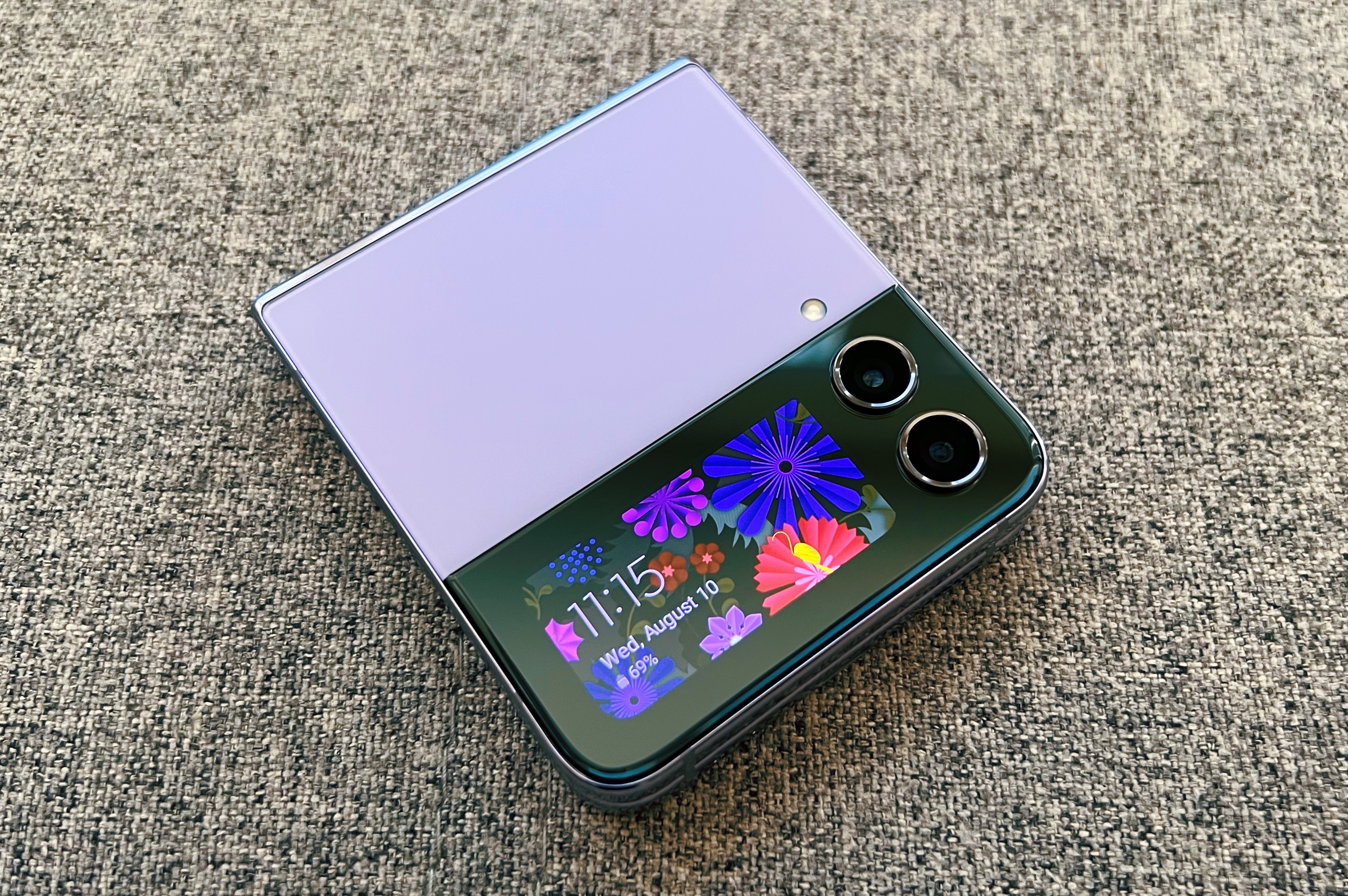 Instead of clever uses, I found more quirks that made me wish Samsung focused even more on the software. One small complaint is the orientation of the front Cover Screen—it doesn't rotate. If you're looking at the phone closed with the black strip at the bottom, the text is shown correctly, otherwise, it's upside down. I ran into this about half the times I picked up the phone.
Another minor note is that while open, the phone might not be able to rest on a wireless charger without tipping over. Or, because the Qi charging coil is in the bottom half of the phone, it might not properly align with chargers that stand up vertically.
Additionally, I didn't have great luck with half-screen apps on the Z Flip4—especially when the phone was bent 90 degrees to sit on a table. Your mileage might vary, but I found the software button, used to customize the two apps on-screen, was hard to touch because it sat right on the bend. It's neat that the phone can sit at a 90-degree angle without a stand, but I didn't find myself using the phone that way much in practice.
What About the Galaxy Z Fold4?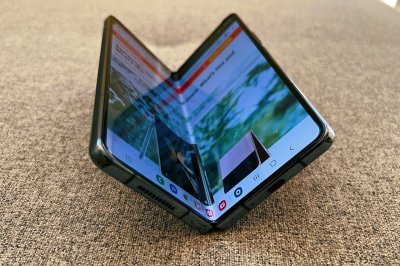 The Z Flip4 isn't the only new foldable phone from Samsung. The Z Fold4 extends outward to use its flexibility for more screen space. It's a tablet that folds into a phone, rather than the Z Flip4 which folds into a half-sized phone.
While I didn't care for using multiple apps on the Z Flip4, this is a much more attractive task on the Z Fold4. You get two, most or less, full-screen apps side-by-side. This device is also nice for watching videos or media consumption. But, that being said, it's not a great device to carry around all day, every day. Until the overall thickness of this device when folded up can be minimized, I don't think this will be the right phone for a lot of people.
Should You Buy the Galaxy Z Flip4?
For most people, the Z Flip4 is the foldable phone to consider—between it and the Z Fold4. It performs largely as advertised. The hinge wasn't completely invisible, but it still felt like a futuristic device in my hand.
However, even with some of the software updates coming this year, I didn't find enough reasons to ditch my traditional, non-bending phone. Having it be smaller and thicker in my pocket wasn't enough incentive. The software tricks also weren't needed on a daily basis.
If you know you would benefit from the flexible phone, this one should be satisfying. If you're looking for reasons to need a phone to fold in half, the Z Flip4 is still a little too expensive without obvious benefits to offset the cost.
Buy at Samsung from $999.99.
Newsweek may earn a commission from links on this page, but we only recommend products we back. We participate in various affiliate marketing programs, which means we may get paid commissions on editorially chosen products purchased through our links to retailer sites.