Samsung HW-Q800T Soundbar Review: Stunning Soundbar for Streaming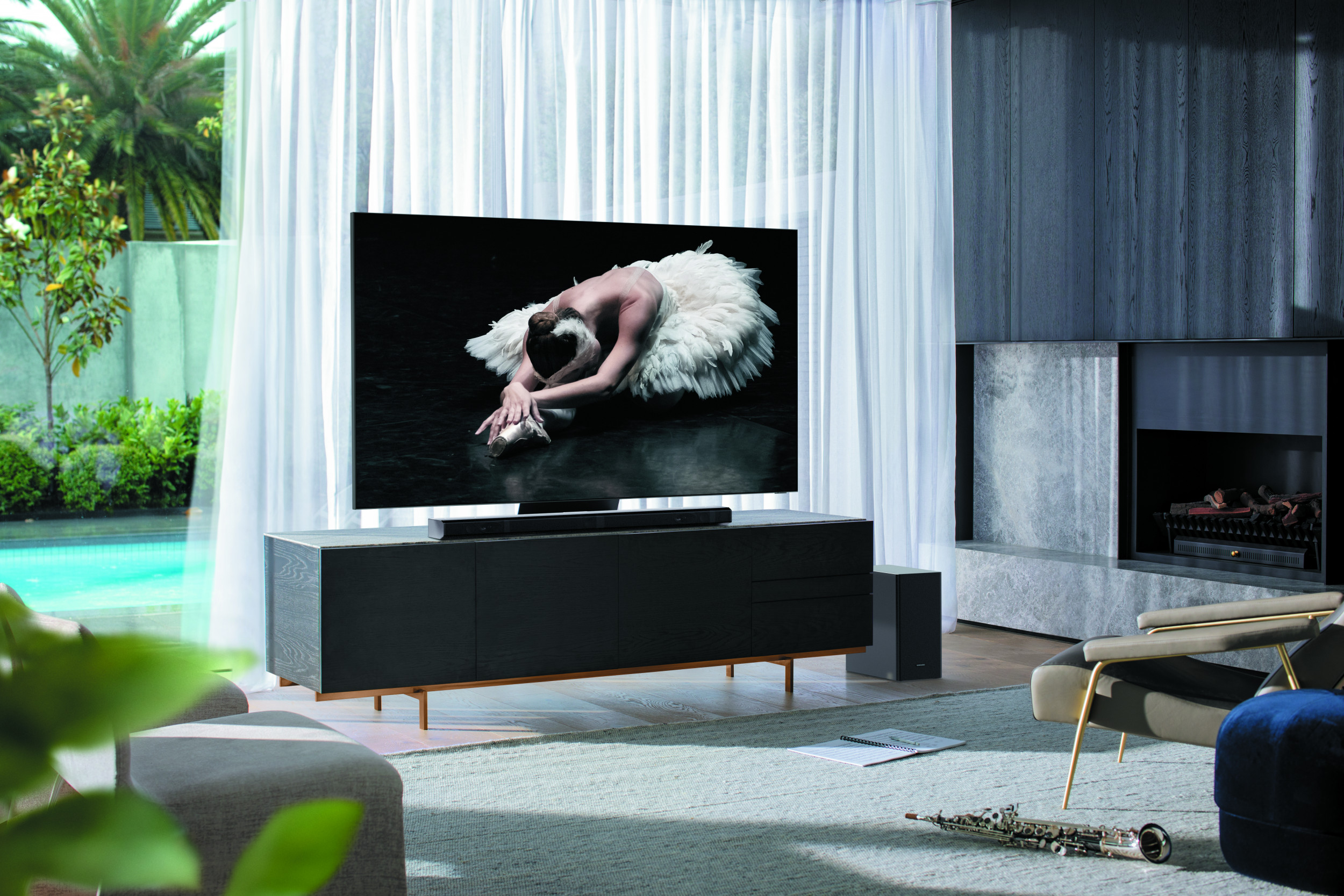 The Samsung HW-Q800T Soundbar delivers impressive sound, including Dolby Atmos, without the need to place speakers around your room. It is a tremendous all-around soundbar for TV shows and movies, plus it's a competent companion for gaming.
This soundbar is easy to integrate into a living room thanks to the modern slim design and the ability to deliver impressive surround and overhead sounds without rear surround speakers. You can use the Symphony Q feature to boost the sound with some Samsung TVs or buy optional rear speakers, but the sound is excellent right out of the box with the soundbar and subwoofer.
We enjoy the wide soundstage that is impressive even when sitting off-center, simple setup, easy-to-use remote control, eARC integration that simplifies setup and daily use and the built-in Alexa support.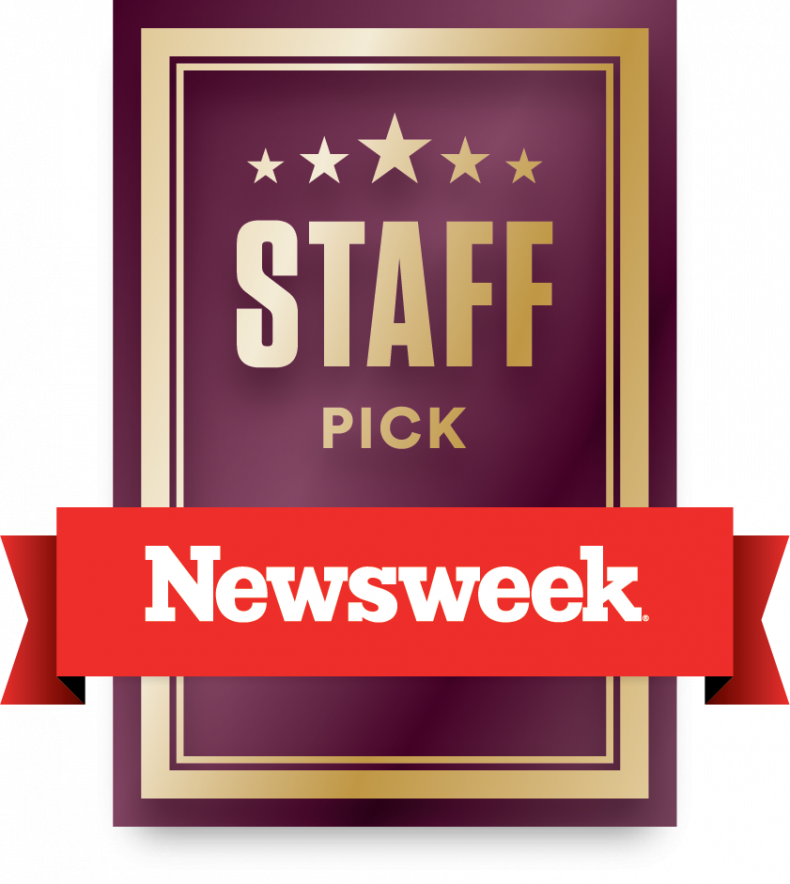 Sound Quality & Performance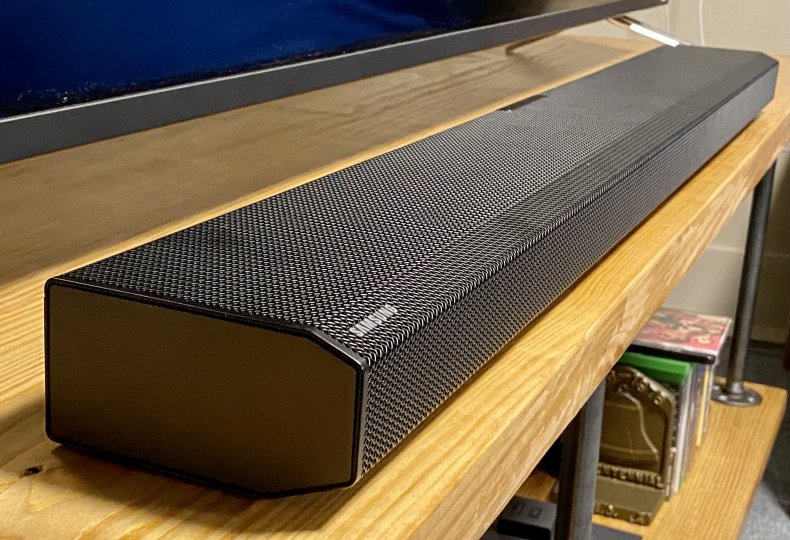 The Samsung HW-Q800T Soundbar sounds great, especially for a system that is creating surround sound virtually. The soundbar uses Acoustic Beam 2.0 technology to make it appear that sound is coming from around and above you.
Connecting the Xbox One X to the soundbar directly and using HDMI eARC to connect to the TV offers flexibility to get the best sound from Dolby Atmos and DTS:X. The HW-Q800T HDMI in supports 4K and HDR formats, so you don't lose any fidelity when running a device like the Xbox One X directly through the soundbar. This feature is especially handy on some older 4K TV models where the eARC HDMI port is also the only port that supports 4K HDR at the best quality. eARC allows a TV and a soundbar to communicate remote control commands.
Watching Baby Driver on 4K Blu-Ray offered an immersive experience even while watching from an off-center location. The action, dialogue and especially the soundtrack shine here. Movie performance from Netflix and other streaming services also sounds good.
The Dolby Atmos performance is good, especially considering the limitations of this system. Your experience will vary based on the height of your ceiling. We came away impressed with the performance, especially given the compact nature of this soundbar. It's not as good as down-firing speakers, but then again, you are also not running wires and cutting holes in your ceiling. For most users and setups, this is a fair trade-off.
Streaming new and old TV shows deliver outstanding dialogue performance, making it easy to hear what characters say even when there is action or background noise.
Game performance is good, allowing us to enjoy Forza Horizon 4, Madden 21, Rocket League and Tony Hawk Pro Skater 1+2. We still prefer wireless headphones for first-person shooters, but this is a nice gaming upgrade for everything else.
Music playback fills the room and sounds good in stereo. If you subscribe to TIDAL, you can also listen in Atmos.
The subwoofer fills in the bottom end nicely hitting low rumbles and delivering punchy low end during action scenes in The Outpost. You can adjust the subwoofer volume easily with a dedicated control on the remote.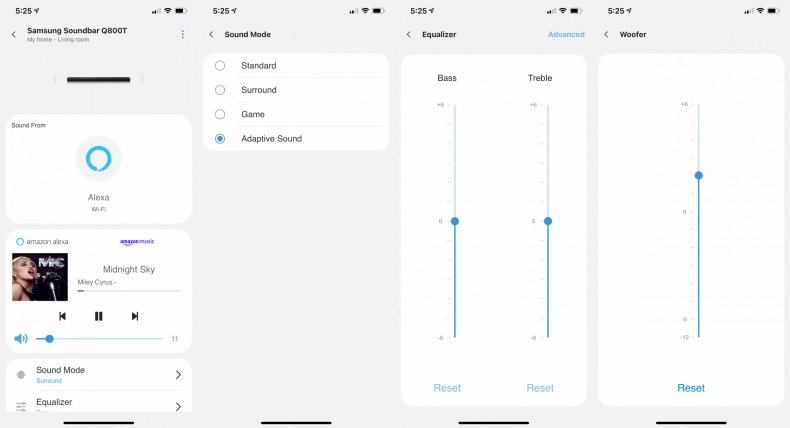 There are four sound modes, Surround Sound Expansion, Game Pro, Standard and Adaptive. You can choose the mode for what you are doing, or pick Adaptive to let the system automatically select.
When you connect to a 2020 Samsung TV, the Q Symphony feature integrates your TV's speakers to enhance the sound. This is not something we could test, but a feature to check out if you own a model that supports this.
Users looking for more immersive surround sound can buy wireless surround speakers for $179.99.
Alexa & Connectivity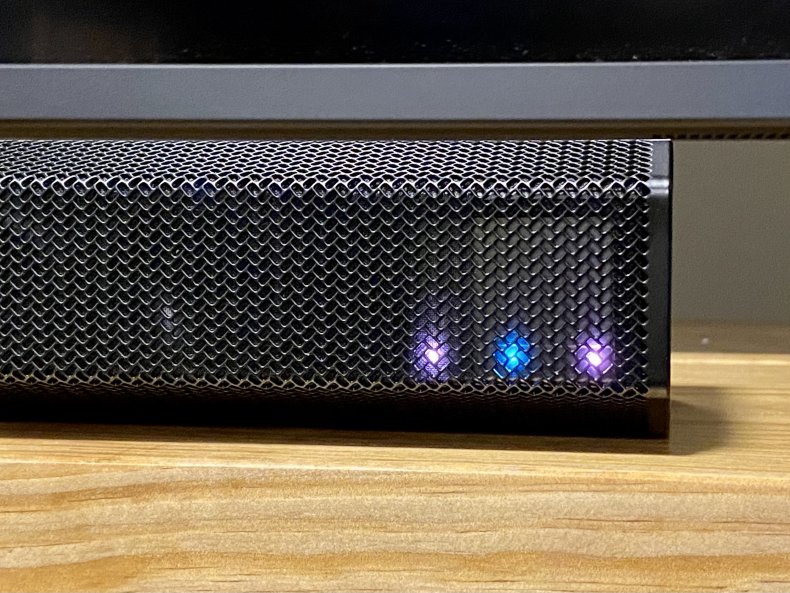 The Samsung HW-Q800T connects to Wi-Fi and then to Alexa through the SmartThings app. Once set up, say Alexa, and you can stream music and control your smart home. The soundbar streams any of the services you have linked to Alexa and Amazon when using this option.
When you say Alexa, three LEDs light up on the right side so that you know the soundbar heard you. The microphone setup is good enough to hear, "Alexa" when music is playing, but I did need to raise my voice to be heard at higher volumes.
A button on the top of the soundbar allows you to mute the microphone if you don't want it to listen for Alexa. With Wi-Fi connectivity, you can choose music from the Alexa app. The soundbar also includes Bluetooth connectivity and a simple tap to pair option for Samsung phones. Additional connectivity options include an optical audio port and HDMI port.
The SmartThings app allows you to control the sound, change sound mode, adjust the equalizer and control the subwoofer.
Design & Remote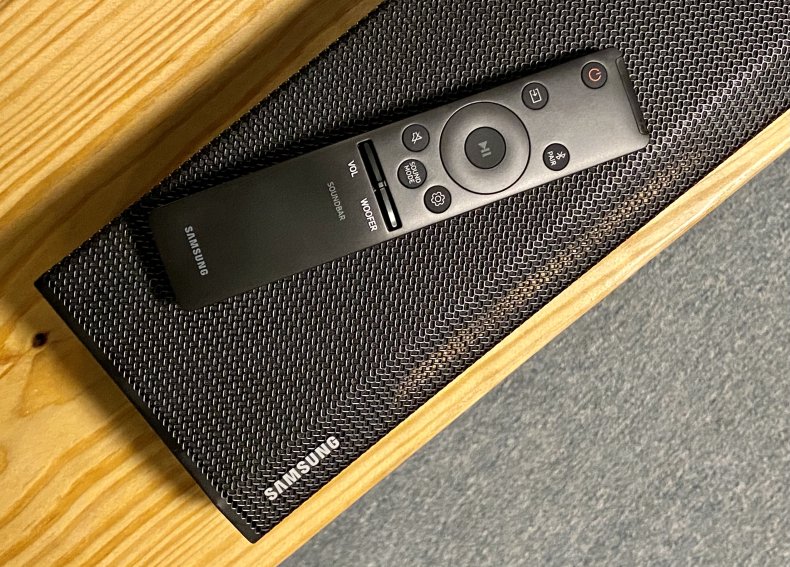 Samsung's refreshed design for the HW-Q800T allows you to place it in front of most modern TVs without blocking the screen. The black metal grill doesn't pick up lint like a cloth cover does. The design is modern and fits in well with the slim bezels of new TVs.
The soundbar sits on entertainment stands, but you can also mount it to a stand or wall to fit the room and setup. There is a screen on the right front side that shows the current input and volume. We like that Samsung chose a display that is easy to read and understand instead of using a symbol or hard to understand indicator of the input like some competing soundbars use.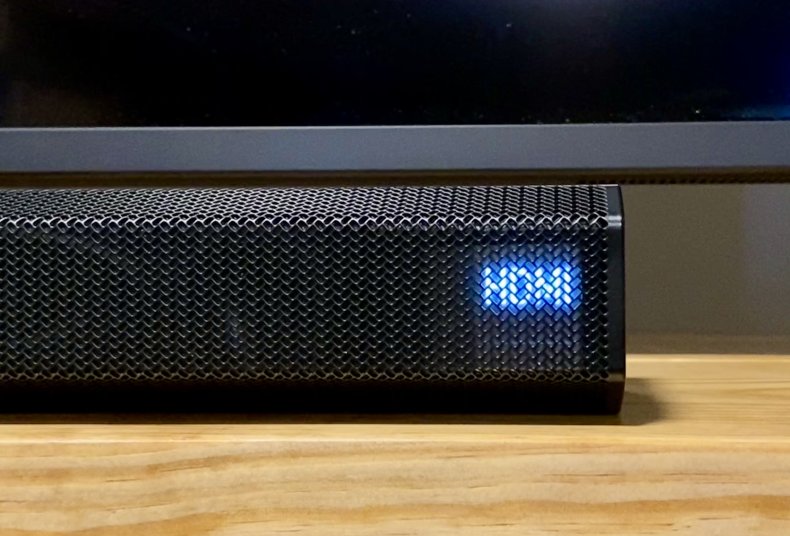 The remote control is comfortable to hold and well laid out. When you connect to the TV with an HDMI cable through eARC, you can easily control the soundbar with your TV remote.
Is the Samsung HW-Q800T Soundbar Worth Buying?
The Samsung HW-Q800T Soundbar is $797.99 at Amazon at the time of publishing. That may sound expensive if you haven't purchased a soundbar lately, but the pricing is in line with a mid to upper range Dolby Atmos soundbar.
Once you factor in the excellent overall performance, simplicity of a soundbar + subwoofer only setup and the Alexa integration, you get a lot of value from the HW-Q800T.
Newsweek may earn a commission from links on this page, but we only recommend products we back. We participate in various affiliate marketing programs, which means we may get paid commissions on editorially chosen products purchased through our links to retailer sites.
Samsung HW-Q800T Soundbar Review: Stunning Soundbar for Streaming | Tech & Science