Samsung HW-Q950A Review: An 11.1.4 Channel Soundbar That's the Perfect Pair for Your Samsung TV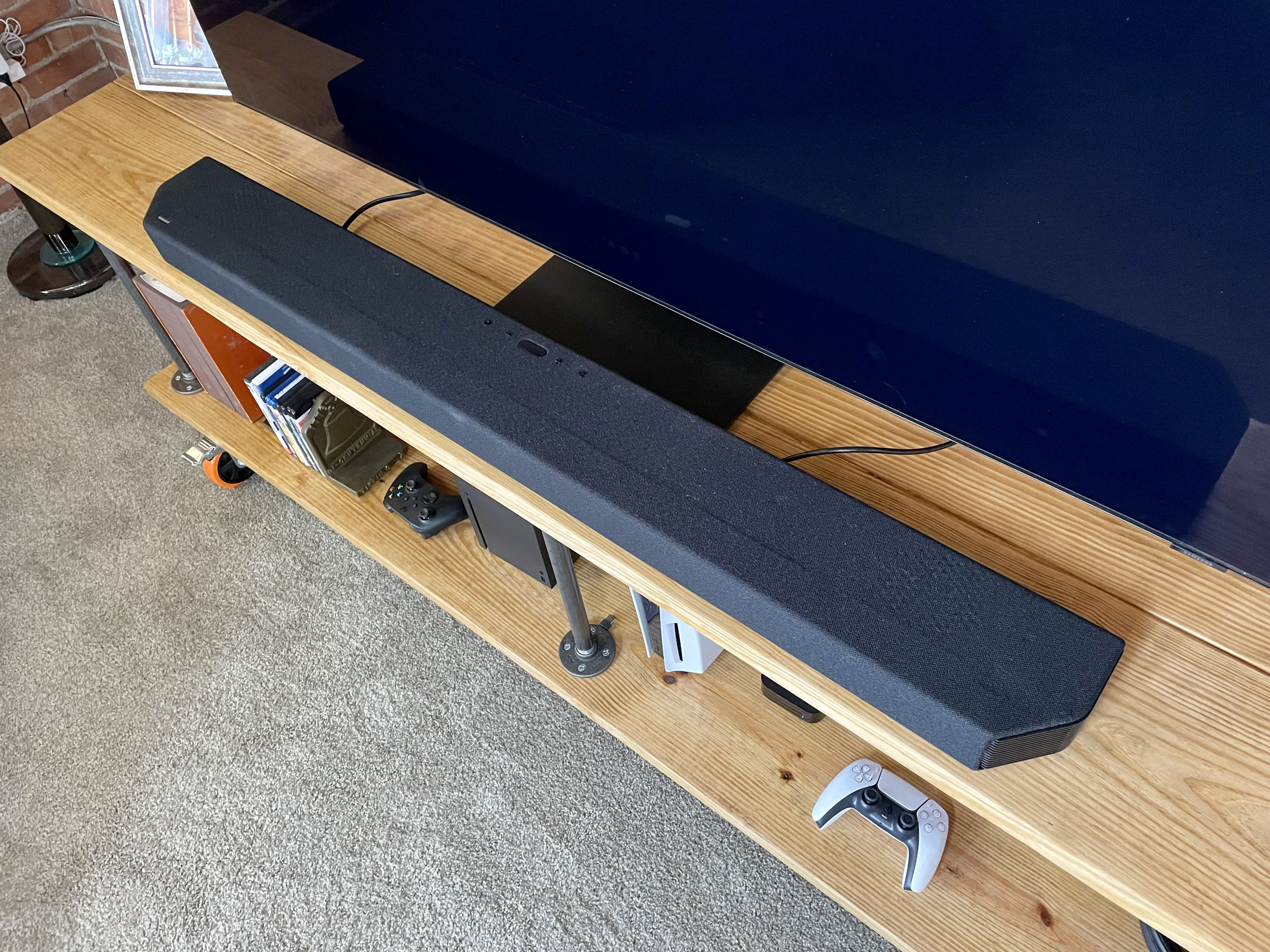 The Samsung HW-Q950A is a powerful soundbar that delivers home theater level sound with an 11.1.4 channel setup that includes a wireless subwoofer and wireless surround speakers.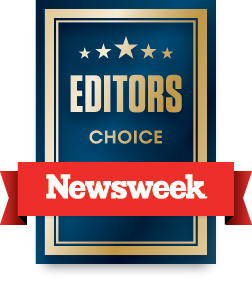 Like the Samsung HW-Q800A, this high-end option can incorporate the speakers on newer Samsung TVs to add even more depth and immersion to the listening experience. This soundbar can go head to head with dedicated home theater systems that are more expensive and more involved to set up.
This soundbar also packs in smart features like Wi-Fi connectivity. Alexa is also built into the soundbar so that you can control your home, get answers to questions, listen to music and more.
I tested the $1,799.99 Samsung HW-Q950A with the Samsung Q90A 4K TV to get the full experience of the Dolby Atmos–enabled soundbar. Here's what I learned.
Sound Quality and Performance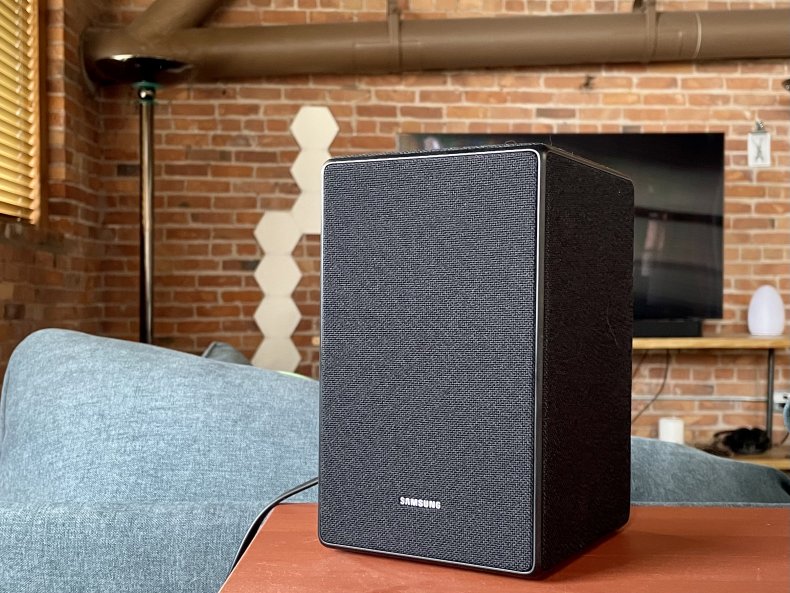 The Samsung HW-Q950A delivers impressive sound with support for Dolby Atmos and DTS:X surround sound formats. This soundbar incorporates up-firing and side-firing speakers to immerse you more deeply in the movie or game. Up-firing speakers direct sound toward the ceiling, where it bounces back to simulate overhead speakers. Side-firing speakers bounce sound off walls for a similar effect from the edges of the room. The sound from the soundbar is excellent, with clear dialogue and sweeping effects in action-intense movies.
Thanks to the dedicated rear surround speakers, you get a dramatically better listening experience than with virtual surround. While watching Dolby Atmos movies, the rear speakers also fire upward to mimic overhead speakers, with cascading overhead and side-to-side effects.
I like that I can place the rear speakers without running cables from the included subwoofer. They wirelessly connect to the soundbar but require power, so I needed to place them near outlets.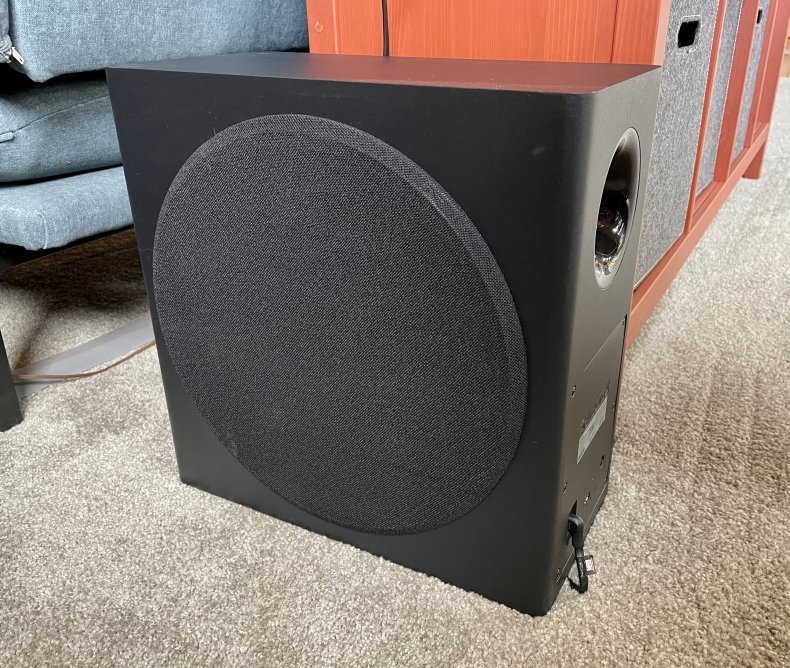 Samsung's subwoofer is well matched to the system, bringing in a low end sound that emphasized the drama in Big Sky and while watching Marvel movies. I listened to music in my apartment, and the subwoofer and system did a great job filling the large open space. I've also been binge-watching older shows like The Wire and Seinfeld and am impressed with the standard surround features.
With the HW-Q950A connected to a 2021 NEO QLED Samsung TV with an HDMI cable, I was able to take advantage of the Samsung SpaceFit Sound+ and Q-Symphony features to improve the experience. SpaceFit Sound+ uses the TV to calibrate the sound to your room. The Q-Symphony feature incorporates the TV speakers on select 2020 and 2021 Samsung TVs to augment the soundbar. Q-Symphony seamlessly mixes the sound and delivers a noticeable difference.
I test many soundbars, and the Samsung HW-Q950A stands out for watching TV and movies, thanks to its excellent sound and the flexibility of speaker placement due to wireless speakers.
Design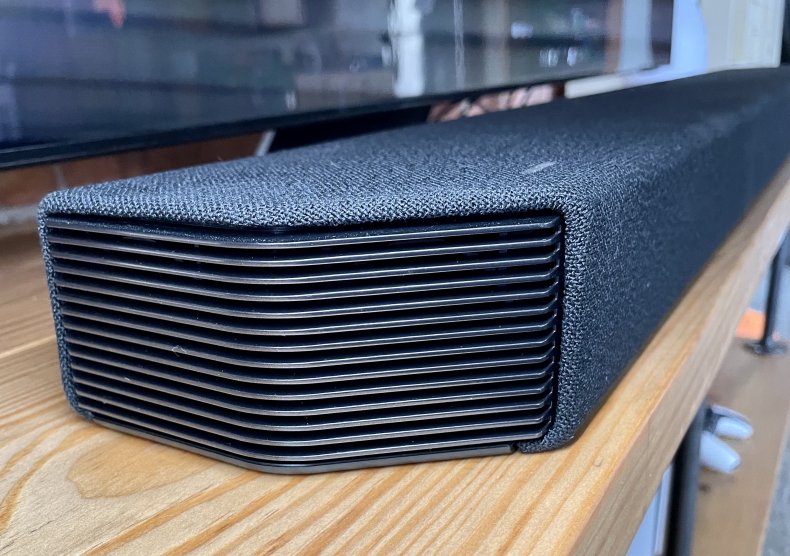 The Samsung soundbar design continually impresses, but the build quality and the style are higher end on the HW-Q950A than on the other models I've tested. Its low profile allows for easy placement in front of your TV, and the soundbar's charcoal gray cloth and silver accents really stand out. I love the functional angled-side design that incorporates its side-firing speakers.
The only display on the soundbar is on the top back edge, which means that it is impossible to see while you are sitting down. If you are using HDMI eARC or HDMI ARC connections, you can see the volume information on your screen, but I wish Samsung made the display more easily visible while actively using the soundbar.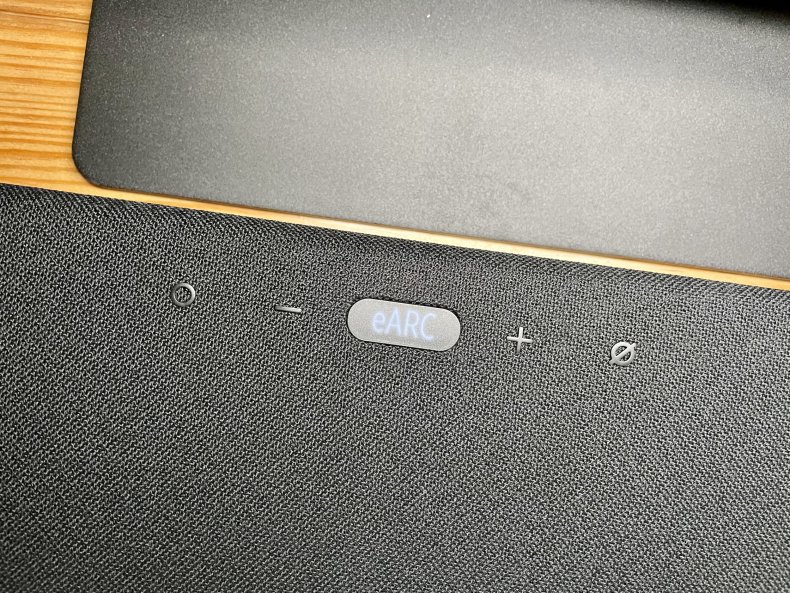 Both the subwoofer and the rear speakers match the design of the soundbar and fit into the modern decor of my apartment well.
The remote is easy to hold and use, with fast access to key features. With the soundbar connected to a new TV over HDMI, I can use the TV's remote control for standard features.
Features, Connectivity and Specs
With Alexa built into the soundbar, you can easily control your smart home and utilize other Alexa functions. This is especially handy for playing music on your soundbar without grabbing your phone. Alexa is easy to set up and use on the HW-Q950A. This soundbar also supports AirPlay 2, which allows you to play music from your phone on the soundbar.
The soundbar also supports Wi-Fi and Bluetooth connectivity for phones and compatible TVs. You can tap compatible Android phones on the soundbar to start streaming music from them over the system. The system supports optical in as well as HDMI ARC and HDMI eARC to connect to your TV.
616-Watt Power
22 Speakers
11.1.4 Channels
Wireless Active Subwoofer
Wireless Surround Speakers
Acoustic Beam Technology
Connections: HDMI eARC and HDMI ARC, HDMI In, Optical In, Bluetooth, Wi-Fi
Is the Samsung HW-Q950A Worth Buying?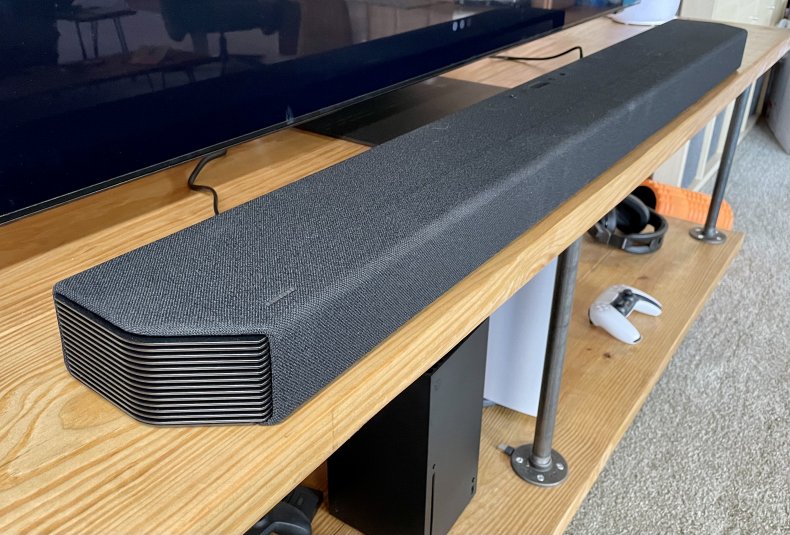 The Samsung HW-Q950A is an excellent alternative to a full-blown home theater setup. This system is on a par with the full-room Dolby Atmos system I used at a previous house but that I cannot work into my current apartment. Its sound quality, design and ease of incorporating into various rooms round out the value of this soundbar.
Factor in the stellar Q-Symphony and Space Fit+ features that come when you pair the HW-Q950A with a new Samsung QLED TV, and there's an even greater reason to look at this high-end soundbar when shopping for your home theater upgrade.
Buy the Samsung Q950A at Samsung.
Newsweek may earn a commission from links on this page, but we only recommend products we back. We participate in various affiliate marketing programs, which means we may get paid commissions on editorially chosen products purchased through our links to retailer sites.