Samsung Odyssey Neo G9 Review: The Ultimate Gaming Monitor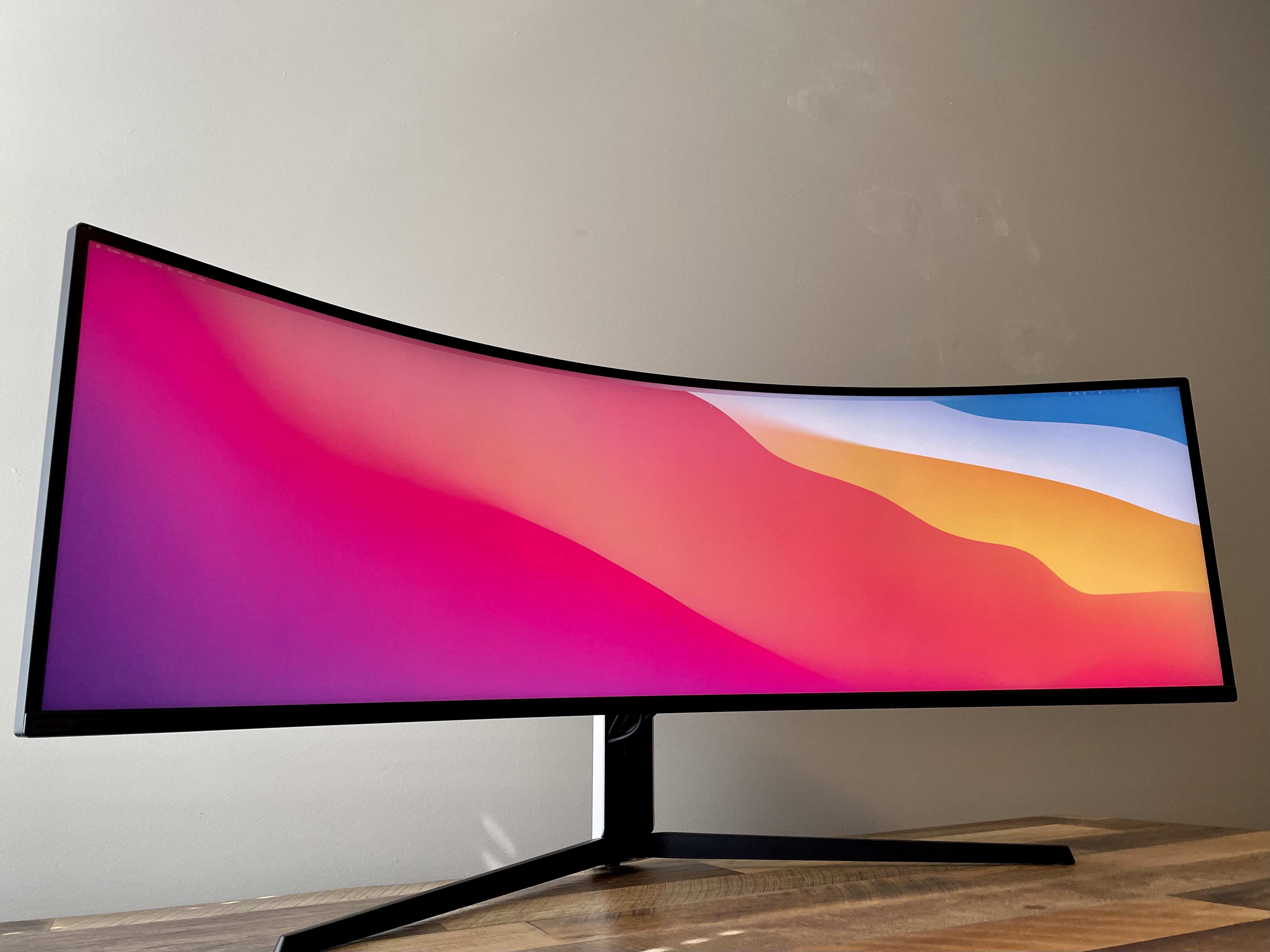 The Samsung Odyssey Neo G9 is an updated version of the company's massive curved gaming monitor. With a brightness of up to 2,000 nits, a 240 Hz refresh rate and a 1 millisecond response time, it's a tempting monitor for gamers.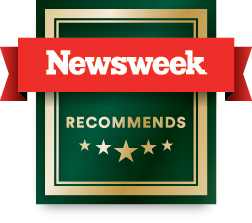 This monitor uses Mini LED technology for better blacks and improved backlighting. Support for Quantum HDR 2000 delivers even better colors and brightness.
Rounding out the standout features is the Dual QuadHD resolution and the incredibly immersive 1000R curve. These combine to pull you into the game with the edges wrapped at the periphery of your vision. The monitor supports Nvidia G-Sync and AMD FreeSync Premium Pro for better performance with the latest games and graphics cards.
The Samsung Odyssey Neo G9 is an epic gaming monitor that is the perfect upgrade to your gaming setup. Plus, it is also great for productivity, so you can use it while you work from home.
You can buy the Samsung Odyssey Neo G9 directly from Samsung for $2,499.99.
Samsung Odyssey Neo G9 Performance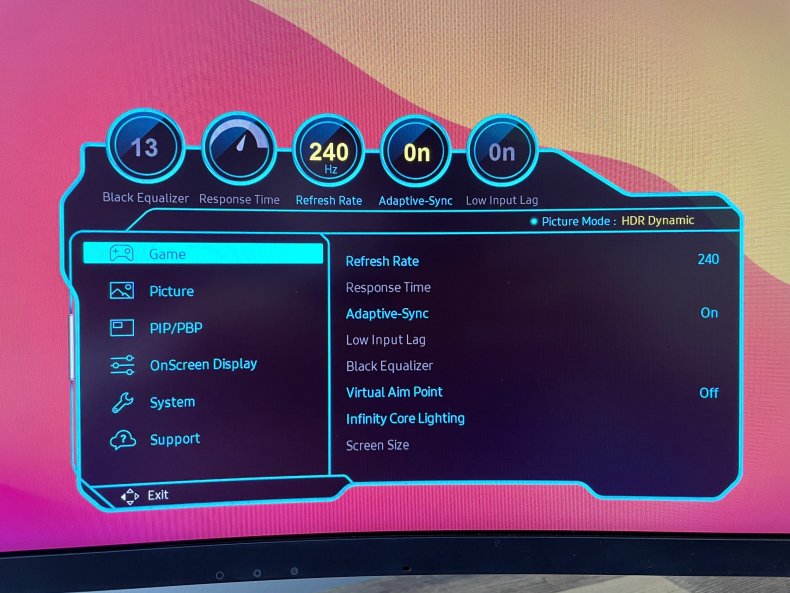 The Odyssey Neo G9 display is magnificent. I am impressed with the black levels and the overall color on this monitor. The Mini LED backlighting is impressive and on a par with the performance, I saw on the Samsung Q90A 4K TV.
This monitor is super bright when brightness is set to the max. The monitor supports Quantum HDR 2000 and includes two levels of HDR. The Dynamic HDR setting is brighter with more vivid colors.
One of the biggest benefits to gaming on a monitor this large and with the 1000R curvature is how immersive the gaming experience is. Whether you are in a Minecraft world, racing, or playing a flight simulator, the span of this monitor brings you deeper into the game.
With support for Nvidia G-Sync and AMD FreeSync Premium Pro, you can unlock better performance with less tearing on screen with many graphics cards. While I am not a pro gamer, I was impressed with the overall performance of this monitor for gaming.
Working on large sets of data across Excel and other web services, I found the generous workspace incredibly helpful. The curve took a little longer to get used to during productivity sessions, but it didn't distract me.
I tested with an Acer Nitro 5 and a MacBook Air for a mix of gaming and productivity.
Samsung Odyssey Neo G9 Design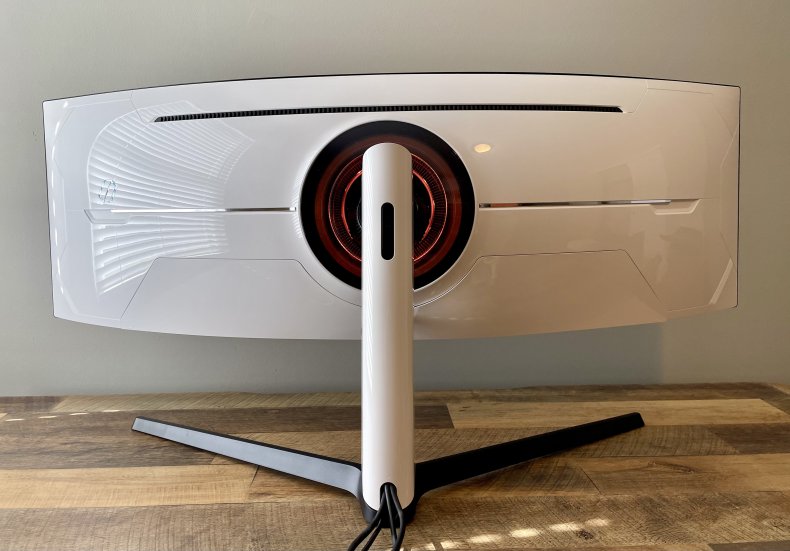 The Samsung Odyssey Neo G9 design is similar to the previous generation with a deep curve, black base, white back and the Infinity Core Lighting on the back that you can use to control the RGB lighting and integrate with the rest of your setup.
Samsung's white and black design makes this look like an alien spaceship or a very futuristic monitor. The integrated cable hiding and routing make it easy to keep your setup clean. The stand is very solid, and it allows you to swivel the monitor side to side or up and down.
The Infinity Core Lighting feature lets you choose from a range of colors and effects from a single color to breathing and other options. This integrates nicely with the design and
Three presets allow you to customize gaming options on the monitor, including refresh rate, HDR settings and even lighting to quickly call up the settings for your favorite games. The on-screen menu is one of the easiest I've used.
Samsung includes a DisplayPort, two HDMI connections and a USB hub connection on the monitor. If you want to take advantage of the 240 Hz refresh rate you will need to use DisplayPort.
Samsung Odyssey Neo G9 Setup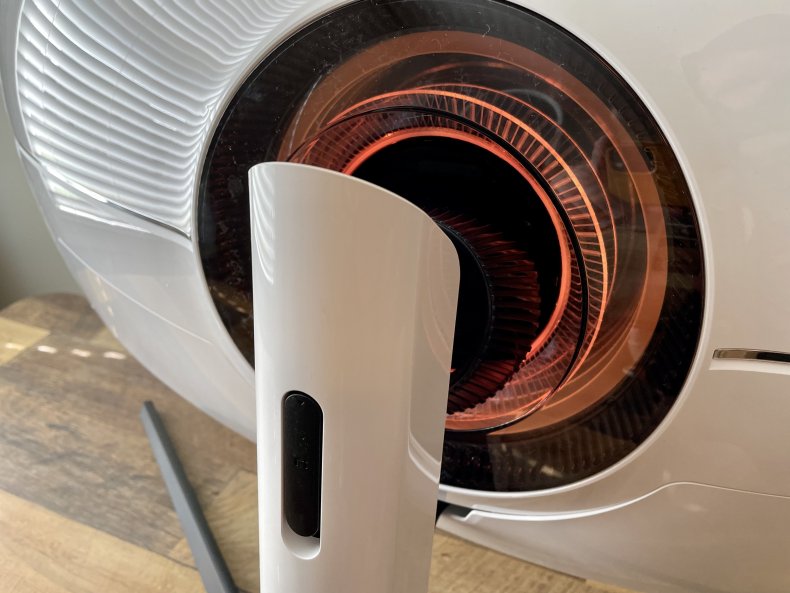 Setting up the Odyssey Neo G9 takes 10 to 15 minutes and is best done with the help of someone when it comes time to fully remove the monitor from the packaging and set it on your desk.
The monitor stand slips into place and secures with screws. Then you slide a cable cover onto the back of the stand and snap it into place. After you've connected cables and attached a cable cover, you can lift the monitor out of its packaging and it's ready to integrate into your gaming setup.
Is the Samsung Odyssey Neo G9 Worth Buying?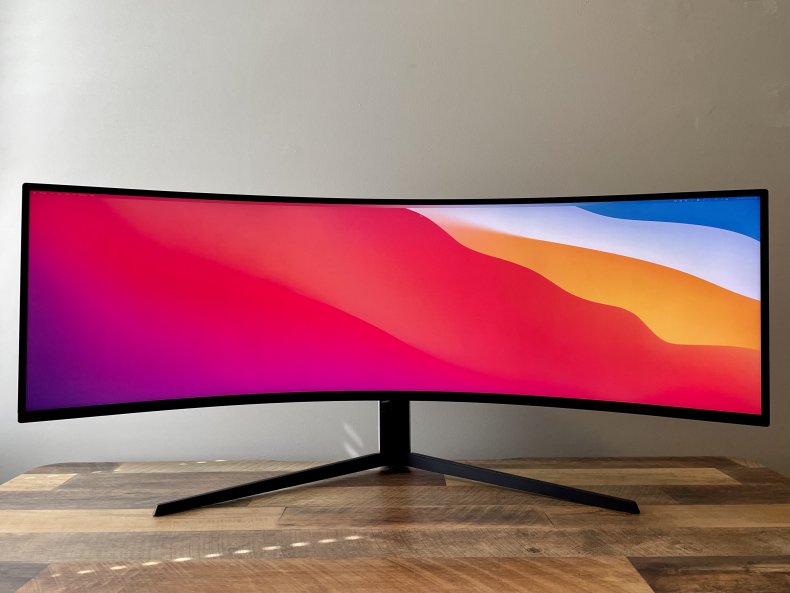 The Samsung Odyssey Neo G9 is an excellent gaming monitor. It delivers as much screen real estate as two 27-inch monitors without a bezel in the center and with an incredible curve that brings you into the game.
Gamers looking for an impressive setup that delivers must-have gaming features and incredible blacks in a beautifully designed package will love the Odyssey Neo G9.
Buy the Samsung Odyssey Neo G9 at Samsung.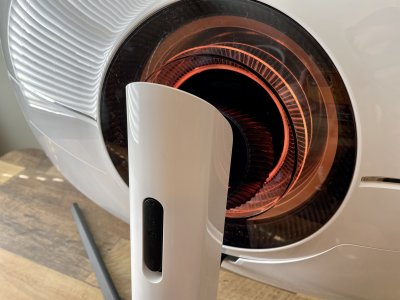 Newsweek may earn a commission from links on this page, but we only recommend products we back. We participate in various affiliate marketing programs, which means we may get paid commissions on editorially chosen products purchased through our links to retailer sites.