Galaxy Note 5, Galaxy S6 Edge+ Release: Samsung Tries to Get Ahead of the iPhone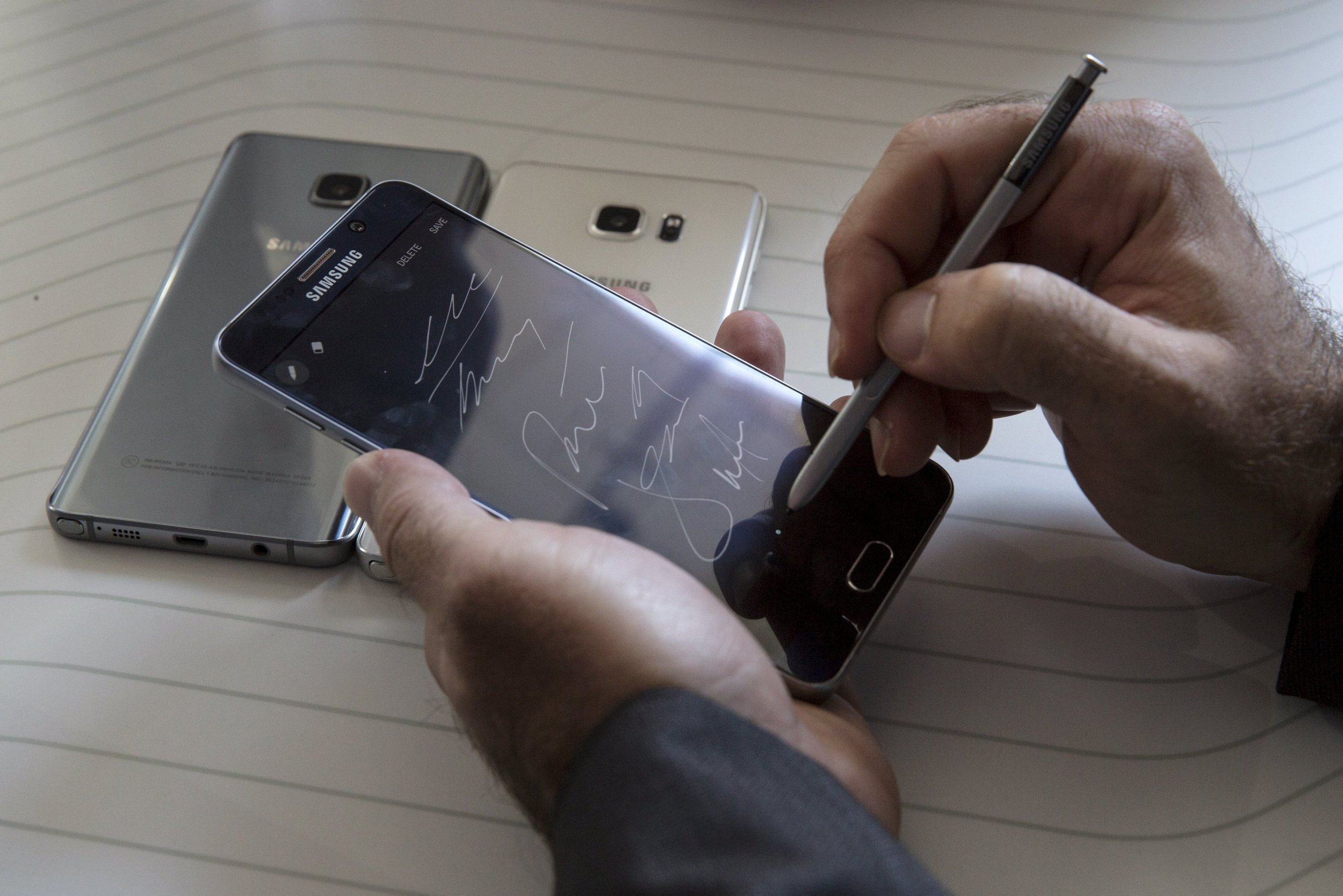 Samsung's latest devices come at an interesting time. The Galaxy Note 5 has been announced nearly one month ahead of its usual early-September launch schedule to get ahead of the new iPhone, expected early that month. The Galaxy S6 Edge+ arrives loaded for multimedia, hoping to carve out a niche market.
[Related: Samsung Galaxy Note 5, Galaxy S6 Edge+ Release Date Aug. 21; Preorders Start Thursday At 3 PM]
While many aspects of both the Samsung Galaxy Note 5 and Galaxy S6 Edge+ are very familiar, the devices do bring new tweaks to both hardware and software that consumers should appreciate.
The Samsung Galaxy Note 5 is a device intended for productivity. The device includes updates to its popular S-Pen, the phone's built-in stylus, such as a push-to-eject mechanism, which also wakes up the device to be ready for writing without having to open the lock screen.
Samsung has also updated the Air Command feature, an app shortcut feature that works with the pen, on the Galaxy Note 5, now allowing users to add up to three custom app shortcuts to the menu. New software updates on the Galaxy Note 5 include the ability to write on PDF, and a scroll capture feature that allows users to capture the entire length of Web pages and documents.
The Samsung Galaxy S6 Edge is a device intended for multimedia. There is a new shortcut for reaching favorite and most used applications called Apps Edge. The Apps Edge is prompted by a simple side swipe from either of the device's curved edges and can be accessed from any screen.
On the hardware side, the smartphones both feature the Samsung's Exynos 7420 chip, a 64-bit and 14nm processor first introduced in the Galaxy S6. The 5.7-inch Quad HD (2560x1440 resolution) displays are reminiscent of the Galaxy Note 4, while the dual-edge screen on Galaxy S6 Edge+ is derived from the Galaxy S6 Edge and the Galaxy Note Edge.
[Related: Samsung In 2015 And Beyond: Manufacturer Doubles Down On Enterprise Push For Galaxy Note 5]
New to both devices is 4GB of LPDDR4 RAM, for faster and more efficient processing. They also include 32GB and 64GB storage capacities. For cameras, the devices feature a 16-megapixel rear lens with optical image stabilization and a 5-megapixel front lens; both cameras features f/1.9 aperture, specs that mean these phones take larger photos than the iPhone and take better pictures in lower light.
Both the Samsung Galaxy Note 5 and Galaxy S6 Edge+ feature 3,000mAh batteries with fast-charging and fast-wireless charging capabilities that allow the devices to charge up from zero to full in just under 120 minutes—about the same time as the much smaller Galaxy S6 and Galaxy S6 Edge devices.
The devices feature all standard connectivity to cellular data and will also introduce LTE Category 9 to several markets including the U.S. In some markets, the Samsung Galaxy Note 5 and Galaxy S6 Edge+ will run on speeds up to LTE Category 6.
There are also near-field communication (NFC) and magnetic secure transmission (MST), which let users hover their phone to use Samsung Pay, a cardless payment system that rivals Apple Pay.
The Samsung Galaxy Note 5 will be available in black sapphire and white pearl color options in the U.S., while the Galaxy S6 Edge + will be available in black sapphire and gold platinum.