Samsung Phones Sending Private Photos to Contacts Without Consent, Users Claim
A messaging app on Samsung smartphones is reportedly sending images from users' media galleries to random contacts without consent, leading to fears that privacy could be at risk.
User complaints, which have emerged on Reddit and official forums over the past week, indicate that the suspected flaw affects Samsung S9 and the Note 8 smartphones. The ongoing issue appears to be linked to the devices' default texting application Samsung Messages, according to Gizmodo.
Worse, reports indicate the bug leaves no trace that content has been sent without asking the user. On Reddit, one victim claimed his "entire photo gallery" had been sent to his girlfriend's handset. The user said "there was no record of it on my messages app" but there was on his T-Mobile carrier logs.
It is believed the bug is tied to (Rich Communication Services) settings, a new protocol that rolled out earlier this year to Android devices to boost messaging capabilities. As noted by Digital Trends, the update was designed to modernize Short Message Service (SMS) and incorporate features such as group chats and read receipts—options popularized by apps such as WhatsApp and Facebook.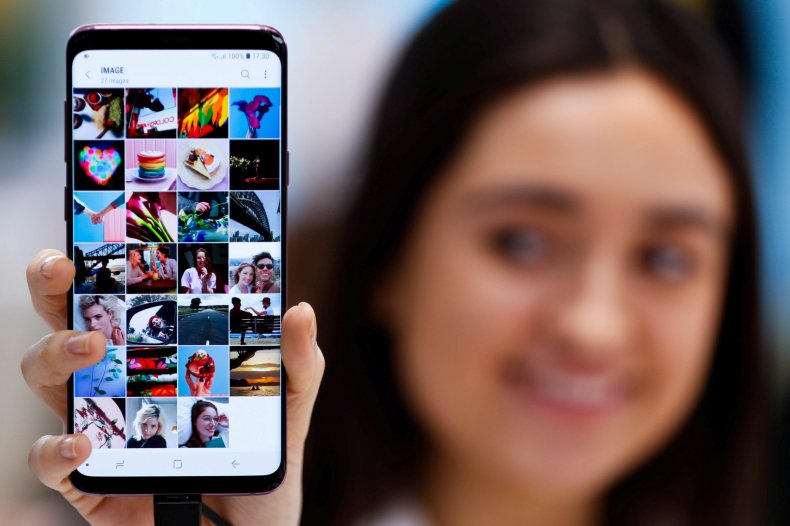 But Samsung said on Tuesday that it had not discovered any major bugs upon analysis.
"Samsung has reviewed this matter thoroughly these past few days; however, there were no hardware or software issues found to be relevant to this particular case," a spokesperson told Newsweek.
"While there have been no known similar customer reports globally, we will continue to investigate this issue further. We encourage any customers who may have questions or concerns to contact their local customer service centre."
T-Mobile said users should contact Samsung, noting: "It's not a T-Mobile issue."
Some Reddit users have suggested the issue was isolated to T-Mobile customers, however the full scope of the bug, if any exists, remains unclear. At least one commenter has claimed that his S9+ had sent his full photo gallery—including nudes—to his wife's S9 device. Both smartphones, he said, had been running the most recent June update. He confirmed the sender had no record of lost content.
"I was glad that it was her and not someone else, such as a coworker," the Reddit user wrote.
Another added: "My wife's phone did this but not to me. It sent to her sister, father, and one random co-worker. They all got a bunch of screenshots and cat pictures in the middle of the night. To my knowledge my S9+ is up to date and hasn't done this, or at least nobody has mentioned that it has."
Anyone concerned about the bug can switch off Samsung Messages' access to storage, which will prevent it from pilfering your snaps. Alternatively, a different texting service could be downloaded.
This article was updated with comment from Samsung.