Samsung QN90B Review: Outstanding TV for Gaming and Streaming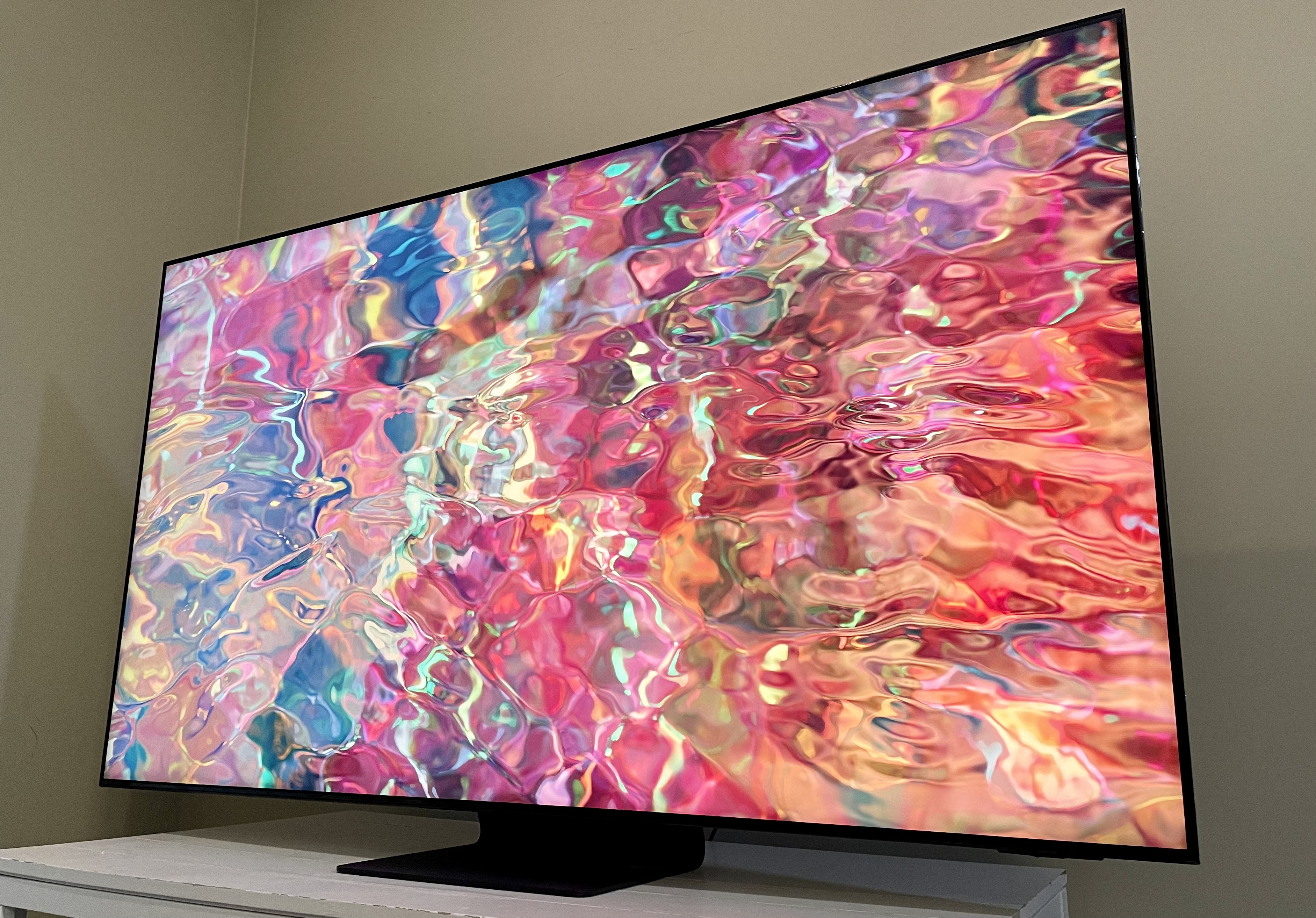 The SamsungQN90B is an exciting upgrade for demanding consumers with a fantastic picture, significant software upgrades and an enhanced gaming experience.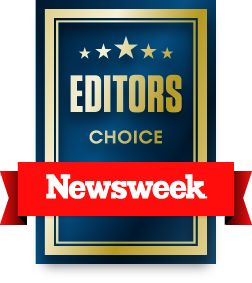 This TV is the latest in Samsung's Neo QLED lineup. It uses mini-LED technology with four times the dimming zones as last year's model, allowing for better control of brightness across the screen.
The Samsung 65 QN90B 65-inch TV I tested is available for preorder from Samsung today for $2,499.99. Samsung also offers a range of options, from 43-inches up to 85-inches.
Samsung kept what I loved about last year's model, but it now delivers incredible blacks and vibrant colors, and does so with better software. This is the best-looking mini-LED TV I've seen in this price range.
TL;DR
Pros:
Excellent image quality, contrast and deep blacks
Impressive overall brightness and brightness control
Great gaming features and user interface
Easy to use smart TV features
Cons:
Buy at Samsung.
Display and Performance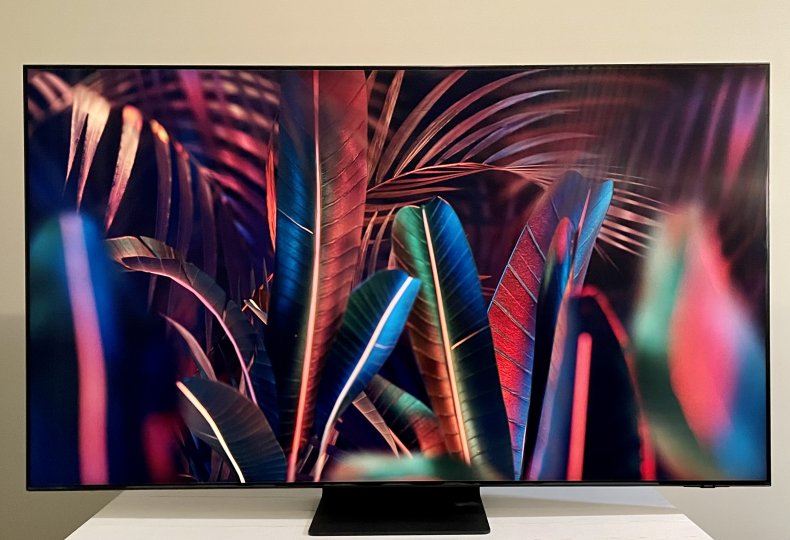 The Samsung QN90B provides a bright and vibrant image with deep blacks, immersing me in the latest video games and movies. It also delivers great sound quality for a TV, which is tough to pull off in a thin frame.
Samsung's mini-LED technology allows for excellent brightness control, which blends the dark blacks with vibrant light or color with minimal spillover. With its new 14-bit backlight tech, more individual zones for control and AI-powered technology, I observed better performance than with 2021's model. Combined with the impressive contrast ratio, overall brightness and reflection handling, the QN90B is an epic TV for gaming and streaming.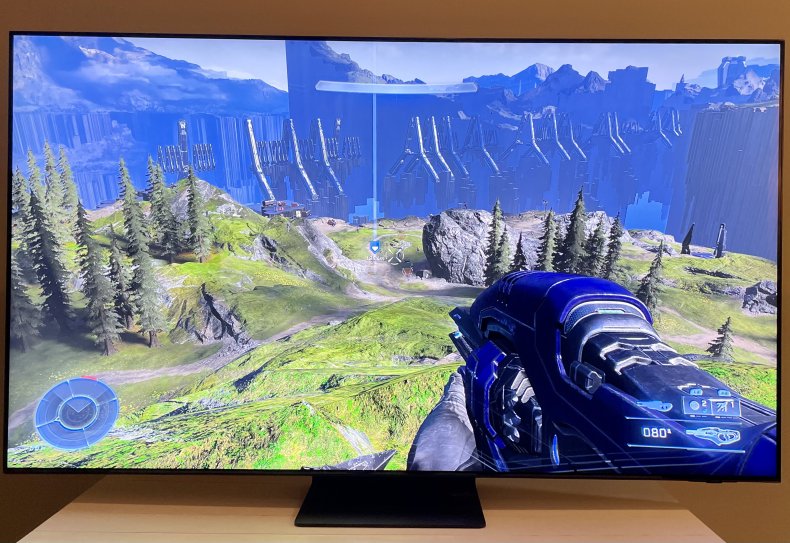 I tested the Samsung QN90B with the Xbox Series X, playing Halo Infinite. While exploring that vast world, colors popped and gaming action was smooth and sharp. I was particularly impressed with the glowing effects on vehicles—and on walls and objects, and how they looked in dark environments throughout the game. The TV features an enhanced gaming mode that automatically turns on when you switch to a game with the Xbox Series X and PlayStation 5. This optimizes the refresh rate, input lag and other settings. Gaming features include Auto Low Latency Mode, AMD FreeSync Premium Pro support and Super Ultra-Wide Game View.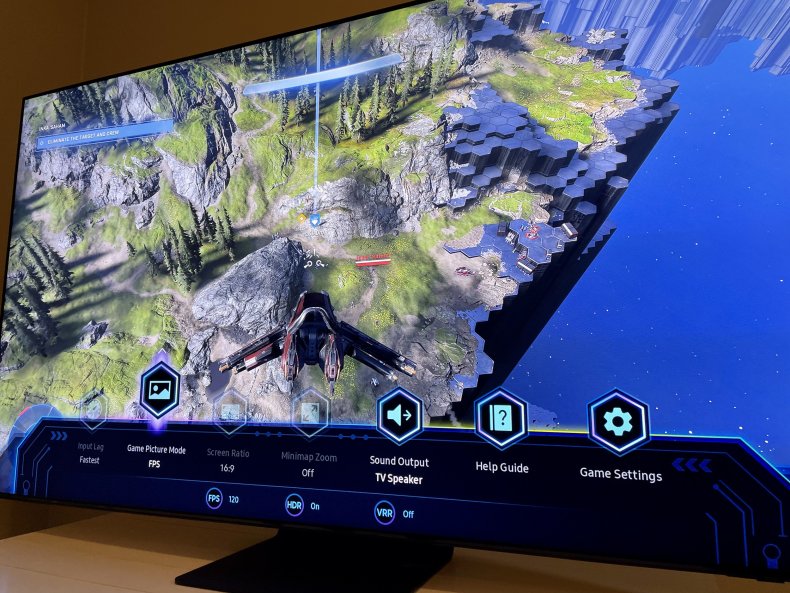 While many TVs include enhanced gaming features, Samsung is doing a great job of communicating which ones are enabled with next-gen systems as well as allowing gamers to change settings quickly if they want more control. The new control bar is easy to use and something that gamers will love. All of the TV's HDMI ports support HDMI 2.1 and 4K 120 Hz, so gamers can connect the Xbox Series X, PS5 and a PC with room left for a soundbar or another device.
Watching movies on the Samsung QN90B is a top-notch experience with great performance while streaming Free Guy. The TV handled the mix of real-life action and gaming style overlays in the movie very well. The QN90B is impressive, with 4K content, and also handles upscaling older HD content very well. This is an area where Samsung stands out against the competition.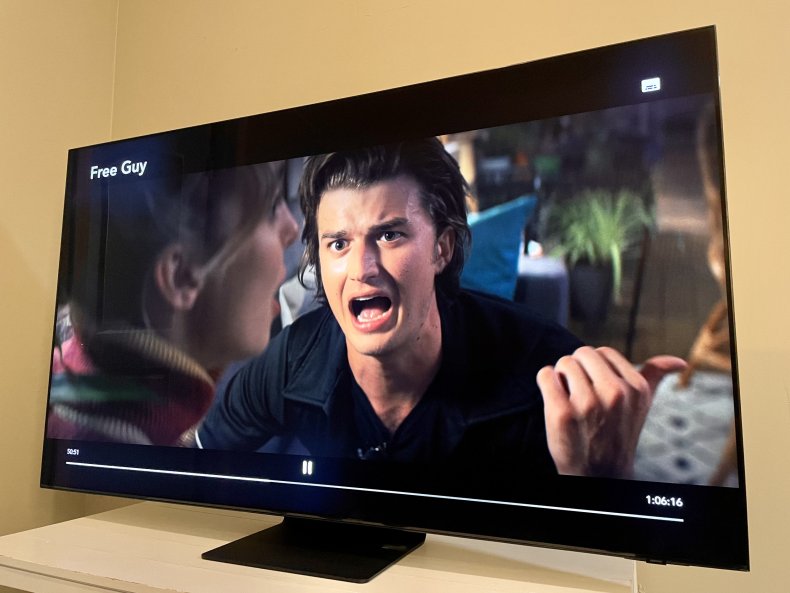 The viewing angle on the TV is fairly wide, which made it great for watching NBA games with my boys. The overall response time of the TV delivers smooth motion in fast-paced games. If you love to watch sports, this is a great set for sharing them with friends or family.
Samsung surprised me with the sound quality of this model. Last year's QN90 featured satisfactory speakers, but the QN90B is an upgrade with better sound from its integrated speakers. This is likely due to the Object Tracking Sound+ feature, which allows sound to move around the set as the motion moves on screen. You can pair this TV with select Samsung soundbars to use the Q Symphony feature, which combines the TV and soundbar speakers for a more immersive experience.
Design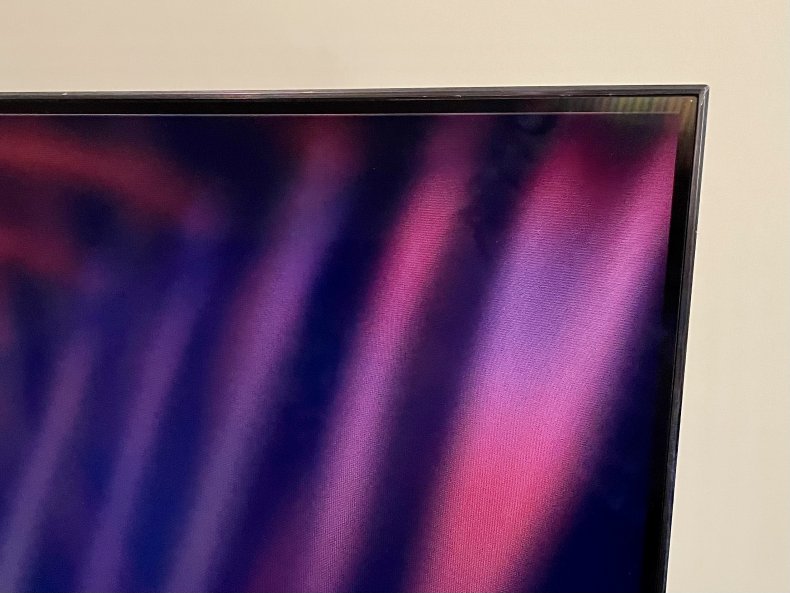 The Samsung QN90B looks similar to the model it replaces, which isn't a bad thing. The bezels are incredibly slim, and the stand is a beautiful center pedestal. The only downside to the design is that there isn't much cable management built into the stand. I would love to see built-in cable management on the bottom of the TV stand for the HDMI cables and the power cord. The TV supports VESA wall mounting.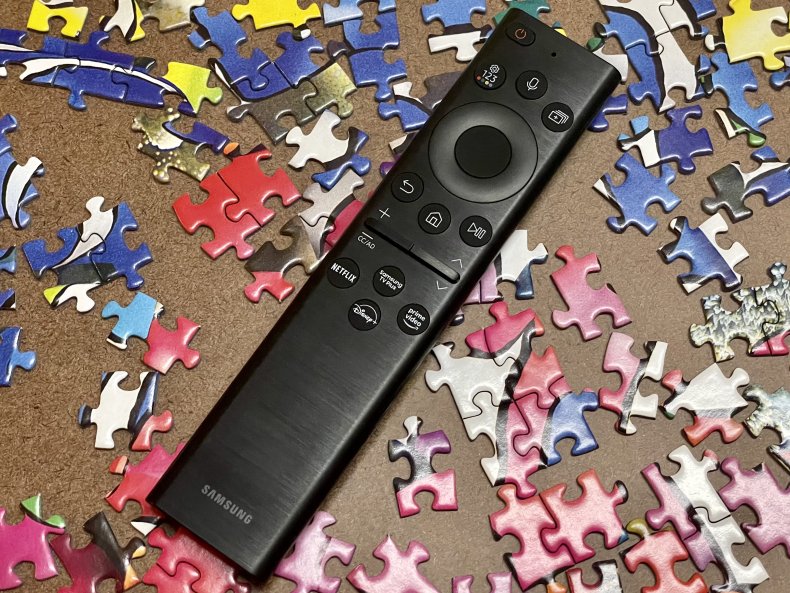 Samsung's remote is easy to use and can recharge with the solar panels on its back or by plugging it in. The included buttons for streaming services are the same color as the overall remote and not bright branded colors.
Smart TV
The new Samsung smart TV platform on the QN90B is a definite improvement from last year, with a better user interface. The system is quick and includes support for all of our favorite apps. It even supports the Spectrum TV app, which is rare. There are a plethora of apps, including Apple TV, Netflix, Hulu and many others. It is very likely that you won't need a streaming box to accompany the QN90B.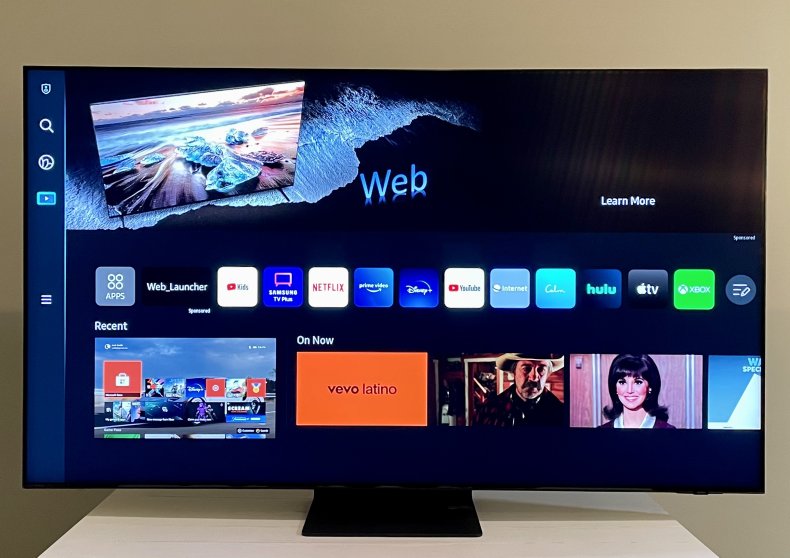 The Samsung Smart TV software looks more modern this year, and it is responsive and easy to use. I like that it even shows game consoles on the screen, almost as if they were part of the native experience.
Samsung includes support for Apple AirPlay, allowing users to mirror their screen to the TV without any cables. It also supports screen mirroring for Samsung Galaxy devices. Users can control the TV by voice with Bixby, Alexa or Google Assistant. There is no Apple HomeKit support or Siri built-in.
I've become a fan of the Ambient Mode, which allows you to choose a screensaver-type feature that slowly morphs on the screen. It's not a full-on art mode like the Samsung Frame, but it helps the set blend into your room and is fun to watch while you are working on things. The TV also supports displaying NFTs, if you want a place to show off your collection.
I didn't have a camera to test, but Samsung also allows you to share the viewing experience with someone remotely and be on camera using a USB webcam or a mobile device's camera.
Is the Samsung QN90B Worth Buying?
The Samsung QN90B is an amazing TV that delivers incremental but important upgrades over last year's model. If you are in the market for a new TV that excels in gaming, streaming and sports, this is an excellent choice in the mini-LED market.
Samsung's grasp of what gamers want to see, the seamless integration with gaming mode and the updated smart TV interface amp up the value of this set. While I would love to see HomeKit integration, that's no reason you should skip this TV.
Buy at Samsung.
Newsweek may earn a commission from links on this page, but we only recommend products we back. We participate in various affiliate marketing programs, which means we may get paid commissions on editorially chosen products purchased through our links to retailer sites.