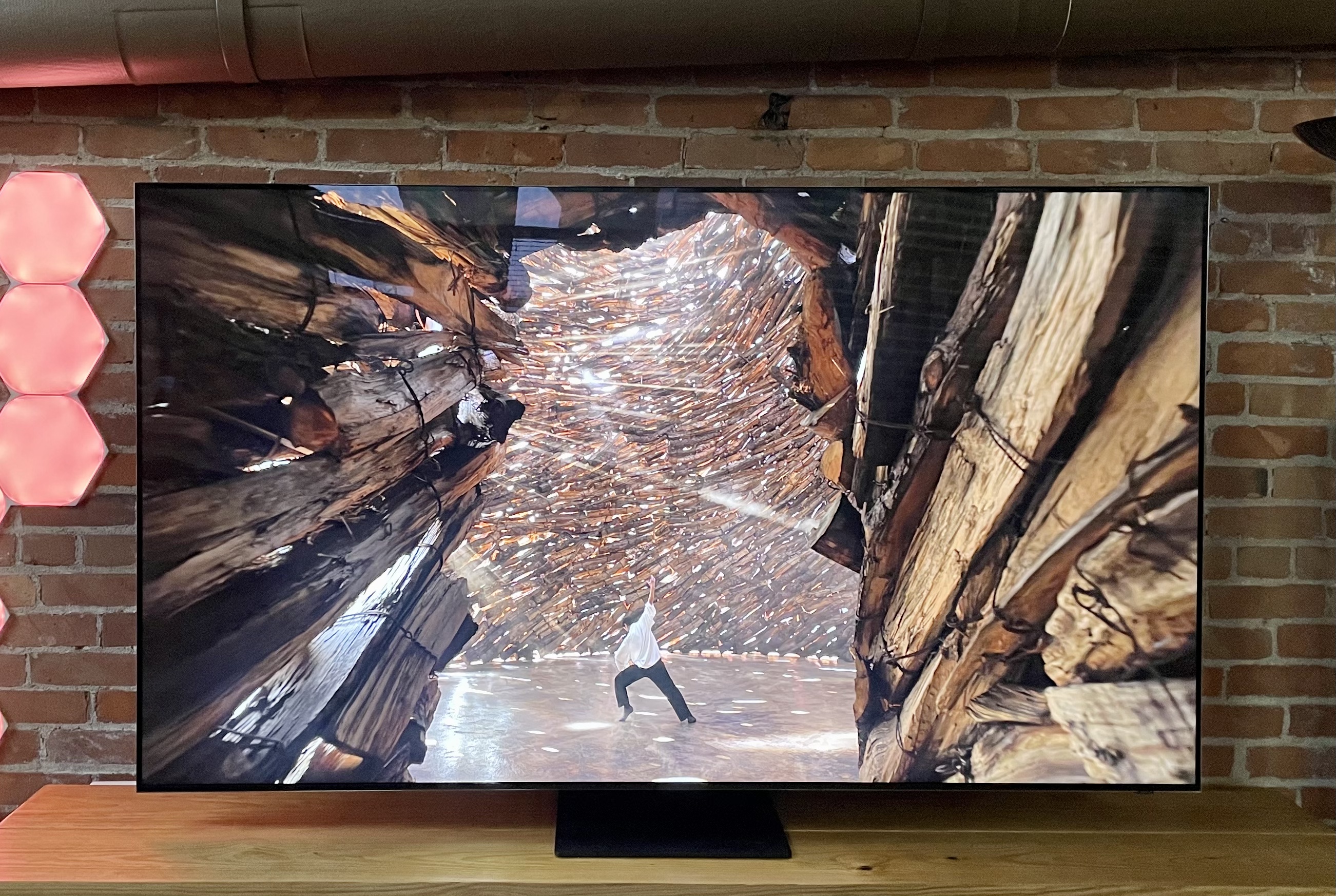 The Samsung QN800A is a new 8K TV from Samsung that uses mini-LED technology to bring a super bright 8K display into your living room. While there is still a lack of 8K content, the QN800A's impressive upscaling capabilities, gaming features, beautiful design and impressive smart-TV features make this a great option for early adopters.
While the 4K Samsung Q90A is a more affordable option, the QN800A commands a higher price, starting at $3,499 and priced at $4,799 for the 75-inch model I tested.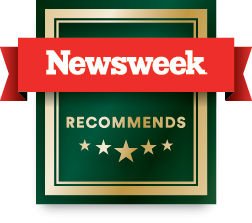 The 2021 Samsung QN800A is expensive, but even with the lack of 8K content, it makes sense for an early adopter who wants to enjoy the benefits of Samsung's upscaling technology, which makes 4K and HD content look even better on the 8K screen.
Thanks to the smaller LEDs and the new Neo Quantum Processor 8K, Samsung's 2021 8K TVs deliver brighter brights and deeper blacks without the traditional bleeding of light into the dark that plagues traditional LED TVs.
Typically you would need to buy an OLED TV to enjoy this level of black performance. At this size, with an 8K resolution, that's the 77-inch LG Signature OLED 8K, which is $19,996.99.
Samsung rounds out the value with support for AirPlay 2, a smart-TV system that includes the popular apps and a fun ambient mode that lets you use the TV as a piece of art or mood setter.
Display and Performance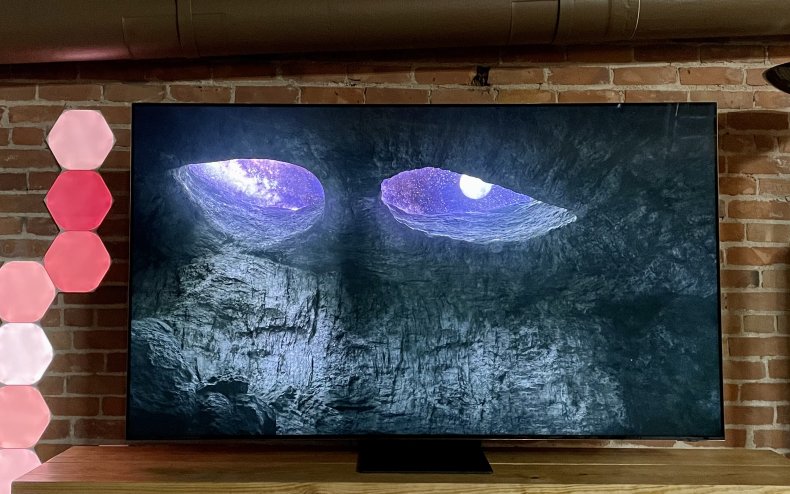 The Samsung QN800A display uses mini-LED technology, which is a first for the Samsung QLED lineup. This upgrade allows for more precise control of lighting and dark areas of the screen. This means less blooming (when light spills out around bright parts of the screen).
Blacks are dramatically deep, approaching OLED levels, and the brights are brilliant. The QN800A uses HDR 32X, which delivers an upgraded high dynamic range performance that further sets this TV apart from its competition. I was blown away by the vivid colors, and especially by the way that reds pop on the screen.
I watched 8K content that Samsung provided and streamed 8K content on YouTube to see this display's full capabilities. It will be a while before I can rent an 8K feature film or stream 8K on Netflix, but the QN800A is a display that's ready for what's next.
Currently, the standout feature is upscaling 4K content. I'm impressed with the quality of upscaled 4K movies from Netflix and streaming Captain America: Winter Soldier, using the Apple TV app on the smart-TV platform.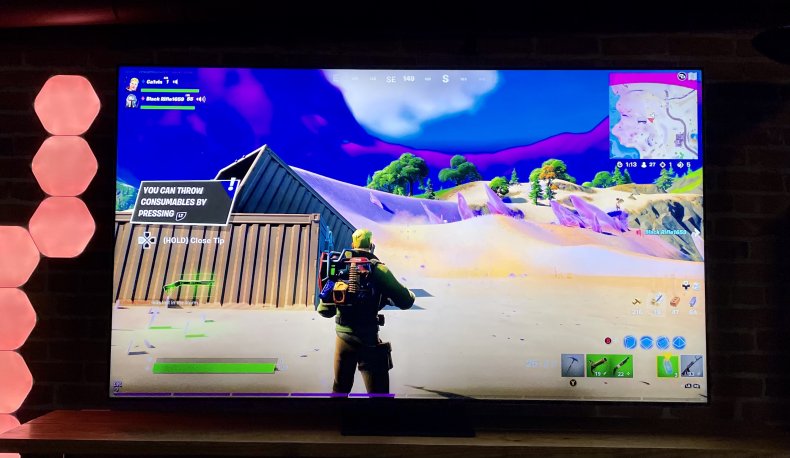 Gamers will love the gaming performance of this TV when paired with the PS5 and Xbox Series X. I tested the Xbox Series X with multiple games and Marvel's Spider-Man: Miles Morales with the QN800A. Low input lag, support for all the bells and whistles, like 120 frames per second and variable refresh rate, come together to make this TV stand out for gaming. The Game Bar allows you to see the status gaming details and adjust the aspect ratio and screen position.
Viewing angles are good, so it's easy to share with a group of viewers. The anti-reflective coating is also quite good. I tested the TV in a room lined with windows; even in daylight, the TV kept most of the windows from showing up as reflections.
The audio performance of the QN800A is alright, and with active mode on, it's good enough, but I suggest pairing it with a soundbar and using the QHarmony feature. This combines the soundbar and the TV speakers for more immersive and room-filling sound.
Design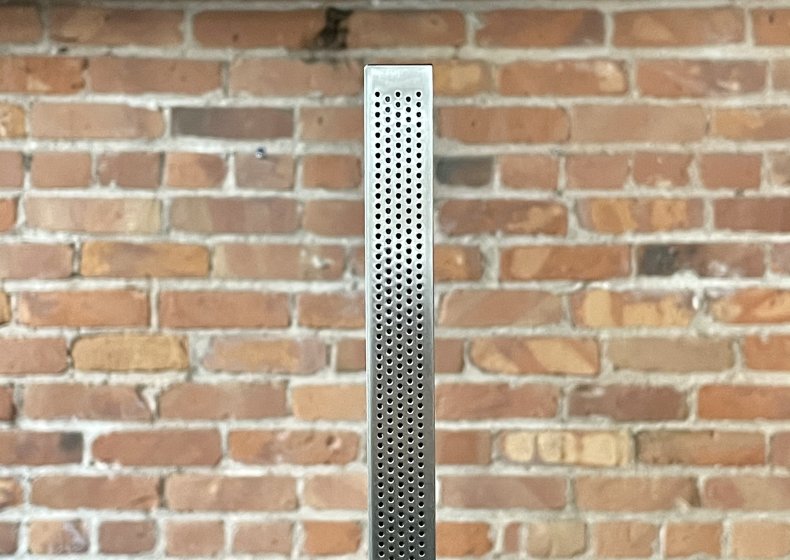 The Samsung QN800A features a minimal bezel that practically disappears when watching a movie or gaming. I love the modern styling of this TV's sides: It makes it look great in a wide range of home styles.
Samsung's pedestal design allows the TV to sit on a smaller entertainment stand, even though I tested a 75-inch model. The back of the pedestal holds a box, which is where you connect the sources. This hooks to the TV with a single cable. If you wall mount the TV, you only need to run one small cable to it for inputs and power, making for a cleaner installation.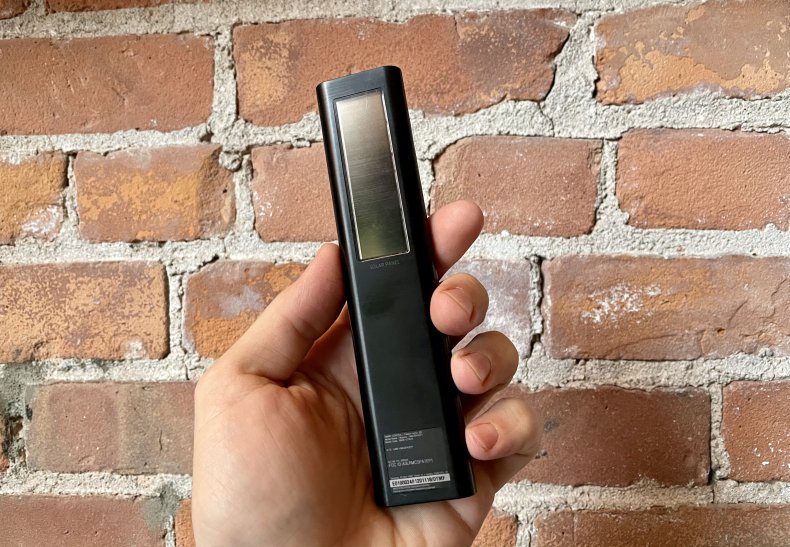 The remote control is easy to use, sized right and even charges via solar power or USB-C. I do wish it was backlit.
Smart TV
Samsung's smart-TV system is easy to use, very responsive and includes fun modes that allow users to get more out of the TV.
The system supports AirPlay mirroring, and if you own a compatible Samsung phone, you can tap to connect to the TV and mirror your display.
Samsung's smart TV supports apps from the major streaming services, so you don't need to attach a streaming device. The system is quick, and you can even stream YouTube in 8K.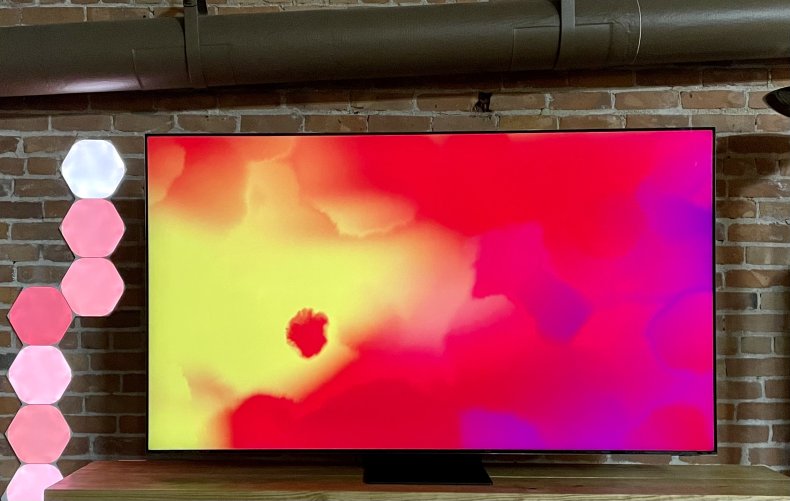 With multiview, it's possible to watch from four sources at the same time on the TV. This is handy for watching multiple sporting events, keeping a guide up while playing a game or multitasking with different content.
Samsung TV Plus is a free TV service that lets you watch 150 channels, which include news, older TV shows and movies. It won't replace a streaming service like Fubo, but it is a nice, free option.
Ambient mode is a really fun add-on that allows you to show your photos, display beautiful designs or set a mood. I found myself using this while I was working on things around my apartment.
Samsung Health is built in, so you can connect a webcam to the TV to workout at home and join fitness classes without buying a dedicated device.
Is the Samsung QN800A Worth Buying?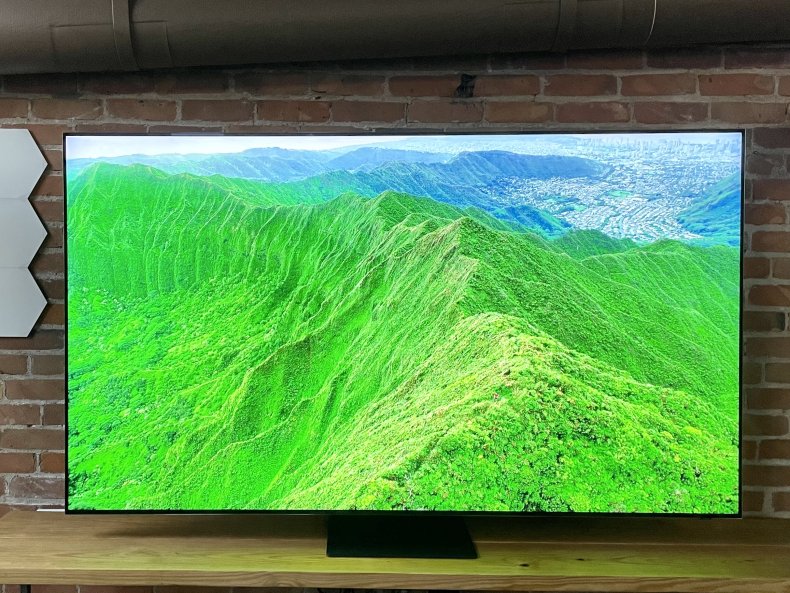 The Samsung QN800A is worth buying for early adopters who want to enjoy upscaled 4K content and great gaming performance on a stellar display. There isn't a lot of 8K content to watch yet, but Samsung's masterful upscaling highlights the value of a beautiful 8K display.
Samsung's move to mini-LED technology brings near OLED black performance, which pairs excellently with the bright and vivid colors. With the essential gaming features, smart TV options and beautiful design, the QN800A is one of the best 8K TVs on the market.
Buy the Samsung QN800A at Samsung.
Newsweek may earn a commission from links on this page, but we only recommend products we back. We participate in various affiliate marketing programs, which means we may get paid commissions on editorially chosen products purchased through our links to retailer sites.