Samuel Adams has released a beer illegal in 15 states. The Utopias beer is 28 percent alcohol by volume (ABV) which is much higher than the average 5 percent.
Its high alcohol content means that it's banned in Alabama, Arkansas, Georgia, Idaho, Missouri, Mississippi, Montana, New Hampshire, North Carolina, Oklahoma, Oregon, South Carolina, Utah, Vermont, and West Virginia. The Utopias beer will not be shipped to or sold in these states.
These 15 states have much stricter laws for ABV limits. For example, according to Consumer Reports, the ABV limit for a bottle of beer in Utah is just 4 percent, which has just recently increased from 3.2 percent.
But for the 35 states that can enjoy Samuel Adams' latest beer, it tastes like "a deep rich malty smoothness reminiscent of a vintage port, cognac, or fine sherry," according to Samuel Adams.
It's made with the malt varieties of Samuel Adams two-row pale malt blend, Caramel 60, and Munich, and hop varieties of Spalt Spalter, Hallertau Mittelfrueh, and Tettnang Tettnanger. It's a pale amber color and includes Vermont maple syrup, has 175 calories and an IBU of 45.
This beer was produced in three Samuel Adams breweries in Boston, Lehigh Valley, and Cincinnati, where it was blended, aged and finished using a blend of earlier Samuel Adams batches of extreme beers, including some that have been aged up to 24 years.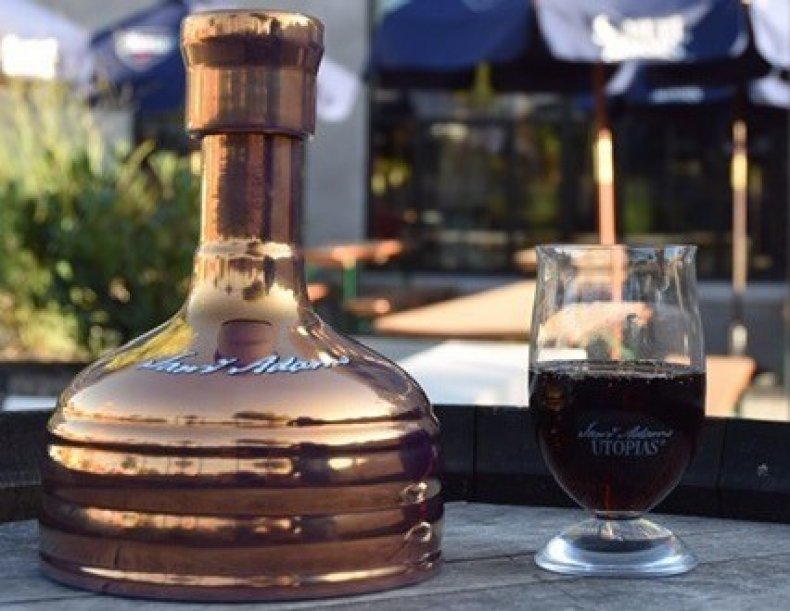 According to Forbes, portions of the beer were aged in Aquavit, Carcavelos and ruby port barrels. Samuel Adams' described the brewing process on its website, stating: "The brewers utilized several yeast strains during fermentation, including one typically reserved for champagne, and a 'ninja yeast,' created for its ability to survive and continue fermenting in an environment that has such a high alcohol level."
This is the 11th edition of Samuel Adams' Utopias and only 77 casks were brewed this year. Utopias will have a limited release and will come in a 25.4oz custom bottle that has been modeled after copper brew kettles. It will be sold in specialty beer and liquor stores at $210 per bottle.
Jim Kock, founder and brewer, said in a statement: "Since it was first brewed, Sam Adams Utopias has been nothing short of a labor of love. As brewers, we take pride in everything we make, but there's something special about putting such a unique, extreme beer in the hands of not only the craft beer community but our coworkers.
"Involving new members of our team from Dogfish Head in the bottling process this year signified collaboration, progress and inspired future innovations that we can't wait to share."
Samuel Adams recommends pairing the beer with Clam Chowder, Cobb Salad, Fish & Chips, Mango-Chili Chicken Pineapple Upside Down Cake, and Fruit Topped Bread Pudding.
According to Detroit Free Press, Samuel Adams' Cincinnati Taproom is celebrating its first anniversary and Utopias will be on tap on November 15 from 6 p.m. to 11 p.m. The taproom will be open to the public, but a $20 ticket will include a 1-ounce pour and a commemorative glass.