Samuel L. Jackson and Others on Michelle Obama's Next Move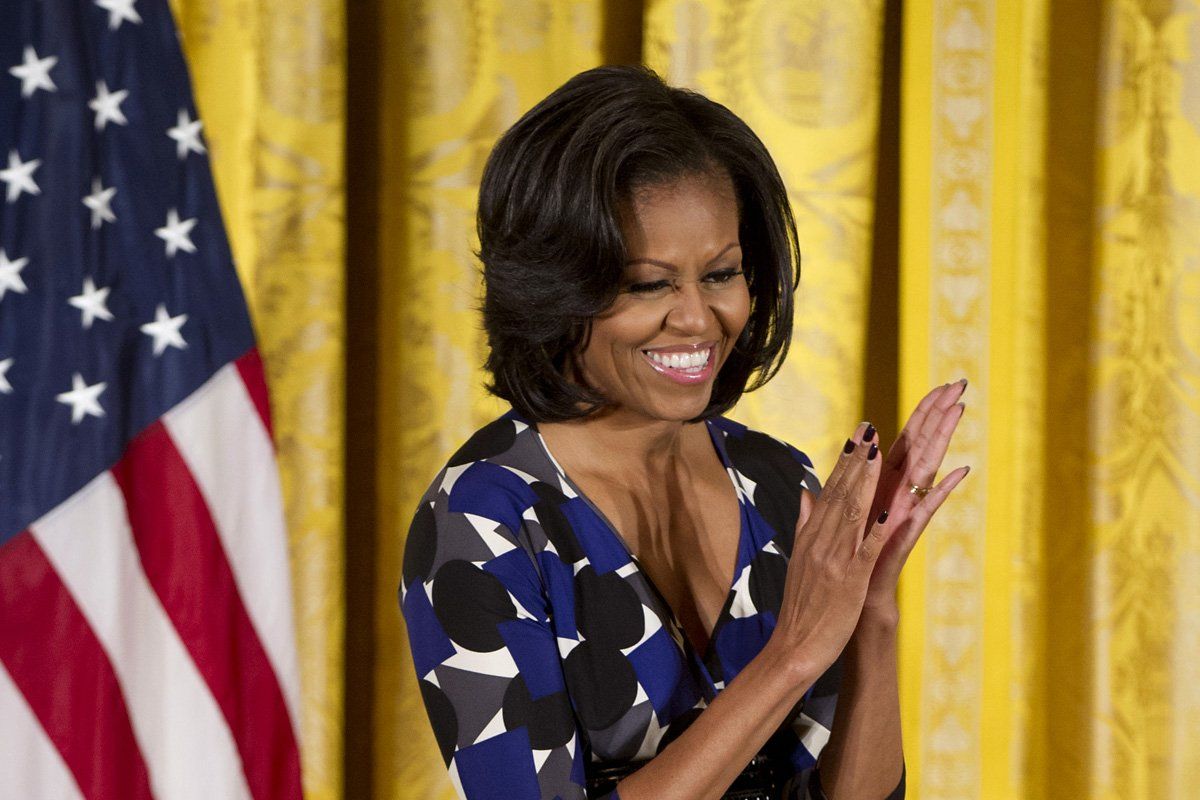 Chatting with a group backstage on the set of Jimmy Kimmel Live! in October, Michelle Obama made it clear that she wasn't thinking about what she might do in the future. "I'm just looking ahead to getting Barack back in office and continuing the work he's been doing," she said. "Supporting him is my focus."
But others think the first lady—who spent the past four years seeking to better the lives of military families and fighting to end childhood obesity before becoming one of the stars of her husband's reelection effort this fall—could have bigger things ahead of her, if she so chooses. "Michelle is Superwoman. What can't she do?" Samuel L. Jackson recently told Newsweek. "That's why people love her. She can be on the Supreme Court and anywhere else she wants. She can be the president. She's history and she'll stay history because she is so amazingly smart and together."
Jackson isn't the only person thinking along these lines. "I'd love to see her get more into politics because it would be a breath of fresh air in D.C.," says Democratic Rep. James Clyburn of South Carolina. "She's honest and straightforward, which is not what you see in Washington much. She is exactly what we need around here."
Yet therein lies the contradiction of Michelle Obama: a woman who is perhaps one of the most skilled politicians of our time seems to have little interest in pursuing politics herself. "Nothing she's done indicates she wants more power on the national or international front," says Debbie Walsh, director of the Center for American Women and Politics at Rutgers University. "Yet everyone else says she has to have it."
One top White House official is dismissive of the possibility that Michelle would go the Hillary route and become a politician. "Michelle Obama doesn't have the temperament for the constant b.s. that goes on in D.C.," says this official. "She watched her husband fight fights that he shouldn't have to. She's seen the ugly side of Washington up close and personal and has no interest in dealing with that firsthand. I think she knows there are other ways to impact the system from the outside in. She'll find those, but it won't be through public office. That's not who she is."
Much more likely, the official says, is that after 2016 Michelle will return to her previous career—working on public health care—while also helping people with legal issues as she did on weekends at Harvard Law School. Longtime Obama friend Mellody Hobson makes a similar prediction, saying she thinks the first lady will resume community work once she leaves the White House.
Such an outcome would make sense, given that Michelle is known to harbor a desire to remain a private person—with a personal life not hampered by the prying eyes of the tabloids and talk shows. "I remember seeing her shortly after Barack won the first time, when she came back to Chicago for a visit," says longtime friend Susan McKeever. "It was clear she wanted to just be normal Michelle with no Secret Service or anything like that. She has an amazing life and she has no regrets, but my guess is she'd still love to have her life back on some level."