For Samuel L. Jackson The Last Days of Ptolemy Grey was more than just the average project, it was something he had to make, and to do so he needed to find the perfect scene partner.
The Apple TV+ follows Ptolemy Grey, an old man suffering from dementia who begins being taken care of by a young woman named Robyn, an orphan who becomes his de-facto caregiver when his nephew is killed and his family abandon him to his fate.
Robyn is portrayed by Dominique Fishback in the series, and Jackson told Newsweek he hand-picked her for the role because he knew instantly she was the perfect person to play Robyn when he saw her in a film he was watching on Netflix.
Samuel L. Jackson on Hand-picking Dominique Fishback for 'The Last Days of Ptolemy Grey'
"She's the perfect person to show up out of all the people we saw, and I'd seen her work before," Jackson explained. "I remember sitting at home watching a movie on Netflix during the pandemic, and she's in this movie with Jamie Foxx [called Project Power] and I'm looking at it and going 'Ah!' and I started calling people to say 'I found Robyn, I found her.'
"Fortunately she'd done a film with my wife [LaTanya Richardson Jackson] for HBO a few years ago [in a TV show called Show Me A Hero], and I met her during that time and, yeah, we got along great."
Heaping praise on his co-star, Jackson went on: "She's a very smart and studied young actor, who dives into a role wholeheartedly and she does things that a lot of people don't do, in terms of her character development, and where she wants that character to be.
"And she brought an energy that was kind of necessary to have in this particular instance, a person that wants to fix things, that has a desire to see things get better, and she's growing as an actor.
"So, those things happen for her too and having me around to talk to her and kind of encourage her to have as much fun as you can have. You know some people get very serious about what's going on, we have some very serious moments, and I wanted to make sure that we were able to laugh, and enjoy each other in another kind of way that made the story feel full."
Dominique Fishback on Working with Samuel L. Jackson
Fishback told Newsweek she was "super excited" about the fact Jackson had picked her specifically for the part, declaring "it's Samuel L. Jackson" before adding: "I met Sam in passing before, and to just get an opportunity knowing that he really wanted me to play Robyn, he said that he saw me in another project and called and said, 'We found Robyn, that's our girl', was really exciting.
"Then getting to set, I know that he's been working on this show or wanting to do it for 10 years, and he has a lot of family that has Alzheimer's.
"And [on the first day of filming] he said, 'When you said the first line is Robyn it lifted a weight off my shoulders' for me that was an honour, because he's been working with so many actors and actresses over the years.
"I know that this was really important to him, so it was nice to do that and get to work with him."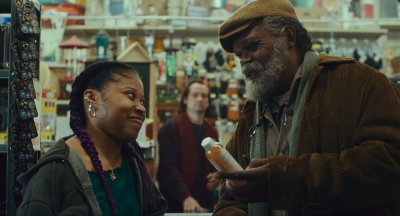 Samuel L. Jackson on Why 'The Last Days of Ptolemy Grey' Was a "Personal" Project
The Pulp Fiction icon told Newsweek that the Apple TV+ show was a "personal thing," something he was immediately drawn to when he read Walter Mosley's book of the same name, because he had experienced similar things in his own life.
Jackson, who is also an executive producer for the show, spoke of his desire to portray dementia in a sensitive way, and how it was important to him to show that those suffering with the disease should not be "thrown away" because he'd seen family members experience it before.
"I've been hanging around this story for 10 years or so, from the time that I read the novel the first time," Jackson said. "And because it was such a personal thing, that my family has been touched by this disease —about six different people in my family— so I've experienced it, and watched it, and wanted to shine a light on the fact that these people are there, and we can't just throw them away.
"Ptolemy is isolated and that's the one thing we don't want to happen. But, you know, people who have this disease, you don't want to isolate them and leave them. There's value there.
"And the way Ptolemy's family essentially kind of threw him away he becomes trash, [but] one person's trash becomes someone else's treasure when Robyn [played by Dominique Fishback] finds him and realises that there are things of value that this man still has to offer, even in that particular state."
The Last Days of Ptolemy Grey finds its eponymous protagonist struggling to remember even the simplest of things, only eating one can of beans a day and waiting for his nephew Reggie (Omar Benson Miller) to visit him.
But when Reggie is unexpectedly murdered in the streets Ptolemy decides he wants to use a radical new medication that will give him his memories back, even if it comes with dire consequences, so he can investigate his nephew's death and also remember some of the mysteries of his past.
Reflecting on this, Jackson went on: "This story is sort of a fairy tale in terms of the fact that he finds a cure, a temporary cure that allows him to go back and fix the things that he missed during his life, or to find this particular quest that he had in his head that he couldn't pull back up.
"And he's able to reclaim his life for a brief moment of time, that allows him to fix something that gives him the comfort of being able to go back into that fog that he was in. And hopefully, when audiences watch this, they'll realise that they're not going to be trapped in a very sad story for six weeks.
"They're going to be moving through a man's life that's very full and full of great stories and great encounters, and other people that are part of this story, and not just being in his head. But being in a very real and viable story of a man who has an opportunity to fix some things that were wrong in his life."
The first two episodes of The Last Days of Ptolemy Grey are available on Apple TV+ now, and the series will continue airing every Friday on the streaming service.