Spurs Coach Gregg Popovich Says Mavericks' Luka Doncic Is 'Magic Johnson-Like'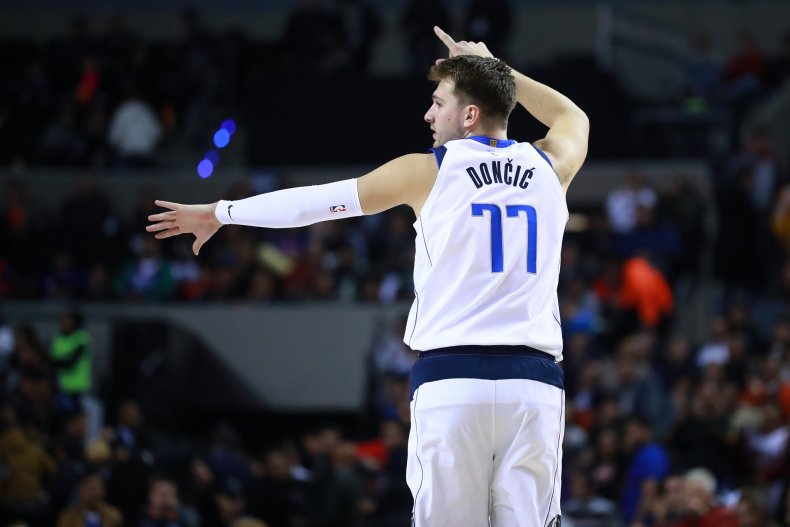 Following the Dallas Mavericks' 102-98 win over his team, San Antonio Spurs head coach Gregg Popovich reluctantly compared Mavericks star point guard Luka Doncic to five-time NBA champion Magic Johnson.
"I hate to say this: he's not Magic Johnson, but it's Magic Johnson-like in the sense that he sees the floor in that same way," Popovich said to ESPN's Tim MacMahon.
Popovich's comments come after Doncic's stellar performance that included 24 points, 10 rebounds and eight assists in his first game back from being sidelined due to injury.
"He's got a real intuitive sense, and you can't teach that. He's just got it and he's great at it. I'm not trying to put the Magic Johnson pressure on him – he's not ready for that yet – but he's doing a hell of a job," Popovich added.
Popovich may be slightly hesitant in his comparison, but it should still mean something considering that he is regarded as one of the greatest NBA coaches of all time. It is also important to note that Popovich said Doncic sees the court the same way as Johnson, who led the league in assists on four separate occasions, which shows how good of a passer Doncic could become.
Despite the strong performance and recognition from Popovich, Doncic's own coach, Rick Carlisle, thought he saw some rust in his star player's first game back from injury and described it as "predictably kind of an uneven game."
Popovich's most recent comments may be saying that Doncic has the skills of an NBA legend, but this is not the first time the Spurs coach recognized the greatness in the Mavericks star. Prior to a game between the two teams last season, Doncic was averaging 20.2 points, 6.7 rebounds and five assists. When Popovich was asked what stands out about Doncic, he responded: "He understands spatial relationships and understands where everyone is on the court, what's needed at the time, and he's got courage. He'll take big shots and do what needs to be done to try to win a basketball game. All of that makes him one hell of a basketball player and person."
Doncic's most recent game helps to bring him to a league leading 23 games with at least 20 points, five rebounds and five assists, which is four more than Los Angeles Lakers star Lebron James. Prior to his injury, Doncic saw a streak of 20 consecutive games with at least 20-5-5, and passed Michael Jordan's record, but that ended after he was sidelined.
Doncic will look to continue his injury rebound and potentially start a new streak of at least 20-5-5 in the Mavericks' upcoming game against the Golden State Warriors this Saturday.