California Prosecutor Wonders Why 'Ghetto' Maxine Waters Hasn't Been Shot
Michael Selyem, the Deputy District Attorney in San Bernardino County, California who is responsible for leading a gang prosecution team, has a history of offensive social media posts that have led to calls for his resignation.
"Being a loud-mouthed c*** in the ghetto you would think someone would have shot this bitch by now …" Selyem commented on a video of Congresswoman Maxine Waters in June according to The San Bernardino Sun.
Mike Ramos, the outgoing District Attorney told The Sun Friday that "We have been made aware of the negative comments and they do not represent the views of the District Attorney's Office. Since this is a personal matter I cannot comment any further."
Selyem has also taken aim at former first lady Michelle Obama, the victim of a police shooting and Mexican immigrants in other social media posts. "That shitbag got exactly what he deserved," Selyem commented as part of an online argument over a police shooting of a civilian. "You reap what you sow. And by the way go fuck yourself you liberal shitbag."
On Mexican immigrants, Selyem posted a photo of a man in a sombrero with the caption, "Mexican word of the day: Hide." He also shared a manipulated photo of Michelle Obama holding a sign that said "Trump grabbed my penis."
Zeke Hernandez, president of the Santa Ana League of United Latin American Citizens told The Sun, "It is disgusting that a public official sworn to protect the public would have these ugly viewpoints," he said. "The district attorney needs to take any and all appropriate action to let the public know that it does not agree with Selyem's hateful rhetoric."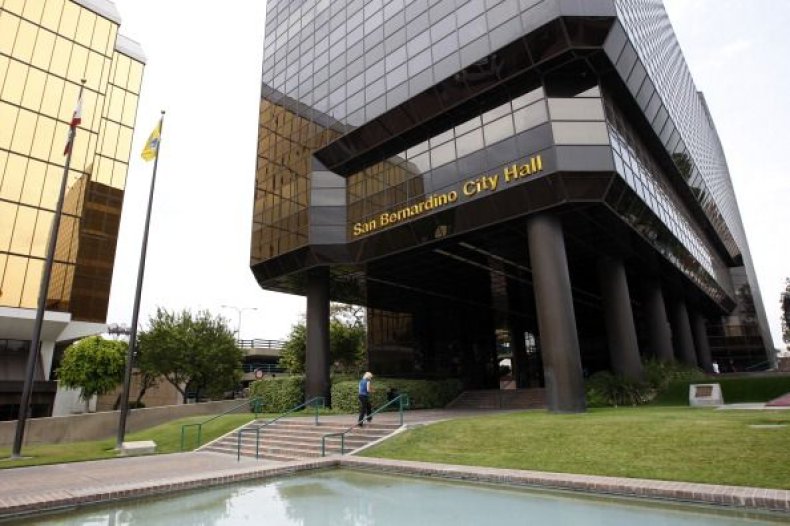 San Bernardino Attorney Stephen Levine, however, defended Selyem's right to share his personal beliefs as long as they don't affect his work. "I do not defend the tenor of his posts but defend his right to his beliefs," he said. "I have seen no evidence that his personal beliefs have influenced his professional responsibilities and prefer to give him the benefit of the doubt."
According to Selyem's LinkedIn page, he has been the Lead Attorney for the San Bernardino Central Hardcore Gang Unit for 12 years. Gang violence in the city has been a prominent issue in recent years. Mike Madden, a spokesman for the San Bernardino Police Department said "close to half" of the city's homicides had "a gang- related element" in 2016.
Selyem did not immediately respond to Newsweek's request for comment on his social media posts.